Once upon a time, we had nothing. Human action pushes us forward. If you still don't believe it, check the different Industrial Revolutions of our time. We are those positive ones who believe that "INCHES MAKE CHAMPIONS". And apparently, we are not the only crazy ones: zero waste, plastic-free and nude food are the big trends for 2019. SDG's are more alive than ever before, getting ready for what could be a massive growth of businesses competing for GOOD. Who will be the best? That's up to you! You vote each time you purchase. Did you know?
There's nothing in the dentist's office that was there fifty years ago. Every device, every compound, every technique has been changed.

Bit by bit. Involving thousands of people and organizations. Improvements large and small (mostly small), in every corner.

And every one of those improvements was met with resistance. Every change was fought, tooth (!) and nail. Every one had critics and skeptics and hold outs.

That's how the world changes. By drips. Persistent, generous, tiny drips.

Seth Godin
The wall we hit every day by sharing information at Ourgoodbrands is the challenge to convince people that our little contribution world matters in this, what seems to be a "messed-up World".  Where the only way to make it work is that the other 7.6 Billion human beings also make the same decisions to really create a positive change or outcome.
As I recently spoke about in my article for Impakter, "We have started a green revolution" where businesses will have to adapt if they want to be part of this new economic era; or same, our potential range of choices.
But the reality is that while you are making better decisions thinking of your individual impact on the environment, or whatever other social cause, most other people don't. What you need to understand here, is that focusing on the negative side, or looking at what other people are doing would just make us feel depressed. What we need to start realizing is that every single dollar we spend is a vote for the kind of world we'd like to see.
You can STOP TODAY buying products such as commercial sanitary pads or tampons, a billion-dollar industry controlled by men who do not really understand what the female problems are… Instead, support female-run brands such as AllMatters or Bleed for You, because at the same time you will also support and empower other women worldwide to have access to sanitary products.
Or you can also decide not to buy products with palm oil… This is probably the only way to put pressure on big corporations. Like the Christmas Greenpeace ad, which became viral just because it was banned for being too "political" to broadcast in the UK. The ad seemed to violate a code related to political advertising, however, it was viewed over 65 MILLION times on YouTube and the petition to have the ad appear on commercial TV attracted nearly 600,000 signatures. This is definitely a good sign that many people care about orangutans and palm oil. I personally believe that "the ones who don't" is mere because most folks have not been given the opportunity to understand the matter.
A good solution to avoid palm oil in your beauty products would be reading the labels (here is a great guide that will help you understand the different certifications). In this sense, you could pick these zero waste hygiene brand, Plaine Products, that only uses organic, cruelty-free ingredients and lets you refill the bottles without throwing away their packaging.
It's just a matter of starting, and TODAY IS THE BEST DAY! Once you get started on this path of "doing better" you will just want more, challenging yourself every day. And how GOOD does it feel to be an inspiration for people around you?
Generally, it's a sort of passive activism that only takes a small decision: "NO, I am not buying veggies wrapped in plastic. I'll get that Nude food instead" (which has become a trend!!)
Some of the impacts we like to share are with folks are infographics with data of impact, to make you understand how much you are contributing with your individual impact!
Read the full article about Ecosia, the search engine that plants trees
Read the full article about Who Gives a Crap, the toilet paper that builds toilets around the world!
Read the full article about ThankYou., the social enterprise working towards ending global poverty.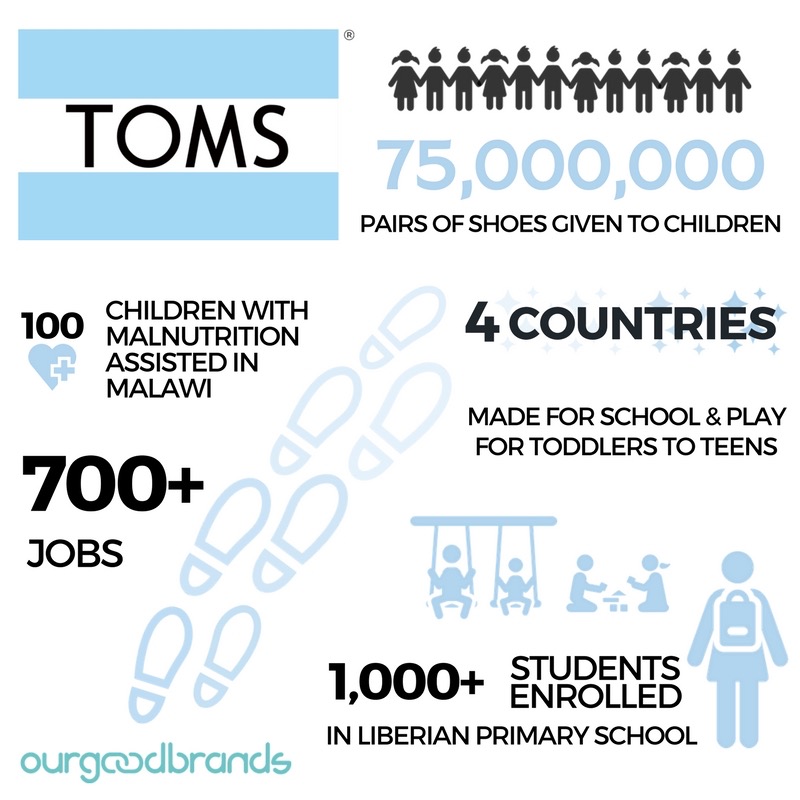 Read the full article about TOMS, the creators of the Buy One Give One business model.
Read the full article about 4Ocean, the bracelet that cleans our oceans
Read the full article about EcoAlf, 100% recycled plastic fashion from the oceans
Still not convinced you can make a difference? What do you really think? Please share your opinions with us on the comments box below!
This post may contain
affiliate links
. This means we may receive a commission, at no extra cost to you, if you make a purchase through a link. We only share contents that are aligned with an ethical, sustainable, eco-conscious world. Read more about our
Terms & Conditions here