While many of us think of the Zero Waste as a radical lifestyle, almost impossible to achieve, we are here to present you affordable and realistic alternatives to STUPID WASTE. This can be interesting if you want to know about Zero Waste for beginners or even if you are a business that wants to offer better quality and eco-friendly options to your community of clients, this is also for you!
Zero Waste is a philosophy, or what we like to call a revolutionary lifestyle. But before you get started, you must understand that it is not about perfection; it's about making better choices. On this blog, we'd like to share the most common tips of this way of living, zero waste for beginners.
Zero Waste is a goal, and it is completely unachievable not to create waste. Also, it does not have to happen overnight. At Ourgoodbrands we really want to help people to understand that every single step matters, that together, we can make the world a better place. 
We shall not forget that we are a bunch of humans trying to do the best we can. We live in a society where things are meant to be thrown away, not in a perfect world where zero waste is normal. So be patient with yourself and make sure you make one step at a time.
Said this, let's go to the TOP 10 tips to go Zero Waste for beginners.
Zero Waste for beginners Tip 1  |  
BUY LESS
This is just about asking really simple questions:
Do I really need it?
Or, could I live without it?
Do I have to own it?
If you feel like you will just give it a few uses think about options such as borrowing it, renting or finding the item at a second-hand shop. Some extra tips here!
Zero Waste for beginners Tip 2  |  
EXTEND THE LIFECYCLE
The whole philosophy around Zero Waste is to prolong the life of the products as much as you can. When it comes to the concept of "Reuse Reduce Recycle" we would also consider adding "Up-cycle" for a Zero Waste living. Whether it's fashion, decoration, technology, packaging and so on, we would suggest to squeeze your creativity and be proud of giving your "stuff" a second chance.
Watch this video and push your creativity!
Zero Waste for beginners Tip 3  |
  CHOOSE ETHICAL QUALITY
When quality means how it's been made, where it came from, if it's fair-trade, if it's cruelty-free, if it's made using eco-friendly or biodegradable materials,… And related to the prior tip, really think about its full life-cycle, meaning this where it's going when you throw it away. Asking questions when purchasing brands is a radical act. Becoming an activist consumer starts with:
Who made it?
Is it made to last/ can it be repaired?
Can I find it second hand?
Can I find it local?
Learn to say NO.
Zero Waste for beginners Tip 4  |  
PLASTIC FREE PRODUCE
Anita Horan is one of the queen campaigners for the plastic-free purpose.
If we had the chance to chat with her, she would suggest to:
Carry your own bags.

Say No to plastic wrapped veggies and for this is highly recommendable going to the local fresh markets 
Take your own containers to the local butcher (or anything you could think of to that would save you some single-use packaging)

Go more to the bulk stores, and buy nuts, legumes, cereals, or even the milk, oils and cleaning products… This will also allow you to buy only the quantities you need and adjust better to your budget.
Zero Waste for beginners Tip 5  |  
MAKE YOUR OWN
Toothpaste

Cleaning products

Grow your own food

Cook more at home
Pinterest is a great tool to find the best recipes for almost anything you challenge yourself.
Zero Waste for beginners Tip 6  |  
GO COMPOSTABLE
This can apply to your personal life but also your business. If you are planning to organise meetings or events you an make a huge difference (and educate!) by just choosing packaging products that are compostable, and that is basically plant-based solutions. Same when it comes to merchandising… why not choosing eco-friendly options?
Cling Nature

offers a wide range of bamboo merchandising options, as well as single-use palm leaf plates. If your business is ready to make an impact, take the opportunity to do sustainable marketing & spreading the environmental message.  

Doremi Today

is a company that offers sustainable alternatives to plastic single-use take-away. From cutleries to take away boxes through cold or hot cups. Not just looks better and feels better, but also the material is stronger. The cutleries are less likely to fall apart.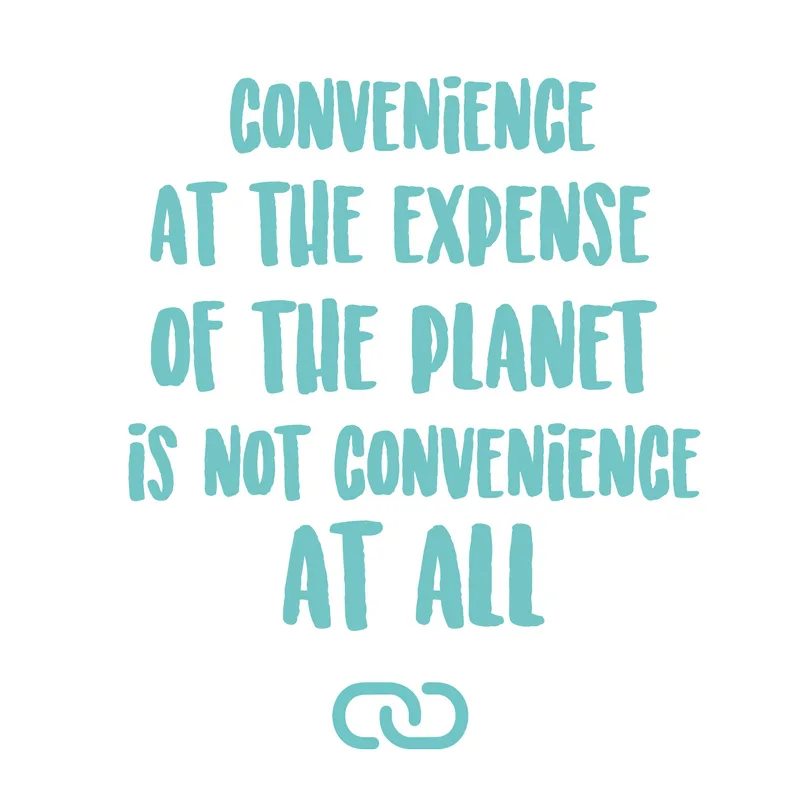 As an extra tip for your business, we would recommend getting produced

Kora Cotton or Canvas bags for merchandising or packaging for your brand

. Ourgoodbrands has recently partnered with an organisation in Dubai that is actively engaging with a local community in India to empower women. They are also part of the UN sustainability goals and have adhered to the FC12 Goals, promoting responsible consumption and production.

Zero Waste for beginners Tip 7  |  
SOME BRANDS CAN HELP
The Simply Co: this detergent ticks more boxes than the Zero Waste. It is toxin-free, organic, and also has a transparent label where, for the first time, you will be able to read what are the ingredients!
OrganiCup: menstrual cups replace pads and tampons in the most organic way as possible. Easier, healthier, smarter. Month after month.
Home Pure Nova: this is the best drinking water filter. Every time we drink water we are putting in our bodies nocive components. Water is essential for our life, that's why it should be clean, healthy. Home Pure Nova is also great tasting because it's the only one that provides 99% filtration. NSF Certified.
Frank Green: don't leave home without your water bottle. This brand is so smart that you can keep a record to learn if you had enough hydration throughout the day.
Your Straw: a basic. Everywhere you go, travelling or just going to the cafe in the corner, plastic straws will be served. These bamboo straws are fish-friendly and also biodegradable, back to nature.
Sasa Collective or The toothbrush project: another bamboo basic. We should change our toothbrushes every 3 months, so only one person would already make a pretty cool impact if we decide to go to a natural choice and alternative to plastic.
Onya: the zero waste revolutionary lifestyle could not be easier with a brand like Onya. From reusable shopping, bread or bulk food bags, to water bottles or coffee cups… all are ethically made from recycled materials. They have managed to create a zero waste business model that also works together with other companies to implement initiatives and get more people to incorporate sustainable habits.
Cling Nature: the bamboo kings also offer cutlery and combs to brush your hair. Perfect for travellers as these are light-weighted items.
Who Gives a Crap: this is the most sustainable and funky cool toilet paper in the world. This brand does give a crap about the water contamination, the forests destruction, the greenhouse gas emissions, the amount of oil and energy used, the litres of water waste… but also there's a purpose behind every toilet roll sold: building toilets around the world.
Zero Waste for beginners Tip 8  |  
PLAN LIKE A FOODIE
This tip should go to everybody, really. Plan your meals for the week, even cook bigger quantities when possible to and freeze them. It will save you time and money, and even better, you will avoid having to chunk away food that once upon a time could have been used.
Store your food properly and make it last longer. Worth saying to avoid plastic or aluminium foil, the good thing to do now is making your own Bee's wrap. 
Eat more greens, veggies and legumes. Going vegan is not a must to be a zero waste person, however, it is often related. The amount of water we need to feed a cow is massive, and the carbon footprint is massive (anyways, this is another topic!).
If food is not your thing at all, check out OZHarvest educative program NEST, the workshop series to learn about nutritious, healthy choices, about low-cost meal planning, budgeting, and understanding to read food labels and how the food is correctly stored.
Zero Waste for beginners Tip 9  |  
PAPER- LESS
Don't accept any receipts at all, whether these are invoices, bills, contracts… Common, we are all digitally now, aren't we?
If you use paper, just use both sides!
Need to wrap some presents? Use the pretty Who Gives a Crap wrapping toilet paper!
Zero Waste for beginners Tip 10  |  
SPORT TO TRANSPORT
Take public transit if available or carpool with apps that will save you money, time and you could even make some extra friends.
If it's a 30 minute or less walk, get outside instead of driving.
And if you want to be extra cool, support this new invention a bicycle that could give energy to your entire house for just 1-hour workout!
At the end of the day, it is not that hard. There are options and more sustainable alternatives to change some of your daily life products and, imagine if we all did that? The footprint would be MASSIVE! Who's in the challenge? Share your personal tips with us in the comments below!
Are there any products or brands that have made your zero waste life much easier? Comment below and share it with everyone!
Other articles you'll love:
This post may contain
affiliate links
. This means we may receive a commission, at no extra cost to you, if you make a purchase through a link. We only share contents that are aligned with an ethical, sustainable, eco-conscious world. Read more about our
Terms & Conditions here