An explosion of social entrepreneurs; businesses that are creating products while giving back to the world. And they do well! But how the One for One model started? With shoes! TOMS is an inspiring story that has created the most sustainable business model.
TOMS is the first business that comes to consumers mind when we think of the One for One model; it is indeed the very first company that implemented it. Blake Mycoskie is the Founder and Chief Shoe Giver of TOMS (so to be clear, his name is not Tom!) and the person behind the One for One® business model, which helps a person in need with every product purchased.
This simple idea ended-up growing into a global movement, and at Our Good Brands, we are so inspired by this.
Toms. How the social entrepreneurial venture started
Blake has the habit to go to a country for a month a year and will try his best to get involved in their culture and take the most out of the trip. So he decided to go to Argentina, with the idea of playing horse polo and drinking the Argentinian wine Malbec.
One day in the last week of his trip he was tasting wine, and he got excited when he heard some ladies talking in English; they were volunteering to collect shoes from wealthy families in Buenos Aires. Blake had seen how kids were walking on the streets without shoes and now understood this was an impediment for them to go to school. It was clear that shoes were limiting their education. So he joined the mission. He felt heartbroken when he saw the shine of happiness on kid's faces' when they about to receive a free pair of shoes.
Later on, he explained this experience a professional polo player he met weeks earlier on his trip. Blake was impressed by this guy's excitement, who quickly organised a meeting with a shoe's producer friend. They went to his garage, tried on the shoes. He felt in love with the model because they were different, comfortable and dried quickly after the rain. But most important, it was the first time he had a business idea that was not about making money.
Why One for One model was a great idea?
Blake went back home, and before dinnertime, he told his family about the shoes and also brought some for the women to try them on while he observed them. After the fitting, he took out the pictures and explained them the story. He never saw women so excited about a pair of shoes. They loved the story and the One for One model. Because, they never before had had the opportunity to buy something for themselves and not only feeling not guilty but, at the same time, giving someone in need a free pair. Guilty completely disappeared (we know women usually think like that when they buy another pair of shoes!) and became happiness, and they did not only buy one pair of shoes but multiple!
A big learning was that the story is as important as the product. Through the story, you have to convey your enthusiasm. Now TOMS label will make sense, as the brand has the Argentinian flag on it. 
"The name responded to a simple idea: we could make a better tomorrow, by buying a pair of shoes today and giving away another tomorrow."
Blake has a clear purpose with TOMS, "Stay 100% focused on the mission, whether we make it or not because we are going to be happier by doing the right thing to do instead of cutting corners to make extra money". If you are a social entrepreneur or thinking of becoming one, this could apply to you.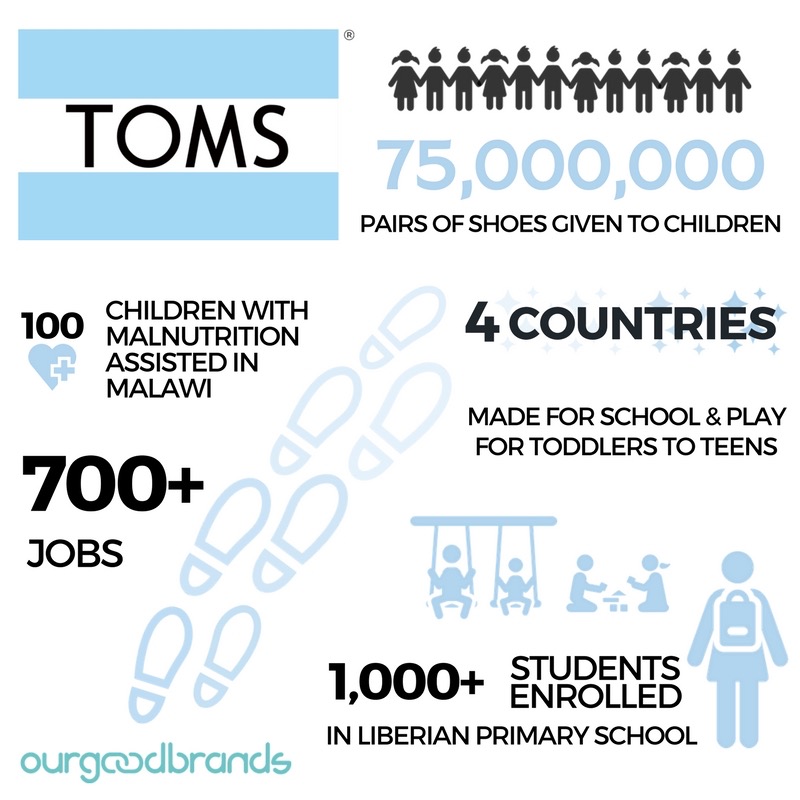 TOMS Shoes has provided more than 75 million pairs of shoes to children since 2006. The Giving Shoes are brand new and made for school and play, and provide multiple styles and offer a range of sizes to fit kids from toddlers to teens.
Over 2 million children have been protected from the hookworm with medication TOMS Shoes provided. More than 100 children were identified during shoe-integrated health screenings as needing malnutrition care in Malawi.
It also has increased the enrolment of more than 1,000 students in Liberian primary school classrooms after TOMS shoe distribution began.
The shoe brand is present in 4 countries supporting over 700 jobs by TOMS giving Shoe production.
TOMS Eyewear has restored sight to more than 400,000 people since 2011.
TOMS helps restore sight to an individual through sight-saving surgery, prescription glasses or medical treatment.
TOMS Roasting Company has helped provide over 335,000 weeks of safe water since launching in 2014.
The coffee sales purchases support water systems in 7 countries – in the same regions where they source the coffee beans. 100% of TOMS coffee is sustainably sourced
TOMS Bag Collection was founded in 2015; with the mission to help provide training for skilled birth attendants and distribute birth kits containing items that help women safely deliver babies. TOMS has supported safe birth services for more than 25,000 mothers, a 42% increase.
TOMS High Road Backpack Collection helps to provide the training of school staff and crisis counsellors to help prevent and respond to instances of bullying.
Nearly one out of every three students ages 12 to 18 reports being bullied in the United States.
TOMS counts with two bulling prevention partners, around all 50 states. So far over 70,000 youths have been served.
The overall impact of TOMS is massive. Currently working with over 90 Giving partners, around 70 countries. Also, TOMS has contributed and provided funds to more than 20 startup companies with a social mission.
But there's so much more TOMS does for the world by doing partnerships and developing parallel programs. There's The TOMS Haiti Artist Collective that employs 30 Haitian artisans to design and hand-paint limited-edition retail shoes in Haiti. Read the Fast Fashion article if you want to understand what has happened with their clothing industry. 
After reading this beautiful story and learn the significant impact of TOMS around the world, there's no reason not to buy one of TOMS amazing products. Whether it's shoes, eyewear, bags, backpacks or coffee… you will be able to buy it on their website, and also in many stores in your area.
Is there any other similar brand you know or are curious about? Comment below and we will make it happen!
This post may contain
affiliate links
. This means we may receive a commission, at no extra cost to you, if you make a purchase through a link. We only share contents that are aligned with an ethical, sustainable, eco-conscious world. Read more about our
Terms & Conditions here