Eco kids are demanding a change, a green one! Let's give it to them by choosing ethical and eco toys this Christmas. Find 30 gift ideas of the most sustainable brands.
As an eco-conscious parent, you are ready to teach them about the importance of recycling; on how to take care of the toys. And also about the lifecycle of a toy including what to do once they no longer serve the educational needs of your kid.
The best thing about choosing eco toys is that you know are made to last a lifetime and are made to keep. They carry memories and moments shared. The issue that comes up is: yes, but how many should hold on to? The point here is that less is more.
It's so important that children understand their natural environment and the planet. Yet children are so exposed to massive consumption and sometimes we forget that the most important "things" are to spend time with each other.
And we get it, it's difficult to keep up all the time, with eco-minded parenting. All we want is you to not drawn in the sea of plastic! This collection of eco toys will give you some perfect gift ideas that are more meaningful and won't disappoint your little ones. Let's go!
Pro Tip: Share this page with your friends and family on socials, bookmark it for future occasions. This is a go-to-guide to inspire more people in your circle to embrace a more sustainable way of living!
Eco gifts for your kiddos to kick their creativity
The degree of creativity children bring to their play will directly affect the level of creativity they bring to their work and thinking later in life. So here we bring some great ideas of eco toys that will boost the creativity of your little Einstein!
1. Cubebot – not a traditional robot
This is a truly non-traditional robot inspired by Japanese Shinto Kumi-ki puzzles. Cubebot can hold dozens of poses, and his elastic-band muscles and durable wood limbs make him impervious to breakage. When it's time for him to rest, he folds into a perfect cube.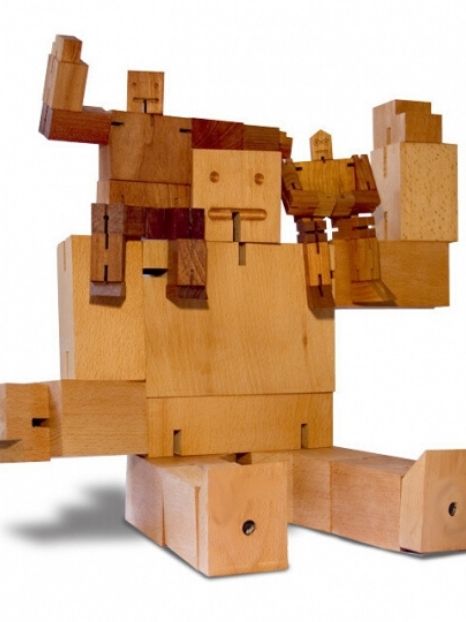 2. Reef Express bath toy set
Zoom through the water with the Reef Express and its ocean Crew – Dave the Dolphin, Tilda the Turtle and Barbara the Butterfly Fish. This fun submarine is made by Happy Planet Toys out of recycled plastic right in Australia, comes sustainably packaged and supports little ecowarrior's missions to keep the ocean and landfill clean! Great entertainment for pre-schoolers at bath time or in the playground to create a world of imaginative water play.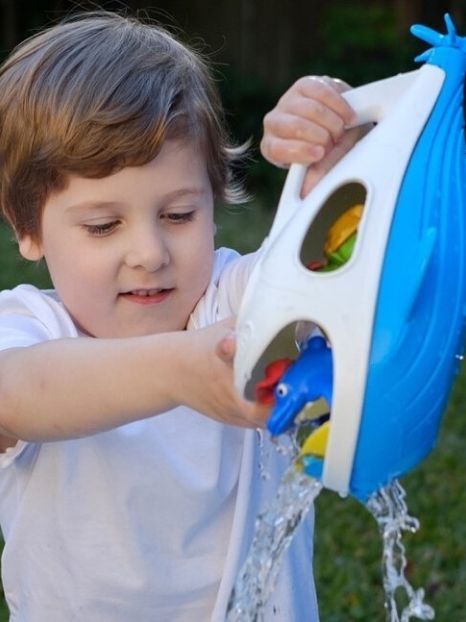 3. Superfun Blockitecture
Blockitecture is a simply brilliant idea. Not world-changing, this is not a big idea, it is small, and from this small idea, great things can grow! Build chaotic structures that will get them to explore the edges of their creativity!
4. A book about the Secret Sea
Books are always a beautiful option for children. EtchArt: Secret Sea uncovers a magical world as you etch your own folk-art in these activity books that take you on a journey through nature. Turtles, crabs, and other sea creatures lie beneath panels of scratchable ink, and are waiting to be uncovered with your wooden stylus!
5. Honeystick crayons or Lyra rainbow pencils
Now there are great options available for them to go crazy with their painting. Made out of natural materials helps to avoid toxic ingredients to get into their mouth or clothes! Honeysticks Crayons are handmade from 100% pure New Zealand beeswax and Lyra rainbow pencils, delightful to use and easy for small hands to hold.
6. Craft books
Great present for those kiddos who love to learn new crafting skills. Also, a great excuse to keep us all away from our electronic devices and learn to stay focused on one activity! Craft books bring us some inspiring ideas to keep the whole family busy all year round. Ideal to celebrate festivals and nature.
7. Wooden toys
If you are looking stimulating, or Montessori toys to support your children education here you will find an incredible range of sustainable and fairtrade wooden toys at Babipur.
8. Green kids crafts subscription packs
This collection of Green Kid Crafts subscriptions are an incredibly fun way to spark the imagination while you learn. Find STEAM kits, educational toys, eco-friendly toys, and educational crafts and science experiments (all children ages 2-10+)
9. Crochet rattles & veggies
Crochet rattles and handmade veggies are an example of collections that could be perfect for a baby. They come with a small bell that will make them much more fun!
Gifts for your kids to spend more time outdoors
We tend to agree with the wise words of Albert Einstein, when he said, "Play is the highest form of research". When outdoors, the whole world opens. If you are one of those parents who agrees in spending time in nature here some original gifts that will have you long hours out of home!
10. Goose cruiser skateboards
These cruiser skateboards are made from rubbish wood: upcycled, handmade, custom-made. Art, Fun & Dreams for children or adults! Ideal if you want to skate combining performance and fun, the Goose boards are beautiful wooden with invisible grip and soft wheels to roll like butter.
11. Smart wooden bikes
Your kiddos will learn to walk and ride easily with Wishbone Bike. Its innovative 3in1 design is lightweight, stable and highly adjustable perfect for children from age 1 to 6. Convert to two wheels, and with no pedals toddlers master the skill of balance quickly. Available in birchwood or recycled plastic.
12. Reusable swim diaper
Because can still swim all year round, here's Tyoub® reusable swim diaper engineered so that won't leak! It's convenient to use, dries quickly and is easy to rinse clean. Made with sustainable regenerated nylon and ocean waste textile, designed with extra strength and shape retention for maximum durability and also UPF50+ protection. Happy environment = happy swimming!
13. Extraordinary eco-bubbles
Dr. Zig is to make the worlds most extraordinary giant eco-bubbles toys, making more children smile (at least 3,567,999!) They are the also the most eco-friendly, low plastic, palm-oil free, bubbles in the whole world! Let's go in nature with the family to play for hours!
Eco toys for the little scientific ones
There are some kids that just love exploring the world and understanding the "why" behind everything. If you want them to see with their own eyes, here some STEAM-level and Montessori options that are sustainable but also incredibly cool (even for you, mum & dad)
14. Geology Lab for family fun
Geology Lab is clearly an educational toy which gives you 52 simple, inexpensive and fun experiments, that explore the Earth's surface, structure and processes. It's Family-friendly and designed to offer a year's worth of captivating STEAM (Science, Technology, Engineering, Art and Math) activities. Explore Rocks, Gems, Geodes, Crystals, Fossils, and Other Wonders of the Earth's Surface!
15. One World Discovery Club
The One World Discovery Club is content-rich and thought-provoking global resources, to support your kids to develop the skills, knowledge and understanding they need, on a global perspective.
16. Pollination kits
Is your kiddo a lover of nature and bees? The bees pollination kit that will sprout and grow two varieties of flowers giving the pollen bees need. Comes with compost-rich coffee soil and eight recycled and biodegradable coffee cups ready for planting! Another meaningful floral surprise for this Christmas that you can personalise with a message is Mystery Blooms. These are heirloom flower seeds, no GMO and fairtrade handmade in Western Australia.
17. The little veggie patch
Gardening is enriched by the help of good little friends: Borage, Dandelion, Dill, Tansy and Clover. That's when friendly bugs come to help: ladybirds, lacewings and other predatory insects will be lured in by the colours and scents of these plants, ensuring there is biodiversity in the veggie patch. The little veggie patch seed kit contains everything you need including biodegradable propagating pots.
Imagination play for a better world
Dress up, makeup, beautiful furniture, subscription boxes… The brands we present choose to make toys with eco and health standards tend to carry a message. Toys with stories that will stimulate their imagination for more fun, and a better world!
18. Themed bed, the best in the world!
Bring some WOW and smiles to your child's bedroom with this range of amazing themed beds for kids: Caravans, Jeeps, Camper Vans to name a few – all can be customer coloured to a colour of your choice!
19. Charlie the Chair
Sustainable educational furniture made out of magic flakes by Ecobirdy. Charlie is not just a chair, it is a truly sustainable educational furniture, and the best way to empower kids to care for a more sustainable future.
20. Minimal wooden toy collection
Remember those times when exploring the world was wooden and fun? Blue Brontide's toys and ethically crafted goods that will last a lifetime. Tell stories and gather memories in your family and will be passed down to others. Eco-friendly, natural & non-toxic kids products to make all the little things in the baby's everyday routine memorable and fun.
21. Monthly subscription toy box club
A new box of toys and books, delivered every month to your door. There's no better way to ensure your children are getting their little mitts on the best and most suitable toys as their minds and bodies grow. The Toy Box Club is a really convenient, space-saving, sustainable and hassle-free service for eco-parents.
22. Dress-up & play
The Sew Heart Felt Collection is designed in England by Sonia Spencer and skilfully hand made by women across the world, using local traditional crafts using organic fibres and eco-friendly pigments.
23. A pretty play (non-toxic) makeup
An all-natural play makeup set perfect for those little ones who love to dress up and try Mum's makeup on. This no-nasties Pretty Play Makeup is handmade in Australia. Includes 3 eye shadows (Lavender, Pink, White), 1 dusty rose blush, 1 shimmer balm, 1 pinky rose lip balm, 1 applicator sponge, 2 double-sided brushes and 1 play mirror. This is for the small gorgeous ones 😉
24. Glitterevolution
It's made from plants, more healthy. It's biodegradable instead of plastic. Shine lil' eco-warriors with healthy Glitterevolution!
25. Heirloom fairtrade dolls
Simple natural toys are vital for a child's development. Wild Thing Toys and soft dolls will bring wonder and enchantment in your child's everyday play, and become a perfect childhood friend!
26. Eco-friendly toy collection
These eco-friendly toys will give your little ones hours of unplugged fun as they express their imagination. A nice range of the EverEarth wooden toy collection, with small animal toys made of bamboo or a drawing tablet made of 100% FSC Certified wood.
Small gifts contributing to eco + social causes
We found some beautiful brands with stories that are impacting social causes and also a last must-have reusable collection for your little green ones!
27. Superpower bracelet supporting Kids Cancer
ME&EM is a promise to do good. The hypoallergenic, stainless steel pieces with natural and ethically sourced gemstones were inspired by Ella's cancer journey: for every intervention, she would earn a bead from the hospital. These colourful beads made her feel brave and strong.
28. Save The Ocean sticker collection
Because children are sometimes the smarter ones when it comes to protect the environment, let them play by becoming activists. What we like to call "silent activism", here's the perfect opportunity for a very discreet revolution, where little (OR ADULTS!) can educate business owners and fellow shoppers to make a radical change! Activism has never been so easy and effective. Oh, and Activistickers is available in 5 languages – this is a World issue!!!!
29. Organic toys handmade by refugee mums
In Bebemoss studio, refugee mums from Syria and underprivileged Turkish mothers gather to produce these beautiful organic handmade toys.
30. Reusable kit: a lunch box & Star Wars Keep Cup
Does your little one not have a reusable kit yet? It could be a lunch box, a reusable water bottle or a Star Wars Keep Cup. Make sure it's BPA free. By doing this we all save loads of single-use plastic and paper.
Let's take a break for a minute!
Do you realise the incredibly beautiful options out there for your children?
Hope you found this list with 40+ eco toys useful! We were very mindful of finding options for your green little ones that were sustainable and would contribute to more imaginative plans, together, outdoors and get away from electronic devices or TV's. All these eco toys are made to last a lifetime and pass onto future generations or exchange with other friends.
Did you enjoy this guide with 30 sustainable and ethical gift options for your eco kids?! We kept it simple so that you can explore at your own pace. If you have any recommendations of brands please share it with us in the comments below!
Other articles you'll love:
This post may contain
affiliate links
. This means we may receive a commission, at no extra cost to you, if you make a purchase through a link. We only share contents that are aligned with an ethical, sustainable, eco-conscious world. Read more about our
Terms & Conditions here