We get a lot of people asking how they can bring their loved ones into the journey of sustainable living. The answer could be using social celebrations such as Christmas or Birthdays with the most original or unusual eco-friendly and ethical gifts. Promise this guide of present ideas will contribute to getting them enthusiastic about the eco-world in a way that is positive and empowering!
If by any chance it came across your mind that ethical gifts were boring, we are going to show you that eco-friendly and sustainable goods are actually much more fun. Why? Because they turn into a conversation piece. That's exactly what we are prepared for in social events, and special moments like Christmas time we are all much more predisposed to do good in the world. Shall we make this years' celebration a little more authentic, a little more purposeful, a little more original?
Let's celebrate this year without compromising your environmental or your sustainable values. Find here a meaningful curated list with the 12 most original and unusual ethical and eco-friendly gifts!
Pro Tip: Share this page with your friends and family on socials, bookmark it for future occasions. This is a go-to-guide to inspire more people in your circle to embrace a more sustainable way of living!
1. Skate Boards made of wood TRASH!
Like a "phoenix from the trashes" these cruiser skateboards are made from rubbish wood: upcycled, handmade, custom-made. Art, Fun & Dreams for children or adults! Goose Boards started with two friends who wanted to develop their creative potential. They decided to handmake cruiser skateboards from something that was seemingly throw-away-able… wood scraps! These upcycled longboards are designed as a functional piece of art, for those who want to enjoy "being free". Ideal if you want to skate combining performance and fun, the Goose boards are beautiful wooden with invisible grip and soft wheels to roll like butter. Because "imagination should be taken seriously" we'll let you goose around with this magic wooden brand!
2. Wooden bicycle
On the hunt of eco-designed gifts? On Ekohunters you will find an exquisite collection of eco-well-designed products. From furniture, home decor, retro eco-designed goods. Or just this gorgeous wooden bicycle handmade by Kardam Bikes. Definitely an unusual-enough kind of gift to make this Christmas truly eco-friendly! Ekohunters works selectively with brands to ensure high sustainable standards, to the point they have self-developed EKO label. All eco-products in here prove that sustainability and innovation should not be at odds with beautiful design. Agree?
3. Fairphone 3 (world's first ethical smartphone)
Fairphone is a social enterprise to change the electronics industry from the inside out. Why a phone should be ethical? Well, smartphones are products made up of thousands of different components, coming from many different suppliers and a wide variety of materials. Step by step, Fairphone is mapping the supply chain to understand exactly what goes into our phone and where it comes from. They address unfair practices to the electronics industry as a whole earning a Fairtrade gold into our supply chain. For only €450 you get everything you'd expect from a great phone, good for the people and the planet. Send your old phone to get up to €40 discount!
4. Hemp linen, slowly handmade with love
Julie Grant is responsible for the beautiful hemp linen, made by hand, very slowly. The dyeing process is also natural; you won't find more ethical and consciously made sheets. Mandala Dream is devoted to sustainability and slow living. The hemp linen is made involving you in the journey of the making. You get to personalise and use them for a lifetime, whether summer or winter.
Here's an incredible blog of Julie taking us to the depth of the dyeing process using just plants.
5. Consciously crafted jewellery
If you are after something special for this Christmas, here's a collection of consciously crafted jewellery and homewares. For wildflowers with conscious hearts. Fairtrade jewellery and eco-friendly homewares, to inspire purchasing with purpose. Because beautiful things can give back too… Loft & Daughter is a serendipitous unfolding of thoughtful designs, simply and slowly made. Beautiful pieces, rich in meaning, that exist to impact positively on the hands that made them, whilst being kind to the world we live in.
6. A bottle of handcrafted premium dry Elephant Gin
Whether you love elephants or gin, this brand is definitely the best pick for celebrations time! Elephant Gin is distilled using 14 botanicals, including rare African ingredients that have not been used in gin-making before. The botanicals are hand-selected to limit any impurities and ensure only the highest quality ingredients are used. There is no wonder this brand has won over 20 awards in the past couple of years!
7. Handmade cork accessories
A bow tie, a phone case, a handbag, a purse, jewellery… all made of cork! How Cork works with brands and artisans in Portugal to create accessories that blend in nature. They are on a mission to spread culture and cork eco-fashion, for a brighter future in vegan fashion. All you find here is hand-made and people behind scenes that are fully devoted to living in harmony with the planet and respecting human and animal rights.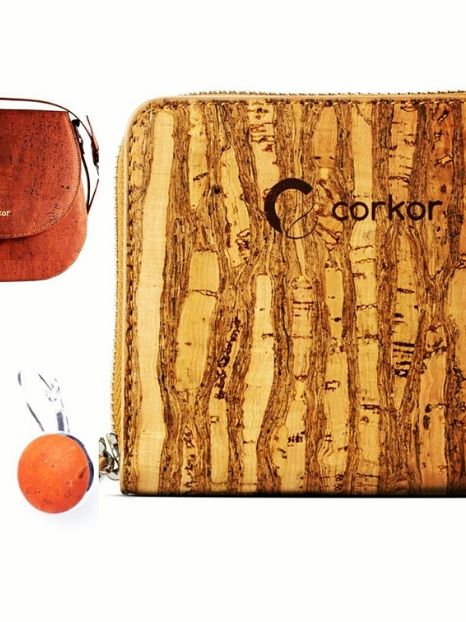 8. A coffee kit with seven magical beans
Coromandel Coast is a social enterprise conserving our forests one cup at a time. This brand only sells coffee, and coffee is a great gift for any occasion! Their coffee grows in the forest under the lush canopy of fruit and spice trees. Just like they did centuries ago. We think that's cool, so do the birds and bees. One of the coffees – Ikshvaku- is wild and fruity and tends to be preferred by women; and Chera is woody and smoky, with hints of bourbon which seems to appeal to men. And so they have a total of seven delicious flavours in the range. Why not gift a year supply to a coffee-lover this Christmas?
9. Back to classics with a zero-waste razor
Rockwell Razor has re-engineered grooming and safe shaving or hair removal for men & women! It's shaving, reinvented. At the fraction of the cost of a cartridge razor, you can also reduce the plastic footprint with Rockwell, offering a variety of zero waste razors for a more natural shaving, hair removal as well as beard products. Simple design, great finish, efficiency, irritation-free and build to last. Ready gift someone the best shaving experience EVER?
10. Going on a Family Safari
If we said unusual ethical gifts, going on a safari is probably one of those in your bucket list. Well, then why not? Make of dream-trip a gift to the entire family! Jumbari Family Safaris is a social & eco travel enterprise that is right on the ground exploring the immensity of Africa. Only this way they are able to offer expert travel advice and create tailor-made responsible family safaris. Jumbari is will give you unforgettable experiences, while contributing to uplift local communities. From arrival to departure, they will set you up with the most eco-responsible family safari. Promise it's ecotourism as its best!
Not sure about children? Here 5 reasons to take your children on a family safari in Africa
11. Backpack travel gift with a purpose
Do you have an adventurer in your family? Someone who wants to join a volunteering program, and you want him or her to do it safely? Operation Groundswell is reinventing volunteering and sustainable travelling with programs that will make you contribute the most realistic way possible. Gift someone the adventure that will change his or her life!
12. A kit of doTERRA essential oils and diffuser
This is one of the most sustainable essential oils. It's more powerful than medicine, the whole range smells beautiful and it impacts communities producers of these beautiful oils. If you decide to give doTerra as a present to someone this Christmas, you are gifting natural medicine. The range is endless and it covers pretty much everything, which you can decide upon health goals, plant types or uses.
Did you enjoy this guide with 12 original & unusual gift ideas for eco-friendly Christmas 2021?! We kept it simple so that you can explore at your own pace. If you have any recommendations of brands please share it with us in the comments below!
Other articles you'll love:
This post may contain
affiliate links
. This means we may receive a commission, at no extra cost to you, if you make a purchase through a link. We only share contents that are aligned with an ethical, sustainable, eco-conscious world. Read more about our
Terms & Conditions here