If you are one of those who collects small crafty items, paper bags, and used gift wrapping paper all year long, Christmas is time to put your upcycling skills into action.
Christmas is the perfect time of the year to spend time with your loved ones to do crafts and other hobbies. Decoration is usually one of the top DIY winners for this holiday season, yet we often forget that wrapping presents can become loads of extra fun if we add a pinch of creativity. So grab your crafty box, chunk in any items that are sitting in the bottom of your drawer and let's make something cool out of it.
Here some inspiring DIY low cost ideas using upcycled gift wrapping materials. Wish you the best fun, and don't forget to comment below showing us your outstanding self-made gift wrapping pictures!
1. Upcycle old maps for your gift wrapping
Did you find any old maps decluttering your home? One that's broken or no longer use? Repurpose it! This is the perfect upcycled gift wrapping idea for the travellers in your family, or for a special travel present. It will most definitely stand out under your Christmas tree and catch the eyes of the most adventurous ones!
2. Upcycle paper bags for your gift wrapping
Easy one, as the shape of the paper bag is already there, and also they tend to be accessible. These are the kind of bags you'll want to keep all-year round because by Xmas time it will make your life soooo much easier! Redecorate your plain paper bag with some funky upcycled ideas or feel free to cut it to your desired shape or wrapping paper.
3. Upcycle magazines for your gift wrapping
If you spend a little time going through your old magazines (pssst… if you are not a buyer, you can always get old ones from the doctors or hairdressers, especially at the end of the year!), you will find some cool layouts that could match some of your Xmas gifts. Find the make-up section to wrap a lipstick or perfume. Eventually you can even create a mini collage. It is extremely fun and can become one of the most creative gift under your Christmas tree this year!
4. Upcycle comics for your gift wrapping
If you have some old comics (not collectables, that would be silly!) or need to get rid of some, instead of throwing them to the paper recycling bin, make sure to keep them for the gift wrapping purpose! It will make your Christmas tree more joyful and catch the eyes of the little (and not so little ones ehem!). Ideal to wrap gifts that are related with toys, games and other superhero presents.
5. Upcycle newspapers for your gift wrapping
This is probably the trendiest upcycle gift wrapping idea that has got loads of admirers in the past few years! Newspapers aren't just cheap and easy to collect throughout the year, but also incredibly crafty and look beautiful when adding other natural elements such as dry leaves, flowers or even earthy bows. Like with any paper you can also do sachets, flowers and other crafts like the feathers half painted with gold.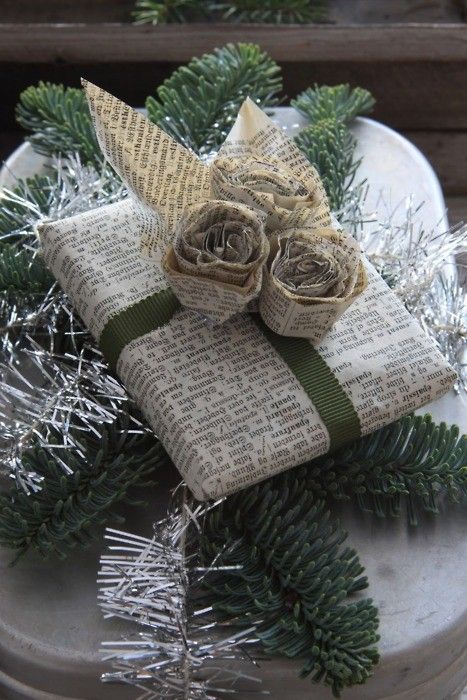 6. Upcycle glass jars for your gift wrapping
Glass jars and bottles make a great container for all kinds of gifts, especially the smallest ones. Some interesting ideas could be a lolly jar, homemade chocolates or biscuits, or even that easy baking recipe that you can layer beautifully, to later bake it together on Christmas Day! You can also put in small goodies like soaps, bath salts or incense. For some people who love crafting their own alcohol, it is a perfect upcycled container to keep till next year or drink directly from the jar if ready! 
7. Upcycle brown paper for your gift wrapping
Brown paper seems very booooring, yet it's going to become your best asset this Christmas if you want to get crafty and creative with your upcycled gift wrapping. For the purpose you can either cut and repurpose paper shopping bags, or buy very inexpensive brown or white kraft paper. 
There is plenty you can do, from tucking a sprig of seasonal leaves behind the bow, or paints, stickers or eco-friendly glitter. Just be aware of what you are using to make sure you can recycle the paper afterwards! 
8. Upcycle toilet roll tubes for your gift wrapping
Paper roll tubes are another interesting way to upcycle your gift wraps this year (and incredibly easy to collect unless you use reusable toilet paper). They fold on both ends to create a packaging, but you can also destroy the roll to cut it into cardboard pieces and craft shapes with it to stick on your wrapped gifts. The options are endless, especially if ups are a user of the brand Who Gives a Crap!
This toilet paper brand comes up with new designs every year, and you can most definitely keep the sheets all year round and upcycle them for your gift wrapping for birthdays or Christmas. Not to mention that with this brand you are making a double impact: contributing to building toilets around the world, saving our forests and loads of water. 
9. Upcycle kids colouring artwork for your gift wrapping
Do you have loads of half-finished drawings from your children and want to give them a second life and meaningful purpose? It's most definitely original, not to mention personalised. Mumma or daddy will get some emotional tears in their eyes opening up their Christmas gifts this year, that's a promise!!
10. Upcycle natural elements for your gift wrapping
Natural elements: cuttings from evergreen trees and shrubs such as boxwood, rosemary, eucalyptus, cedar, juniper, etc. Colorful berries like Holly, Firethorn, pepper tree, etc. Seed pods and pine cones are also great materials to create with. Most of the fresh cuttings will look nice for 3 to 7 days without water. But you can collect them and put them in a vase with water, which will make them last longer, until you are ready to use them.
Avoid plant materials that may cause allergies or are poisonous, such as Oleander, poison oak, etc. If unsure, take a picture of a plant and ask your local nursery experts. 
11. Upcycle dried fruit to decorate your gift wrapping
Is there anything more beautiful, yum & healthy than a dried fruit hanging from a gift? Make the most edible gifts charged with vitamin C using dried fruit! Some that work really well are citric, especially orange for that warm autumn/winter look and also tastes delicious. A Truly zero waste gift wrapping idea that your loved ones will truly appreciate.
12. Upcycle cardboard boxes for your gift wrapping
Keeping cardboard boxes from your online purchases or even other goods you shop during the year is most definitely the most useful thing you can do for gift wrapping this Christmas. It will help especially for large-sized presents and you will contribute to repurpose loads of cardboard that would otherwise go to waste. Remember cardboard boxes for Christmas time can be the most absolute luxury also for your crafts and Xmas decorations!
13. Upcycle padded envelopes for your gift wrapping 
The more stickers and stamps on it the better! You can make from these envelopes a whole new art piece, whether you are putting in a greeting card or a money-gift. It will make the person receiving it want to keep it – envelopes carry a story and that means it's something special!
14. Upcycle strings for your gift wrapping 
Whether you collect strings or you purchase new ones (ideally around 48 lb thickness, but up to you!), strings can most definitely be eco-friendly and some of the favourite materials are hemp twine, baker twine, jute twine, or yarn.
15. Use potatoes as self-made stamps
Have you ever thought of using a potato as a stamp? It is a really simple idea, all you need to do is to spend some time carving the shape into your potato and then you will be use it as many times as wanted within the day (don't let it rot!) it is truly a zero waste and most natural idea to redecorate and DIY your gift wrapping paper!
DIY inspiration made by OurGoodCommunity!
"This was my Secret Santa gift this year… reused ribbon (this was the only thing holding it together – zero sticky tape), gift card cut from last year's Xmas beer carton, reused red tissue paper that I think came in a shoe box & packing material on top of the tissue paper that came with an online order."
Did you enjoy the inspiration of these DIY low cost ideas using upcycled gift wrapping materials? Make sure to share your creations on the comments below!
This post may contain
affiliate links
. This means we may receive a commission, at no extra cost to you, if you make a purchase through a link. We only share contents that are aligned with an ethical, sustainable, eco-conscious world. Read more about our
Terms & Conditions here