This post may contain affiliate links . This means we may receive a commission, at no extra cost to you, if you make a purchase through a link. We only share contents that are aligned with an ethical, sustainable, eco-conscious world.
We researched some of the most ethical and eco-friendly yoga accessories. Promise this is the most extensive list you will find of eco-conscious yoga gear & props: straps, blocks, blankets, bolsters, bags and carriers, cushions and pillows, wheels, water bottles and much more so you are fully equipped for this 2021!
With particular order, we have curated the most extensive list of sustainable yoga wear brands including the most ethical and eco-friendly yoga clothes this 2021. We have included information such as why we believe it's a good brand, what textiles each of the yoga brands uses for its activewear; if it's available "for her" and "for him", as well as price and shipping options! We have done the hard work for you so that you can easily choose what is the most convenient option.
And if you love all about yoga here is a Free eBOOK: Change your life with yoga while you make the world more sustainable!
Eco-friendly yoga accessories: STRAPS
Body Mind Connect straps
Body Mind Connect straps are made out of organic cotton. It's got a good length (71 inches) and it's adjustable awesomeness which you can use both for stretching and to comfortably carry your yoga mat to class (there's no velcro and you don't need to tie a knot).
Materials: organic cotton
Price range (USD): From $35
Manuka yoga straps
All Manuka yoga straps are lightweight and durable, ensuring slip-free support for even the most challenging positions.
Materials: 100% unbleached eco-friendly cotton using AZO, lead, and heavy metal-free dyes
Price range (USD): From $12
Zafu Organic Cotton Yoga Straps
Great for your favorite asanas, Zafu's Organic Cotton Yoga Strap will help you deepen stretches, achieve hard-to-reach poses, improve your flexibility and add challenge to your workouts.
Materials: Organic cotton
Price range (USD): From $14,50
Prana Yoga Strap
The Raja Yoga Strap is designed for those newer to yoga to aid with tight shoulders and hamstrings
This six-foot strap has a square profile traditional D-ring buckle and is made from organic cotton webbing. It's Fair Trade Certified.
Materials: 100% Organic Cotton
Price range (USD): From $15
Create Flow Release Yoga Strap
A perfect yoga accessory for a student of all levels. Designed to be durable, strong and luxuriously soft to support your yoga practice. A highly versatile yoga prop that can be used to access deeper releases and support a beginner student in practicing with safe alignment. As with all of Create Flow's products, this yoga strap is made under ethical workplace conditions, sweatshop free.
Materials: Organic cotton thread; Double D ring metal buckle; Colour dark grey with a natural non toxic dye without AZO and heavy metals.
Price range (USD): From $26
Gaiam Bamboo Yoga Strap
This essential accessory helps gently expand your range of motion by making challenging poses safely accessible and gradually contributing to greater overall flexibility. The strap is constructed with strong, resilient bamboo fabric for non-stretch support. Features 8 feet of non-slip support with a durable non-slip buckle.
Materials: Bamboo fabric
Price range (USD): From $12
Eco-friendly yoga accessories: BLOCKS
ReCork Blocks
ReCork is a brand of recycling experts and creators of the world's first yoga block made from 198 recycled wine corks: it's eco-friendly, it's all-natural. The properties of the block is that offers stability and increased the balance to help with ideal alignment, deeper poses and elevated strength. It's large enough to practice with comfort. Naturally grippy, non-slip surface with comfortable contoured edges. You can get involved in their cork recycling program (individuals or businesses!)
Materials: recycled wine corks
Price range (USD): From $20
Barefoot Yoga Blocks
Barefoot Yoga is a brand with the range of accessories, including yoga mats, blocks, straps, sandbags and blankets. The bamboo blocks are just as stable and functional as wood, but extremely lightweight and much more eco-friendly. Made hollow, but every bit as durable as solid wood. Treat yourself to this luxuriously smooth prop for your yoga practice. The cork blocks are made from 100% natural cork, a sustainably harvested resource and completely Eco-friendly material. Each block is sturdy and solid, yet lightweight and extremely durable. The surfaces are smooth cork, which has a natural texture that provides extra traction. The bevelled edges provide added comfort and support during poses.
Materials: Within the block range you can choose bamboo, cork or eco-friendly foam.
Price range (USD): From $20
Manduka Cork block
Made of renewable sustainable cork, this high-quality yoga block has a firmness not found in foam blocks, and allows you to feel secure in the support it generously provides. There are no toxic chemicals used in the manufacturing of our cork yoga blocks.
Materials: Cork
Price range (USD): From $16
Zafu Buckwheat Yoga Block
Award-winning earth-friendly yoga block that is firm for proper support yet soft enough to use for poses where a hard block would not work. Excellent for assisting people with limited flexibility. Offered in a variety of colors. Includes a removable cover with handle for easy transport.
Materials: Organic cotton, eco-friendly dyes and stuffed with Buckwheat Hulls
Price range (USD): From $35
Hugger Mugger cork yoga blocks
Hugger Mugger cork yoga blocks are made with fast-growing, renewable cork. Their natural texture provides traction and natural grip helps you find stability. Its rounded edges make it comfortable for supported poses. Long-lasting and durable, cork is always a great option for eco-minded people and has been a yogi favorite for years!
Materials: Cork
Price range (USD): From $22
Yoloha yoga block
Elevate your practice with yoga block made with premium natural cork, sourced from sustainable farms in Portugal. Built to be extra sturdy, grounding, non-slip and safe for all postures. Rounded edges add comfort and ease in gripping. Body kind with no latex, harsh chemicals or PVC's used. Built to last a lifetime.
Materials: sustainably sourced cork
Price range (USD): From $24
Create Flow Cork Yoga Blocks
The Create Flow Cork Yoga Blocks are made from 100% renewable, sustainable, sturdy cork harvested from certified forests without cutting down the tree. After harvest, the thick and rugged bark grows back, resulting in no harm to the tree. There are no toxic chemicals used in the manufacturing of our cork yoga blocks, so it's kind to the earth and kind to you.
Materials: natural cork, no dyes used in manufacturing
Price range (USD): From $38
Second Earth Levitate Cork Blocks
Unleash new positions, add variety to your practice, gain confidence and look damn fine doing it as you float on the 'Levitate'. This cork yoga block has all the asanas covered. Lightweight, durable, strong, sexy. But what's really awesome is the fact it's made with 100% natural cork, meaning these beauties are 100% sustainable. And you can also feel good knowing there are no toxic chemicals used in the manufacturing process or final product. Rounded edges ensure a comfortable grip, and the natural texture of cork provides an amazing feel. This means you can focus on getting the most out of your practice at home or in the studio while also reducing the risk of injury.
Materials: 100% natural cork (No PVC, PER, TPE or adhesives used)
Price range (USD): From $29
Gaiam Cork Yoga Block
This cork block is a great option for those who do not feel flexible enough to complete some yoga poses, helping to increase your reach and flexibility. Get extra grip and traction, natural texture, comfortable and pliable, with rounded edges for extra comfort.
Materials: 100% Recycled Cork
Price range (USD): From $15
Eco-friendly yoga accessories: BLANKETS
Barefoot Blankets
Barefoot has in its yoga accessories range a variety of Mexican Blankets made from "Regenerated Yarn" – a recycled blend of cotton and acrylics. Just be aware the order is minimum of 8 blankets, so probably more suitable for yoga schools.
Materials: Regenerated yarn
Price range (USD): From $35
Manuka Blankets
The brand has two blankets in its range of yoga accessories. The Peruvian recycled cotton yoga blanket with a touch of luxe and yet rustic fabric moves the way you want it to. Also, the recycled wool blanket is made out of 100% recycled fibers, this blanket is moldable and foldable to support your body in restorative and dynamic yoga poses for the ultimate warmth, comfort, and versatility.
Materials: Recycled cotton or recycled wool
Price range (USD): From $38
Manuka yogitoes®
These yoga towels will help you prevent slipping no matter how much you move or sweat. Ultra absorbent, lightweight and quick drying. Yogitoes® features our patented Skidless® Technology, which utilizes silicone nubs to grip your mat and keep you in place. Durable enough to take anywhere: the beach, the gym, pilates or travelling. In terms of sustainability, the towels are made from no fewer than eight discarded plastic bottles. The vibrant colors are created free of AZO, lead and heavy metal dyes to protect our workers, our customers and our environment.
Materials: Skidless® from discarded plastic bottles
Price range (USD): From $58
Zafu handcrafted, chenille herringbone blanket
This blanket has hemmed edges and gets softer after every wash. Domestically grown and milled 100% organic cotton, made of chenille herringbone with hemmed edges. Comes in two colors, Natural or Cocoa and three of sizes.
Materials: Organic cotton
Price range (USD): From $65
Hugger Mugger Recycled Plaid Blanket
This extra-thick blanket provides comfortable support for Shoulderstand and restorative yoga poses. It's woven using recycled polyester and acrylic fibers — good for anyone who has an allergy or sensitivity to traditional wool blankets. It's a long-lasting and durable and reversible super soft blanket.
Materials: Made from recycled polyester and acrylic fibers.
Price range (USD): From $44
Gaiam Meditation Hardware Mark
This meditation Seat was designed with this blanket in mind. Rolled up, it fits snugly inside the seat's steel spring. Popularized by yoga studios across the world, these blankets are also great for yoga, or even picnics! Woven in Mexico.
Materials: Seat: wood; Blanket: reclaimed cotton fibers.
Price range (USD): From $19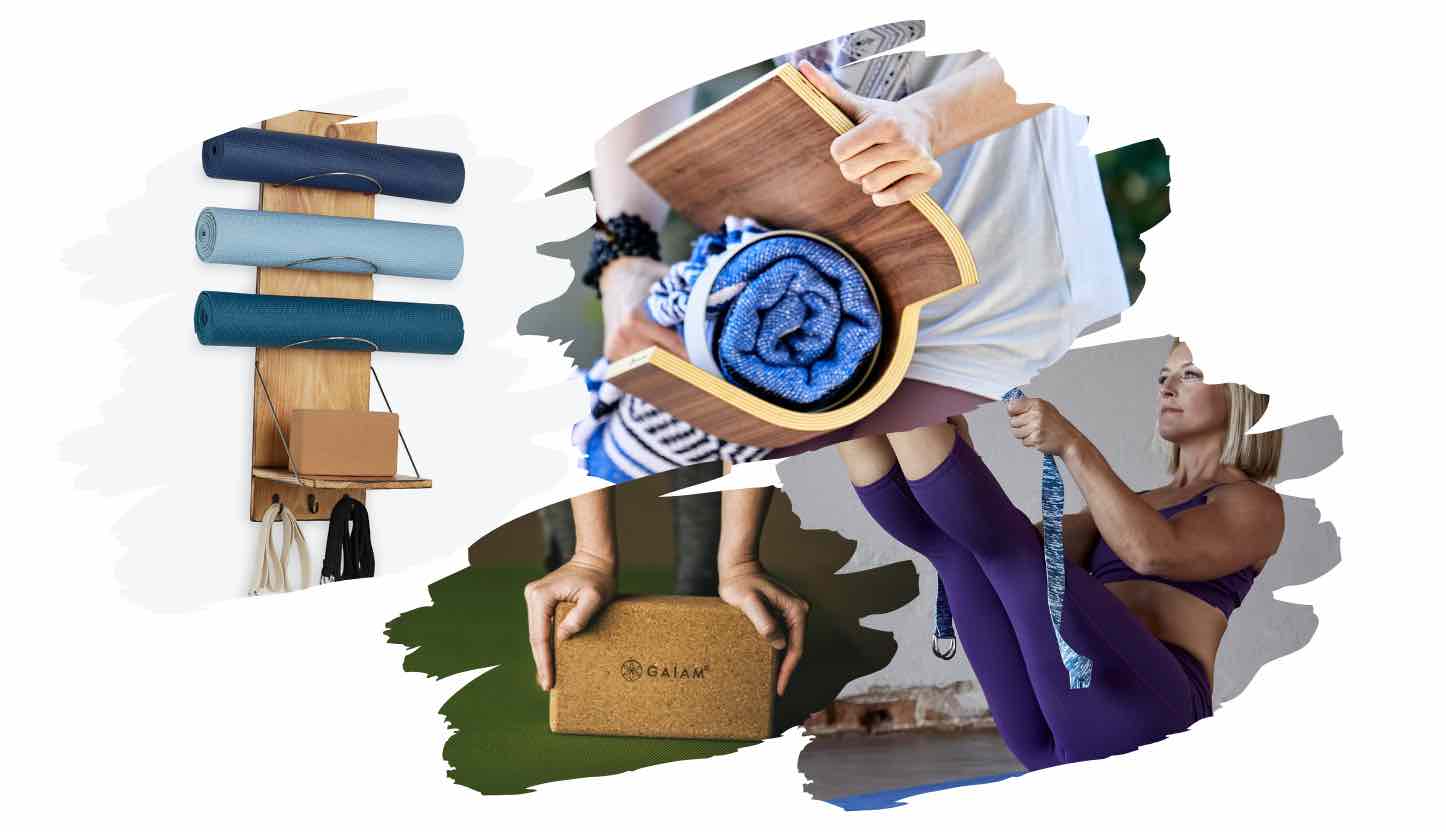 Eco-friendly yoga accessories: BOLSTERS
eQua® yoga bolster
Manuka has a large range of yoga bolster available, all made with an outer microfiber cover is made with the eQua® microfiber fabric, a recyclable synthetic material, engineered for performance & durability. The bolsters are lightweight, classic, round bolster featuring a resilient, long lasting fiber-fill to create a firm cushion the support you are looking for.
Materials: eQua® microfiber fabric
Price range (USD): From $56
Zafu Organic Yoga Bolster
This bolster's removable, washable cover is made from 100 per cent organic cotton muslin, and the filling is organic, dust-mite-resistant kapok (a natural fiber harvested from the seed pods of the kapok tree). The combination makes it firm but comfortable support for a variety of stretching and resting asanas.
Materials: Organic cotton muslin, stuffed with organic, dust-mite-resistant kapok.
Price range (USD): From $77
Eco-friendly yoga accessories: MATS BAGS & CARRIERS
Bagmaya eco-friendly yoga mat bag
Bagmaya was born from a volunteering experience in Nepal. The founders are striving to continue their impact in the country, by empowering people from disadvantaged communities. If you are looking for a beautiful and practical yoga mat bag that has also been ethically made from sustainable materials, then the Pushkar Yoga Mat Bag from Bagmaya is your best bet. Handmade in Nepal with natural hemp, this comfortable yoga mat bag will allow you to go anywhere hands-free, thanks to its backpack-style design.
It also features an external pocket for a reusable water bottle, plus one external pocket and another internal pocket for your valuables. It's large enough to fit your yoga mat plus other yoga accessories like yoga straps or a small towel. On top of that, the guys at Bagmaya will plant a tree with your order, and your yoga mat bag will arrive in plastic-free packaging. Can't get much better than that!
Materials: Hemp
Price range (USD): From $40
Manduka Carriers and Bags
The bags have separate compartments will keep your mat, clothing and personal items organized and protected.
Both Carriers and Bags are made of materials that are certified by OEKO-TEX, an environmental certification agency in Europe for the textile industry that ensures the safety of the manufacturer, people and planet.
Materials: Certified OEKO-TEX materials
Price range (USD): From $20
Wai Lana Green Organic Cotton Yoga Tote
It's made from organic cotton tinted with natural dyes and embellished with embroidered designs, this yoga-mat tote is "light and large enough to take the mat in and out of the bag easily, without being too roomy," a teacher tester said. It's 27″"L x 6″" diameter (so fits most mats)
Materials: 100% organic cotton and colored with natural, eco-friendly dyes
Price range (USD): From $25
Prana Yoga Bags
Prana bags are simple in design, lightweight, and you can easily induce your yoga mat in the bag. The steadfast mat bags features a cinch-top closure, quick-dry properties and easy to clean, as well as a mesh bottom for extra fresh airflow. Front stash pocket with key ring holder and adjustable webbing shoulder strap.
Materials: 100% Recycled Polyester
Price range (USD): From $30
Urbivore Macrame Yoga Mat Strap + Keychain
This handmade macrame yoga mat strap is a very sturdy, comfortable, and hip way to tote your Yoga Mat or Beach Blanket to and from class or the beach. The strap also includes brass swivel hook for your keys so you can leave your bag at home and have a convenient way to bring your keys along.
Materials: Durable 3 ply cotton rope, 2 brass metal D-rings and brass clip for your keys
Price range (USD): From $38
Urbivore Upcycled Cork Yoga Mat Carrying Strap
One of a kind carrying strap. Urbivore founders tried to figure out what to do with their cork yoga mats that have a few blemishes and would otherwise go to waste, they come up with the idea of this upcycled cork yoga mat carrying strap. This comfortable cork yoga mat insert adds extra cushion and comfort for any user – making it a great upgrade to the conventional nylon carrying straps. And you get to support zero-waste! Fully adjustable and easy to use, this carrying strap will fit any size mat (Length: 105cm)
Materials: Made from upcycled cork yoga mats.
Price range (USD): From $38
Eco-friendly yoga accessories: CUSHION + EYE PILLOW
Yohola cork meditation cushion
Yohola's premium cork meditation cushion is handmade in the USA from sustainable cork fabric and recycled cork filler. Cork provides a warm, soft, lightweight cushion which contours nicely to your body. Naturally resists odors and mold, and it's double-stitched with care for long-lasting comfort and mindfulness on the go.
Materials: premium cork fabric and filled with recycled cork granules.
Price range (USD): From $79
Create Flow Restore Organic Eye Pillows
Our eye pillows are handmade in Australia with hemp love. Your purchase will help to empower, support and educate communities in need. Hemp is a highly sustainable, low-impact crop, requiring minimal water and zero pesticides or herbicides for growth and very little water consumption for production to the fabric. Create Flow has chosen to blend the hemp with luxurious un-dyed yak wool, giving an incredible softness to the fabric. Comes with a cotton carrier bag to keep your eye pillow in perfect condition between classes.
Materials: The outer slip is un-dyed organic hemp & yak wool; the inner lining is unbleached cotton; the filling is Australian grown organic linseed and Australian-grown organic lavender.
Price range (USD): From $37
Mari Design Handmade Eye Pillows
Mari Design eye pillows provide comfort, safety, and relaxation. The benefits of having slight pressure on your eyes can aid in relaxation, help sleep, release tension headaches, and aid in your meditation. They are handmade by the brand's founder, who declares to sew the intention of love and peace into each one, filling them with lavender hand-picked in the UK and also UK-grown flaxseeds. The fabrics are dyed using non-toxic, water-based dyes to ensure that the most gentle of fibers is laid across your eyes when using one.
Materials: lavender and flaxseeds hand-picked from the UK and natural dyes.
Price range (USD): From $20
Eco-friendly yoga accessories: WATER BOTTLE
Gaiam Stainless steel water bottle
Beautiful and functional, this water bottle comes in seven designs. It has a special wide-mouth cap with handle lets you add ice on the go so you can take it everywhere. The canister is crafted from double-walled stainless steel for non-sweat insulation, so it keeps liquids cold for 24 hours or hot for 12.
Materials: Stainless steel. Non-toxic, BPA-free; No-leak vacuum seal.
Price range (USD): From $15
Heartspace Crystal Water Bottles
Enjoy your Heartspace with a natural look, featuring a bamboo lid and base and glass. The crystals inside of the bottle hold a vibrational frequency, and it is said crystal become charged with the energy or intentions of their owner. Powering crystals with positive intentions encourages focus on your goals and intentions. Using the crystal and water together marries the benefits of water consumption and the continued reminder of positive thoughts and intentions.
The crystals used by Heartspace are safe to be in contact with drinking water and you can choose between six types of crystal: Rose Quartz, Clear Quartz, Smoky Quartz, Obsidian, Amethyst and Citrine. The crystals are sourced from Mozambique, Brazil, Madagascar and China.
Materials: bamboo, glass and the crystal of your choice
Price range (USD): From $119
Eco-friendly yoga accessories: YOGA WHEELS
Yohola cork yoga wheels
Yohola's cork yoga wheels are handcrafted locally by skilled woodworkers in the USA. The core is constructed from sustainably-sourced maple and poplar wood and sealed with furniture wax made from locally-sourced organic beeswax. Rounded interior edges making gripping comfortable. An outer layer of latex-free foam topped with cork provides a cushion with the antimicrobial and non-slip benefits of cork. Each wheel is designed to hold up to 250 pounds and last a lifetime.
Materials: cork and sustainably-sourced maple & poplar wood and sealed with furniture wax made from locally-sourced organic beeswax
Price range (USD): From $109
Gaiam Eco Yoga Wheel
This wheel will help to go that extra few inches with your bends and stretches. Ideal to release back, chest and spine tension and take your most challenging backbends. Handcrafted from extra-thick, eco-friendly TPE, the closed-cell construction blocks odors and bacteria. It also provides a superior non-slip cushioning.
Materials: Dense Plastic Core, TPE cushion
Price range (USD): From $40
Gaiam Cork Yoga Wheel
This Gaiam cork yoga wheel is naturally antibacterial, the cork surface is gentle on your body and holds its grip whether it's wet or dry. Made for any ability level, the wheel can help improve mobility and flexibility, opening up your hip flexors, abdomen, back, chest and shoulders.
Materials: Dense Plastic Core, Cork Cushion
Price range (USD): From $40
Eco-friendly yoga accessories: SPRAY CLEANER
Urbivore extra Grip + Yoga Mat Cleaner
Align your chakras with our extra grip mat spray! A few spritzes on your mat before each practice will stimulate deep breathing – raise your energy and relax your body. Because cork naturally contains a waxy substance called suberin, your cork yoga mat actually gets grippier when wet! For best practice spray on the parts of your mat where your hands and feet will be to enhance your grip and deepen your stretch. Made from aqua, essential oils and castile soap. We chose eucalyptus + peppermint for mental clarity, orange for some citrusy zest, and a dash of fir for a therapeutic earthy undertone. Because essential oils are infused with the essential oils of plants-there is an antibacterial action as well as an odor neutralizing effect!" So feel free to use this spray as a mat cleaner to keep things smelling extra nice!
Materials: Aqua, essential oils and castile soap
Price range (USD): From $12
Eco-friendly yoga accessories: SHAWLS, HAIR TIES & HEADBANDS
Kooshoo shawls, hair ties and yoga headbands
Kooshoo was founded by Jesse and Rachel, husband and wife yoga teachers proudly based out of Victoria, Canada. Together with a small, tight-knit team, they have set out to create a lifestyle company that does well at every level – from the communities growing the textiles to the beautiful souls wearing the final hair ties, headbands, kids pants and shawls. It's ethically made in California, using solar power energy. This brand also gives back to charity!
Materials: Organic Cotton, Dyed by hand
Price range (USD): From $20
Eco-friendly yoga accessories: NATURAL WOOD MAT RACK
Gaiam Natural wood mat Rack
Organize your yoga mats with this natural wooden mat and accessories rack. The shelving unit is handcrafted with handmade steel rods to securely hold all your yoga items. Each piece has its own grain, knotting patterns, and sap levels that naturally produce one of a kind products kept healthy through the use of water-based, all natural clear finish seals, and burning techniques for color.
Materials: Wood and steel hooks. Does not contain harmful toxins or carcinogens.
Price range (USD): From $140
Eco-friendly yoga accessories: NOTEBOOKS & JOURNALS
Mari Design Journals
Mari Design Journal brings a collection of notebooks that can be used for writing, planning, sketching, or for designing yoga flows and tracking progress. As someone who has used a lot of notebooks, planners, and sketchbooks over time the brand's founder designed these journals as something that can be used for everything, matching the beautiful yoga mat collection and provide visual healing.
Price range (USD): $11
Write the World Notebooks
This brand is a social and eco-enterprise fully dedicated to notebooks, showcasing 12 beautiful designs, printed on FSC certified paper, and are manufactured carbon-neutral, acid-free or Elemental Chlorine Free. Most importantly, for each notebook, you donate 100% to an effective charity. It is light and perfect to design your yoga sequences, diary your progress in asanas or take notes of your meditation sessions.
Price range (USD): $7.50
Ready to
Change your life with yoga while you make the world more sustainable – DOWNLOAD FREE EBOOK HERE!
Is there any other similar brand you know or are curious about? Comment below, and we will make it happen!