Often portrayed as an experience limited to honeymooners, adults and senior travelers, safaris are fast becoming a growing trend for family travel. From Africa's diverse cultures to its legendary wildlife, a family safari in Africa is one of the most exciting and eye-opening travel experiences a child can have.
The responsible travel company, Jumbari Family Safaris specialize in curating eco-friendly safari itineraries for families traveling to Africa. Their expert consultants will assist in planning a safari experience tailored to your families' needs. This means that the age of your children and their interest will determine their recommendations for your family safari in Africa.
Unsure about taking your children on an African safari? Here are Jumbari's top 5 reasons to introduce your kids to Africa on your next family holiday:
Safaris blur the lines between learning and playing
First and foremost, travel opens up the window for exploration and learning through doing. Led by expert wildlife ranger, safaris become outdoor classrooms for children where they can learn about African wildlife in a fun and interactive way. From following reading animal tracks in the dust to identifying dung, your little ones will learn about the wonders of nature outside of the confines of a classroom. 
2. Little ones will always remember their first safari experience
Thanks to movies such as The Lion King and Madagascar, children's love for lion, giraffe and elephant are born at a young age. An African safari gives them the chance to see these fascinating characters in real life. A fun-filled, never-to-be-forgotten experience awaits you and your family in Africa and there is nothing quite as wonderful as witnessing your child's reaction to spotting their first majestic cheetah or wallowing hippo.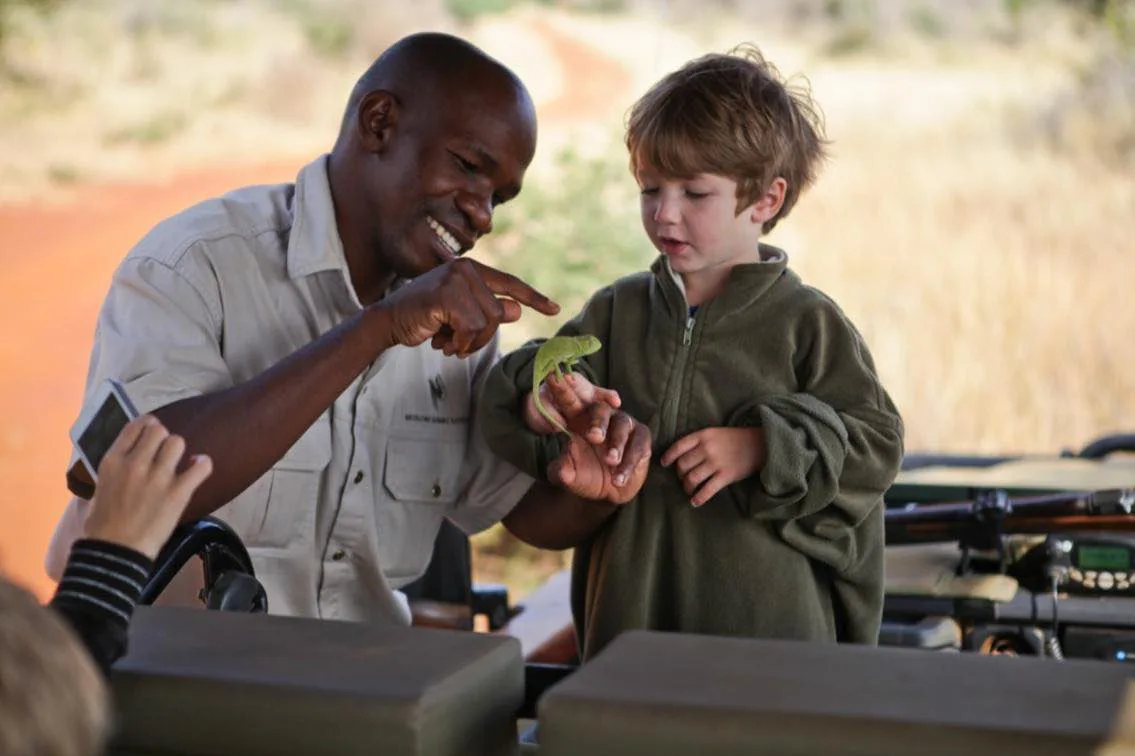 3. Safaris can inspire kids to become budding conservationists
An educational playground, teachable moments are everywhere on an African safari. Jumbari's preferred lodges offer a variety of experiences to keep your little ones engaged and inspired, molding them into future conservations. Junior Ranger Programmes will teach your cubs a true appreciation for the value of Africa's unique wildlife and ecosystem, as well as how to protect it for future generations. 
4. Safaris in remote destinations can expose kids to new cultures
A cultural melting pot, traveling with your kids to Africa opens their eyes to the world and teaches them to celebrate differences and become citizens of the world. Jumbari Family Safaris curates itineraries that invite families to connect with local communities, as well as getting involved in philanthropic efforts, an invaluable experience for kids. 
5. Safaris create opportunities for quality family time
In an age of smartphones and tablets, forming a genuine connection with your little one can sometimes prove a struggle. An African safari removes us from our fast-paced lives powered by technology and gadgets, and transports your family to a peaceful environment where you can connect with your family through sharing memorable experiences. 
Feeling inspired to travel to Africa with your family? Get in touch with one of the consultants at Jumbari Family Safaris to start curating your responsible family safari today. Confirm your trip with Jumbari Family Safaris before the end of August 2019 and you will receive a $100 discount. 
Have you been to a Family safari in Africa with your children yet? Comment below would love to hear about your experience!
Disclosure: This post was sponsored by Jumbari Family Safaris. Ourgoodbrands only features brands and contents that are aligned with ethical, sustainable, eco-conscious world, which means we have carefully researched and written the contents in this article, and specific product information is checked with the business. For the interviews, any opinions expressed are the writer's own, generally being the founder of the brand. Images supplied and approved by the brand featured, or credited accordingly otherwise. For more information about our policies, click here.
Other articles you'll love:
This post may contain
affiliate links
. This means we may receive a commission, at no extra cost to you, if you make a purchase through a link. We only share contents that are aligned with an ethical, sustainable, eco-conscious world. Read more about our
Terms & Conditions here