A Buy One Give One project has as key implementing the giving on an everyday basis. B1G1 is found to help all entrepreneurs to adopt this from day one; all started because an entrepreneur with good intentions realised that giving back to the world when implementing the strategy on a complicated business model, it would never end up happening.
Founding a Buy One Give One project or business with this model needs something as simple as integrating the giving as an everyday goal. Since we decided to open Ourgoodbrands online platform, the business model some social enterprises are starting to adopt have deeply inspired us. In fact, that's what keeps pushing every day our agenda.
A few months ago we had the opportunity to join the 'B1G1 business for good' event on the Gold Coast. This is the organisation that has implemented the Buy One Give One business model in every single cell of their existing project. Even better, they have found a way where any business can start their social impact and be able to track it. B1G1 is a movement that has transformed how small businesses work.
We had the chance to listen to the inspiring story of Masami Sato, founder of B1G1. Since she left Japan to travel the world, with no English, she had the opportunity to see poverty. But as well the incredible individuals that have genuinely helped her during the adventure. She settled in New Zealand with the aim to give food to those in need, and she opened a restaurant.
The problem she faced is that every single time the business had some benefits, she had to reinvest them in better fridges, new technology, packaging and so on. She realised that the long-term goal would never become a reality. Instead, she had an idea: "What would happen if every time I do something I give back?" Because the truth is that if you want to be a purpose-driven business you need to be profit-driven as well. So it was much easier to make a social impact in every step rather than waiting for the right moment, which would never come.
B1G1 Business for good was born
Now it is a community of like-minded world-changing companies. A decision to join will not only make you support projects of impact and causes you believe in but as well transform the entire business. And this is the great value exchange because by connecting your business to a project with a real tangible impact, your customers and team members will feel more connected with your brand, as they have made a difference by themselves just by being part of your organisation.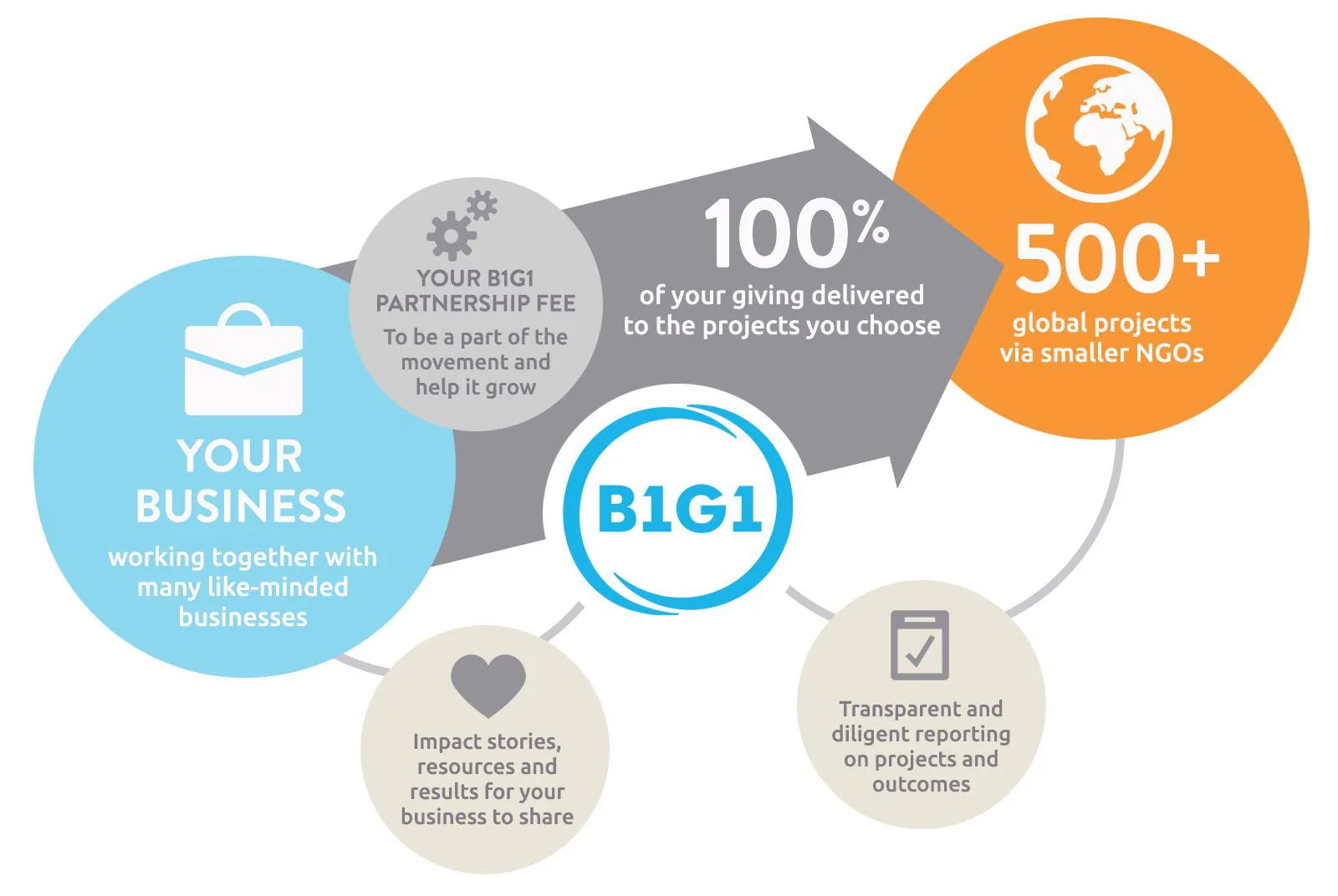 With B1G1 there's a promise: the 100% of the giving goes where you want it to go, and be utterly sure that there's no amount that will get lost on the way. Now as a business you can stand up sustainably without governments or other intermediaries.
And when you "make giving a habit" your small business will change the world in a big way!
We thought it was worth sharing the impact of the brand B1G1, a movement that has been joined by heaps of businesses.
Over 2,300 businesses around the world have joined B1G1 Business for good. The overall giving impacts have been 142,108,408 made to over 500 projects.
One of the most meaningful quotes we heard during the conferences was the one of Thank You's founder, Daniel Flynn:  
"If you are not thinking of making a contribution to the world you shouldn't be in business".
What do you think as a consumer, do you care about those businesses that are actively seeking to give back to the world?
And as an entrepreneur, have you ever thought about how you could implement a giving back strategy based on honesty and purpose-driven?
On our platform, we will share endless posts about the Buy One Give One business model. You can start with Thankyou, Toms, Who Gives a Crap or WeWood.
Is there any other similar brand you know or are curious about? Comment below and we will make it happen!
This post may contain
affiliate links
. This means we may receive a commission, at no extra cost to you, if you make a purchase through a link. We only share contents that are aligned with an ethical, sustainable, eco-conscious world. Read more about our
Terms & Conditions here