Your hair products are probably an integral part of your day and irreplaceable components of your beauty routine. Taking care of your lush curls is a great way to be mindful, practice self-care and kick-start your day. However, how can you nurture your body with the cocktail of chemicals?
You need to turn to cruelty-free, and more sustainably packaged products that allow you to take care of your body and stay true to your values. Here are a few brands that are all about organic hair care: 
1. Plaine Products
Plaine Products is one of our favourite brands as they have managed to create a full range of zero waste bathroom products with all the richness and nutrients provided by mother nature. 
Every single decision made at Plaine Products has been thoughtful towards a circular economy. They have earned a vegan certification, are free of sulfates, parabens, phthalates and palm oil! Safe for kids, great for sensitive skin and all hair types. Join us in the packaging revolution and get rid of more single-use plastics!
Natural & Organic: Natural organic ingredients, free of sulfates, parabens, phthalates, and palm oil
Eco-Friendly: Refillable aluminum bottles, zero-waste circular program 
Ethical: Cruelty-free, Vegan, 1% for the Planet, B Corp Certification, Fair Trade in the USA
Price Range: from USD$22 to $38
2. Alaffia Coconut
Alaffia is a brand that creates products beyond Fair Trade. From fashion to healthy beauty products; all ethically produced in Africa under the mission of empowering the communities through education, health, and environment. All the benefits of coconut oil in assisting the birth of over 4,000 babies in Togo, Africa.
The coconuts grow organically on small farms and the virgin coconut oil is extracted using traditional fermentation methods, getting as a result of a product that is 100% natural, completely unrefined for you to get the maximum effectiveness.
Natural & Organic: Ethically-traded organic virgin coconut oil, unrefined shea butter, and natural plants
Eco-Friendly: 100% recyclable packaging
Ethical: Cruelty-free, Vegan, Fair Trade, Support women and education
Price Range: from USD$8 to $15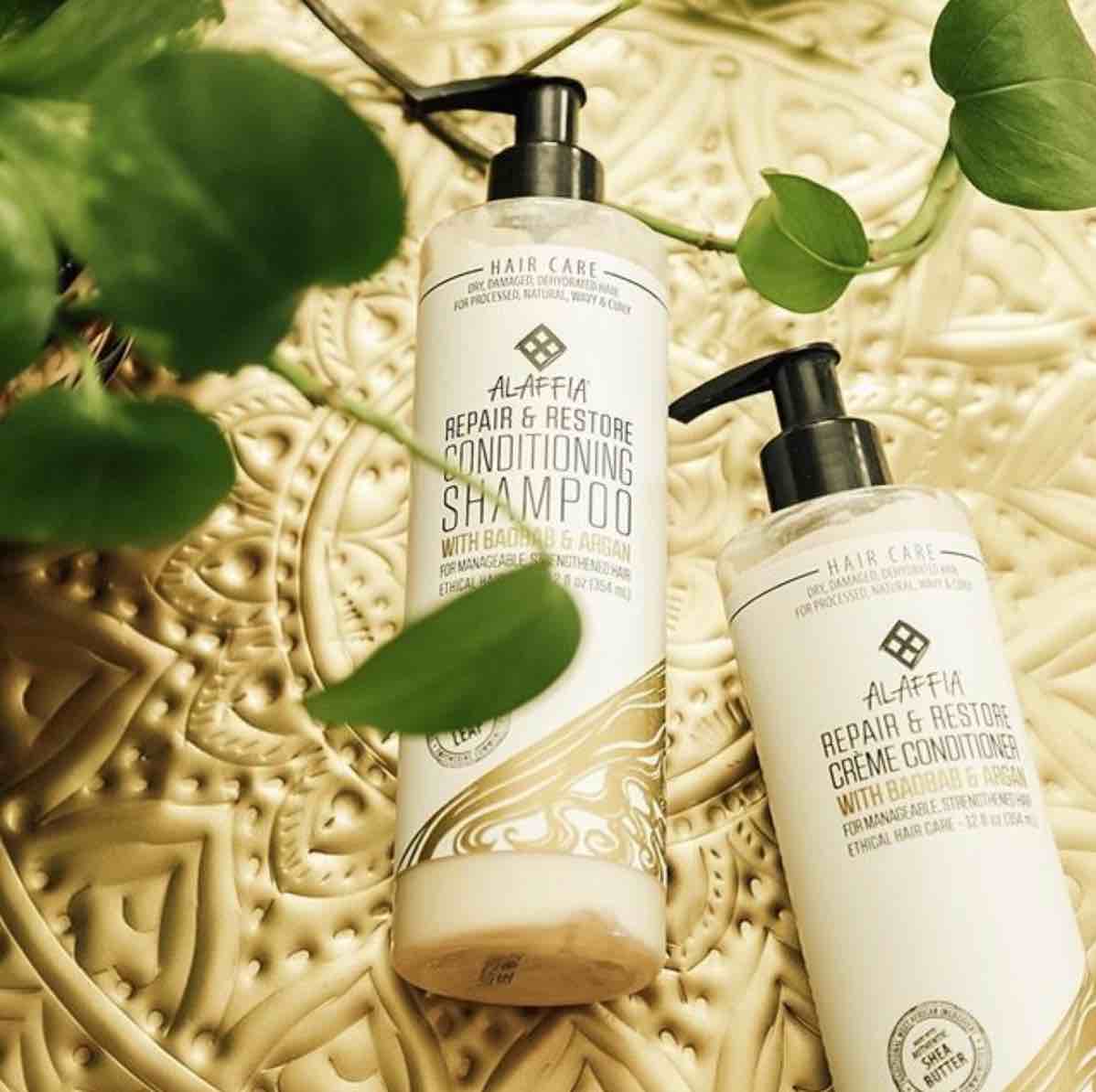 3. 100% Pure
Do you often worry about toxic chemicals in your beauty products? Well, with 100% Pure you will never have to worry again! Exactly as its name says, this brand offers hair and skin care products that are 100% natural yet full of healthy ingredients and antioxidants. 
Their products contain no toxic ingredients, use only natural pigments and cruelty-free methods. They have a big range of shampoos and hair conditioners, all enriched with fresh scents and decorated with affordable price tags. 
Natural & Organic: Nontoxic, no chemical preservatives, no artificial colors or fragrances
Eco-Friendly: Many organic ingredients
Ethical: Cruelty-free, Vegan
Price Range: from USD$22 to $38
4. Prose 
Prose is a beauty product company from the USA that produces fresh, tailored hair care with amazing reviews from both customers and stylists. And, all their products are produced with natural ingredients! 
Another interesting thing about Prose is that you can take an online hair quiz and you'll get a custom hair care plan. The brand will craft your personalized shampoo, conditioner and mask and ship them to your address in a few days so you can start your custom hair care regimen as soon as possible. 
Aside from selling natural products, Prose bottles are made of 100% recyclable BPA-free PET plastic and their shipping boxes can be recycled through most curbside programs.
Natural & Organic: Organic, natural ingredients, free from parabens, mineral oil, dyes, sulfates and GMOs
Eco-Friendly: Sustainably-sourced ingredients, backed by science
Ethical: Vegan
Price Range: from USD$25 to $48
Visit here: Saki Shears Tanto Hair Scissors
5. Zenz
This company was founded by Anne-Sophie Skjødt Villumsen, a Danish hairdresser who developed all sorts of allergies towards chemicals in hair products. Instead of changing careers, she started the first green hair salon in Denmark and even launched an eco-friendly hair care company, Zenz Organic Hair. 
Their organic dandruff shampoo for dry scalp is made with organic anti-dandruff components that help create a healthy scalp environment without irritation and risk of allergies. Aside from their amazing shampoos, there are also organic conditioners, styling waxes, and water sprays, so you can switch your entire hair care regimen for these organic products. 
Natural & Organic: Organic, natural ingredients (the two main ingredients are Aloe Vera and Avocado oil)
Eco-Friendly: Recyclable packaging, and started using recycled ocean plastic waste
Ethical: Vegan options
Price Range: from USD$8 to $48
6. Love Beauty and Planet
If you want to look good and do good, check out products by Love Beauty and Planet. Their goal is to introduce the audience to organic and sustainable products sourced from ingredients from all over the world. But, they don't just stop at ingredients! 
Love Beauty and Planet uses fast-rinse technology that reduces water waste, works only with partners that promote fair wages and packs their products in recyclable packaging. If you want to try out their products, start with Murumuru Butter that's amazing for hair and body moisturizing. This product will keep your moisturized from head to toe, literally! 
Natural & Organic: Organic, natural ingredients
Eco-Friendly: 100% post-consumer recycled plastic and sustainably sourced ingredients
Ethical: Vegan & cruelty-free

7. Acure Organics 
Most people when considering organic products reach for Acure Organics. They are a well-known brand with a very transparent tagline: 100% vegan, 0% questionable! Acure Organics is also family-owned and operated and they make all their products free of parabens, sulfates, phthalates, mineral oils, petroleum and silicone. 
They are also 100% cruelty-free, so what's there not to like. Try what they are all about by grabbing their vegan, hydrating leave-in conditioner with argan oil and argan extract for best moisturizing effects. 
Natural & Organic: Organic, natural ingredients free of parabens, sulfates, phthalates, mineral oils, petroleum
Eco-Friendly: 100% recyclable packaging
Ethical: Vegan & cruelty-free. Support breast cancer awareness and environmental causes
Price Range: from USD$9 to$12
8. Olivia Garden
Haircare is not only about shampoos and conditioners—there are other steps to it. So, if you want to treat your hair with respect and do the same to your environment, check out Olivia Garden's eco-friendly hair brushes. 
This is the first eco-friendly brush line handcrafted from bamboo and suitable for all hair types and hairstyles. Bamboo is more sustainable, stronger and durable than regular wood, so you can expect your tools to last for a long, long time. Plus, their organic design equipped with a special anti-slip grip will look amazing displayed in your bathroom. 
Eco-Friendly: Made from bamboo
Price Range: from USD$14 to $20
How to create the perfect natural and organic beauty gift sets
If you just dig a little deeper, you can find amazing companies that are eco-friendly, ethical and provide amazing hair care. Give these products a shot and see how amazing they make you look and feel!  
 Do you have organic haircare brand recommendations? Share it in the comments below!
This post may contain
affiliate links
. This means we may receive a commission, at no extra cost to you, if you make a purchase through a link. We only share contents that are aligned with an ethical, sustainable, eco-conscious world. Read more about our
Terms & Conditions here