Christmas coming up, no time to stress about the perfect gift. If you know your friend or beloved one gets a lot of enjoyment out of playing and testing with beauty products, why not create a natural and organic beauty gift set?
To get you started with the selection of the natural and organic beauty products for your gift set, here are a few features you want from brands that promote sustainable living:
Natural: this means you don't want any nasties or artificials in the product. Some of the most common ingredients in the dirty list are aluminium compounds, formaldehyde, parabens, preservatives or talc. These could originate to carcinogen issues and cell damage, reproductive harm, neuro or organ toxicity, irritation, allergies.
Cruelty-free: brands that work with natural and plant-based ingredients generally will also be cruelty-free. However! There could be cases in which products are tested in animals, and that's not good!
Fairtrade: sourcing of the ingredients in a way that ensures that workers are paid and treated fairly, no child labour or over-working hours. We found that often brands that opt for organic and natural standards, especially if handmade, they could be sourcing their natural ingredients right from their backyard.
Eco-friendly packaging: a big part playing in sustainable standards in brands is the type of packaging they use. Look up preferably plastic-free, reusable and the minimum is to be recyclable. This guide helps you to compare sustainable packaging materials.
Now that you know the basics of what makes beauty products natural, organic and sustainable find our selection of well-designed brands that will make your gift basket stand out!
Pro Tip: Share this page with your friends and family on socials, bookmark it for future occasions. This is a go-to-guide to inspire more people in your circle to embrace a more sustainable way of living!
Natural deodorants to lift up the MOOD
Coconut Matter has handmade an absolutely ecolicious range with a passion for healthy beauty powered with natural ingredients… For sure this gift will drive your beloved one's coconuts! In the range, you find 5 flavours, one for each mood: Spring, Hero, Zen and Free. All of them are blossoming AND they actually work (top rating go check the reviews).
What makes this brand even more special? Coconut Matter is challenging the beauty industry to go plastic-free with the packaging. The paper tubes feature comfort and are strong in a beautiful design that lifts you up each day on your morning routines. Learn all about what's behind this brand in this interview with founder Diane.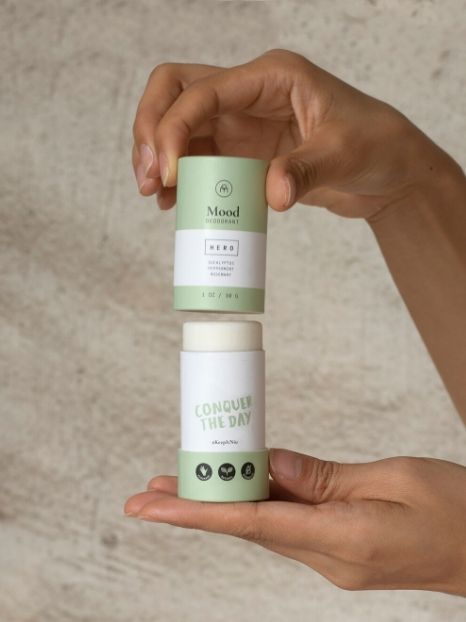 A kit of personalised Native essentials
This beautiful collection of Native essentials is made of native plants and aromatic botanicals, extracting their vibrant colours naturally and choosing only the purest sources. This innovative brand has created a skincare line that allows you to personalise the routine for each skin type. Native essentials are powered by advanced active ingredients, enriched with luxurious plant extracts and exquisite aromatics. A truly multi-tasking range designed to give you a supercharged glow in your stunning face.
Amethyst Vibration mist
Bee Chi Organics has an extense range of beauty potions: herbal hair care, oral hygiene, facial + beauty care, body + bath wellness… In this apothecary, bees and flowers go hand in hand; they are guilty of flower pollination and reproduction of their ingredients, as well as that miracle "Chi" energy that gives added health benefits. The products have a deeply holistic approach and that "beachy element". Learn all about what's behind this brand in this interview with founder Valerie.
Vegan lipsticks & lip balms
With a strong base of the best wild coconut oil and blossoming ingredients, this range of natural moisturising lipsticks will make you want to lick your lips. That's exactly why it is important to move to more natural and healthy options. The colours are made for all skin tones. One of the favourites"Candy and floral, it's not fuchsia, not red. It's ZEST. Glossy rosy and velvety, in essence, irresistible for any voluminous day ahead. A must-have in the range of every queen. Pssst! You can blend the colour on your fingers and swipe across your cheeks." Yes, interestingly enough we can use all the lipstick and natural lip balms as make up to give a blush to our cheeks. Now be careful: sexy'ness may bloom out fiercely with these vegan lipsticks!
Supersoft face cloth
Conscious House is a small brand, based in London creating natural beauty products. The range is handmade with sustainable and cruelty-free living in mind, as all ingredients are also sustainably sourced. We love the super-soft face cloth, which is 100% plant-fibre (completely compostable). It's hand-knitted using a fine eucalyptus yarn they're ideal for using with a cleanser or bar soap to wash your face.
Espresso Martini Beard Oil
Espresso Martini Beard Oil by Single Origin Skincare cares for your beard and promotes healthy and strong beard growth. Made with organic Jojoba, Argan and Coconut Oil with Vanilla and Citrus scents. This brand has more skincare products in the range with blends using 250 million-year-old Himalayan pink salt for natural exfoliation combined with organic cold-pressed virgin coconut oil, while creating a community in the coffee-growing regions in South East Asia.
Smart shaving with a zero-waste razor
Rockwell razor has re-engineered grooming and safe shaving or hair removal for men & women! It's an irritation-free razor, with a minimalist design, great finish, efficiency and build to last. At the fraction of the cost of a cartridge razor, you can also reduce the plastic footprint. Ready gift someone the best shaving experience EVER?
The refillable zero waste bathroom range
Plaine Products are on a mission to zero waste our bathrooms with natural formulas that are vegan, cruelty-free and made to refill. Find shampoo, conditioner, body wash, body lotion, hand wash, face moisturiser, face wash. This brand has managed to offer a full range of Zero Waste bathroom products with all the richness and nutrients provided by mother nature. Safe for kids, great for sensitive skin and all hair types. It's a beautiful revolutionising gift!
A menstrual cup Ruby Cup
Ruby Cup is a healthier, more sustainable, cost-effective and eco-friendly alternative to pads and tampons. Made from 100% soft, medical-grade silicone, this menstrual cup is safe, comfortable and hygienic. We love this brand because it started to promote menstrual health in developing countries. With their 'Buy One, Give One' programme Ruby Cup makes a world of difference providing a sustainable menstrual health solution to all people regardless of their income.
Hemp skincare with a revolutionary serum
Mandala Dream's serum treats your skin to a dose of renewal. It's a nourishing and hydrating formula that redefines the appearance of texture, tone, plumpness and glow of your skin. It also corrects age spots, lines, and wrinkles. If you have been dealing with breakouts, acne or other skin conditions this is the balancer you need. Ecoistic Revolution serum reduces the appearance of redness, inflammation, and enlarged pores while naturally allowing your skin to return to its innate harmonious state. When your skin is healthy your inner beauty shines through, and make sure to check also other formations: skincare, haircare, balms… Learn all about what's behind this brand in this interview with founder Julie.
Natural soaps and shampoo bars
Find a collection of ethically made natural soaps, shampoo bars and creams which look, smell and feel beautiful! Fragranced with pure essential oils and contains without any of the artificials or nasties. Black Cat House range is entirely cruelty-free, vegan and made from natural and organic ingredients and which will make you, your skin & your hair look, smell & feel beautiful. Pssst… there is a free sample coming with every online purchase
doTERRA essential oils
doTerra is one of the most sustainable essential oils. They can be used with health and wellbeing benefits and it also impacts communities producers of these beautiful oils. If you decide to give doTerra as a present to someone this Christmas, you are gifting natural medicine: the range is endless and it covers pretty much everything. It's a perfect personalised add on to make your beauty gift basket to stand out!
Coffee-licious body scrubs
Porze brings the most coffee-licious body scrubs. Porze's body scrubs are made of upcycled coffee beans. You get to choose between salt, sugar plus a range of oils and other ingredients to fully adapt to your body type. The ultimate aim: nourishing, oil-balancing and exfoliating. It's natural goodness packed with antioxidants helping acne, cellulite, stretch marks and stimulating blood flow. Furthermore, you will be helping animal welfare by giving back throughout a range of organisations and reducing the pile of 3 million kilos of coffee grounds to landfill. Definitely a special gift making a positive impact this Christmas. Learn all about what's behind this brand in this interview with founder Sanchia.
The bamboo toothbrush project
There are many brands for bamboo toothbrushes. But the reason why we like The Toothbrush Project it's because it's 100% dedicated to making Cambodian kids smile. In the country, many children don't have access to education and lack of healthcare services. The cheapest food is lollies and sweets, damaging the teeth of children and adults. The bamboo toothbrush project is all about educating and giving access to essential hygiene. A meaningful addition to your beauty gift basket!
Did you enjoy this guide on how to create the perfect natural and organic beauty gift sets ideas for eco-friendly Christmas 2019?! We kept it simple so that you can explore at your own pace. If you have any recommendations of brands please share it with us in the comments below!
This post may contain
affiliate links
. This means we may receive a commission, at no extra cost to you, if you make a purchase through a link. We only share contents that are aligned with an ethical, sustainable, eco-conscious world. Read more about our
Terms & Conditions here