Brazil's Amazon rainforest fires are spreading in raging record: now more than 2,500 fires currently burning. Carbon emissions are visible from thousands of kilometres away. This is the biggest environmental crisis and we must come together as a collective. The Amazon is the "lungs of the world" – and it's going up in smoke. This is how your individual contribution can support.
The Amazon is referred to as the "lungs of the planet" and plays a major role in regulating the climate. Effects of damage to the Amazon go far beyond Brazil and its neighbours. The area's rainforest generates more than 20% of the world's oxygen and is home to 10% of the world's known biodiversity. The world would drastically change if the rainforest were to disappear, with impacts on everything from farms to drinking water. Here we give you some context on Why Amazon rainforest fires started, What are the consequences and How we can, together, tackle this massive environmental crisis with our individual actions.
Why Amazon rainforest fires started? 
Fires are set deliberately and are an illegal practice, aimed to clear land for farming. The desire for new land for cattle farming has been the main driver of deforestation in the Brazilian Amazon since the 1970s. According to Brazil's space agency, fires in Brazil increased by 85% in 2019 (with more than half in the Amazon region).
Brazil has had more than 72,000 fire outbreaks so far this year, an 84% increase on the same period in 2018
Brazil is now the world's largest beef exporter: in 2018, these exports generated $6.7 billion for the country's economy. Brazil is also the second-largest producer of soybeans in the world, and about 80% of the soy grown in the Amazon is used for animal feed. With China's recent tariffs on US soybeans, China has increased its appetite for soybeans from Brazil.
Since taking office in January, Mr Bolsonaro has railed against the enforcement of environmental regulations in Brazil and announced intentions to develop the Amazon region. Regulations and programs for conservation and traditional communities' rights have been threatened by economic lobbying. Over the last months, Brazil's government has announced the reduction and extinction of environmental agencies and commissions, including the body responsible for combating deforestation and fires. All very nasty, and no wonder there's been direct accusations of provoking fires and encouraging jungle burning for private exploitation of freed land. Bolsonaro has been actively encouraging aggressive economic exploitation of Brazil's resources – even in protected areas, or those occupied by indigenous people.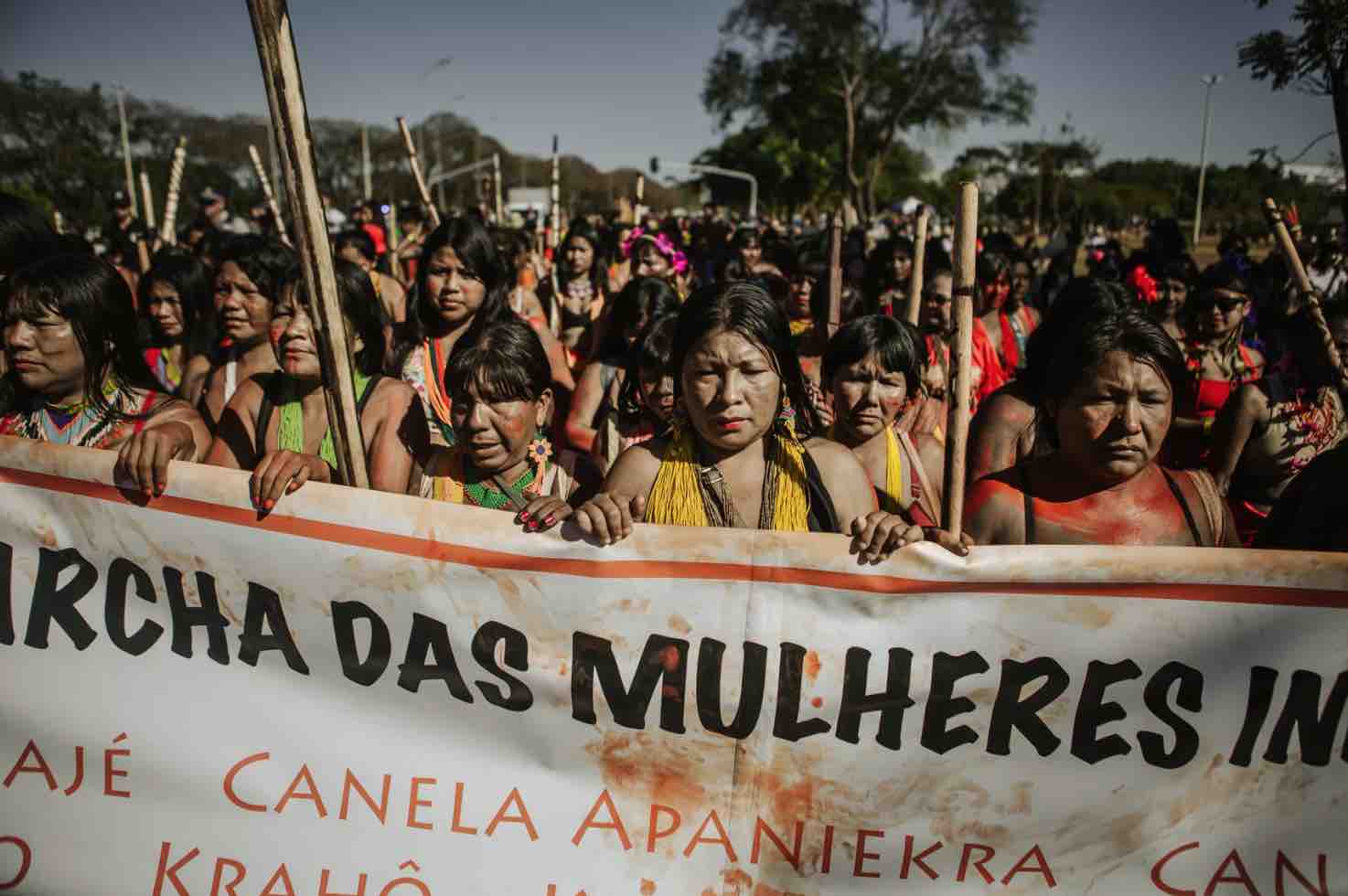 Mr Bolsonaro, who once threatened to leave the Paris climate accord, has repeatedly attacked environmental not-for-profit organisations, seen as obstacles in his quest to develop the country's full economic potential, including in protected areas. 
Very recent sources informed about leaked documents show Brazil's Bolsonaro has grave plans for Amazon rainforest. His government intends to use the Brazilian president's hate speech to isolate minorities living in the Amazon region. The PowerPoint slides, which democraciaAbierta has seen, also revealed plans to implement predatory projects that could have a devastating environmental impact.
The world's largest rainforest is eaten away by logging, mining, and agribusiness. Brazilians are blaming Bolsonaro for the Amazon burning, as the destruction of the world's largest rainforest is indeed a crime of first degree. 
"It is very difficult to have natural fires in the Amazon; it happens but the majority come from the hand of humans" said Mr Moutinho, who has been working in the Amazon forests for nearly 30 years.
Brazilian President Jair Bolsonaro initially said on Tuesday he would reject a roughly $20 million aid package from G7 countries intended to help fight a surge of fires across the Amazon rainforest. He later said that we would accept the offer if French President Emmanuel Macron apologized for criticizing his handling of the fires.
Consequences of Amazon rainforest fires
The consequences of land degradation are the reduction of water availability, warms the soil and intensifies drought, combining to make fires more frequent and more fierce.
The devastating loss of biodiversity and Amazonian vegetation directly reduces rain across South America, affecting also other regions of the world. It will have outsized impacts on local plants and animals, as 1 in 10 of all animal species on Earth calls the Amazon home. 
The planet is losing an important carbon sink, as the Amazon Basin is critical to help mitigate climate change due to its trees absorbing around a quarter of the CO2 released each year from the burning of fossil fuels.
The Amazon is home to 34 million people, including over 350 indigenous groups. The indigenous folks are people who have for thousands of years made a peaceful living in the Amazon. They are the gatekeepers of Amazonia.
NASA reports that about 3.2 million square kilometres of South America is covered by smoke. This triggers massive consequences for human health.
NASA maps carbon monoxide from #AmazonRainforest fires from orbit: https://t.co/xFvWUfDfVm pic.twitter.com/eRrp34QvGm

— NASA JPL (@NASAJPL) August 23, 2019
The Brazilian government has set an ambitious target to stop illegal deforestation and restore 4.8 million hectares of degraded Amazonian land by 2030, but if we can't stop deforestation and the associated Amazon rainforest fires, it raises real questions about our ability to reach the Paris Agreement to slow climate change. Brazil's continued inability to stop deforestation has also reduced international funding for conservation. Norway and Germany, by far the largest donors to the Amazon Fund, have suspended their financial support. These international commitments and organisations are likely to exert considerable influence over Brazil to maintain existing commitments and agreements, including restoration targets.
What are the solutions we can tackle as individuals?
The problem is massive and the fires are still active. Here are some ways you can aid in protecting the rainforest, as an individual or as a business:
Support the Ecocide law:
Today, Ecocide (destroying the Earth) is legally permitted. 
The Ecocide law is the "mother of all laws" to tackle environmental crisis.
This is the law that could criminalise the 91 large corporations for 78% of emissions worldwide and the destruction of our ecosystem. By becoming an Earth protector at the StopEcocide.Earth you will contribute to moving this law forward. People all over the world have gathered in an unprecedented way.
Make your voices being heard when political elections come to your town, country, whenever you are in the world. Ask politicians to incorporate environmental measures and support those programs that do so! We have financial, diplomatic and political tools we know will work to stop the wholesale clearing of the Amazon and now it is time to use them.
Changing some daily habits:
Businesses please check your packaging! 
There are options such as Noissue, which sources tissue sustainably and its paper is FSC certified. If you purchase sustainable packaging Noissue you will be part of their Eco Packaging Alliance, contributing to global reforestation

Donations for the Amazon reforestation:
What actions have been taken to fight Amazon rainforest fires?
Brazilian army is been mobilised to combat the Amazon rainforest fires. 

Bolivia President Evo Morales contracted a Boeing 747 "Supertanker" to help extinguish the fires, capable of flying with 115,000 litres (over 30,000 gallons).

Canadian Prime Minister Justin Trudeau vowed his country will continue to support the efforts to save the Amazon. He said Monday that Canada is offering to send $15 million and "water bombers" to help fight the fires.

G7 Summit agreed on the aid package, which Brazil's president accepted.

Finland's Prime Minister, Antti Rinne, also released a statement saying that the fires in Brazil were "extremely serious" and that he had contacted the European Commission. 

Apple's Tim Cook appears to be the first tech CEO to respond with an offer of aid. On Monday, Cook tweeted that Apple would be donating to help, but he didn't specify an amount.  

The World Wildlife Fund's European policy office called on Brazil, Bolivia, Colombia, Peru, Ecuador, Venezuela, Guyana and Suriname to protect the Amazon, fight deforestation and reduce the causes of the fire. The WWF also addressed the EU and its Member States to take action as well.

Actor and environmentalist Leonardo DiCaprio added a donation link to Amazon Watch on his Instagram profile and posted about the fires. Celebrities like Jameela Jamil, Jaden Smith and John Cusack have also taken to social media to speak out about the fiery devastation. 

#ActForTheAmazon began trending on Twitter and protests began last week. In Zurich, activists from the Klimastreik Ecological Movement and Brazilians assembled outside of the Brazilian Consulate on Friday morning. In Dublin, the Extinction Rebellion Collective occupied the Brazilian Embassy. Twitter users captured images of a protest in Barcelona as well. Demonstrations have also taken place in Paris, London, Madrid and Copenhagen, Denmark.

Update 6th September:Bolivia, Brazil, Colombia, Ecuador, Guyana, Peru and Suriname signed a pact to protect the world's largest tropical rainforest in response to the record-breaking number of wildfires that have blazed through the Amazon rainforest this summer, Reuters reported. The 7 Amazon countries agreed to create a network to coordinate their responses to disasters. They also promised to increase the satellite monitoring of deforestation, share information on threats to the forest like illegal mining, develop reforestation and education initiatives and increase the participation of Indigenous communities.
STATEMENT: Today the leaders of Brazil, Ecuador, Colombia, Bolivia, Suriname, & Guyana met about the #AmazonFires and signed the 'Amazon Pact' on joint plans to 'conserve' the Amazon.

Our @moira_kb read between the lines & said the following:https://t.co/VZ6kiWJEVy pic.twitter.com/HUWRDEtsbA

— AMAZON WATCH (@AmazonWatch) September 6, 2019
Do you have more ideas and solutions to tackle Amazon rainforest fires? Comment below and share them with us, this is important!
This post may contain
affiliate links
. This means we may receive a commission, at no extra cost to you, if you make a purchase through a link. We only share contents that are aligned with an ethical, sustainable, eco-conscious world. Read more about our
Terms & Conditions here