Time to ditch your disposable cartridge razor? That's a good idea, especially if you are trying to be more sustainable. Zero-waste razors turn out to be also very convenient and sustainable for your pocket. Go and s(h)ave the planet, one razor at a time!
If you are already thinking of going zero waste or are slowly becoming more sustainable with your everyday choices, you may be wondering if there is actually a more sustainable way to shave our hair. Of course, the number #1 sustainable option is to not shave, but that may be a little too much. The second most sustainable way is using a zero-waste razor, and the good news is that these are designed to save you money and eventually some time.
So let's find out all you need to know for a zero waste shaving with this guide!
What are zero-waste razors?
A safety razor is entirely made of stainless steel and is designed to last you for the rest of your life. 
It requires a little bit of a learning curve to decide what type of safety razor you'd like to buy, and especially to ensure you have easy access to the metal blades and how you will replace them, and also how to master the safety razor before using it! 
Safety razors are generally made out of metal (commonly stainless steel or chrome) with a durable handle and a double-sided blade. 
Sometimes they vary in the size of the handle, the material, look, and style. 
The biggest difference between the different brands of zero waste razors are the two different types of blade access:
– Standards, which requires to screw off the whole head to remove the blade
– Butterly, which only requires a simple twist at the bottom of the handle to open the blade compartment.
We've researched a top list of brands offering both types of zero waste razors so that you can choose what fits the best your needs!
Why should you switch to a zero-waste razor?
Did you know that 2 billion cartridge razors are thrown away every year only in the US? That's enough razors to wrap around the Earth end-to-end 6 times. So I guess we can agree that cartridge razors have to go!
When it comes to pricing, we have come to the conclusion that zero waste razors are also a big money saver. Comparing safety razors vs cartridge razors we found out the following: 
– The best cartridge razors in the market could cost you $20 for a pack of 4 (if not less) and you will not get as many shaves as on a safety razor blade anyway. If you shave daily, switch your blades out every 1 to 2 weeks. If you shave every other day, switch your blades out every 2 to 3 weeks. If you shave twice a week, switch your blades out every 4 to 6 weeks.
– The pricing for the safety zero/waste razors can go from $15, $30, $50 up to $100 and they tend to include a few blades. The average price for 100 blades is only USD$10. Each blade is for 3-5 shaves (or more) and the razor should last a lifetime if you take proper care.
Even if you end up getting the most expensive zero waste razor, you will recover your initial investment in just a few months.
Now that we have proven safety razors are good for the planet and good for your pocket, we also need to comment on the fact that you also save time by not having to purchase disposable razors ever again!
https://www.youtube.com/watch?v=3SNbkB2Hgz4
Brands for zero-waste razors
Another winning for zero waste razors is that there's no such as for male or for female razors. You still can choose brands depending on your preferences by color, material or even blades. In this guide, we have listed some of the most popular zero-waste razors brands including some information that hopefully will make your own research much easier!
1. Leaf Shave
The ultimate men's women's everyone's razor. A truly wonderful starter kits with blades, Solid metal stand, and a blade disposer tin.
Price: Essentials USD $79 // Bundle USD $109
Country: United States
Razor type: Standard
2. Rockwell Razor
This zero-waste razor is engineered with a great design, with a range of options depending on your type of skin or beard. Find out more about Rockwell Razors here.
Price: Range from USD $30 to $100
Country: United States
Razor type: Standard
3. EcoRoots
Another beautiful zero-waste shaving kit, this time in rose gold for women. In this eco-store, you can find many other zero-waste options.
Price: USD $48
Country: United States
Razor type: Standard
4. Parker Safety Razor
Premium wet shaving, beard & grooming gear with a high variety of designs and different materials.
Price: USD $30
Razor type: Standard & Butterfly
5. LISSE
This one is quite a female-oriented brand with a rose gold razor design option and many positive reviews!
Price: USD $59
Country: Canada
Razor type: Standard
6. Bambaw
This brand brings a unique option made of a bamboo handle. In this eco-shop, you will find many other sustainable living items.
Price: EUR 22€
Country: United Kingdom
Razor type: Standard
7. Eco Kiosk
This Eco Kiosk has silver, rose gold. Note that razor blades, stands and bags sold separately.
Price: AUD $25
Country: New Zealand
Razor type: Standard & Butterfly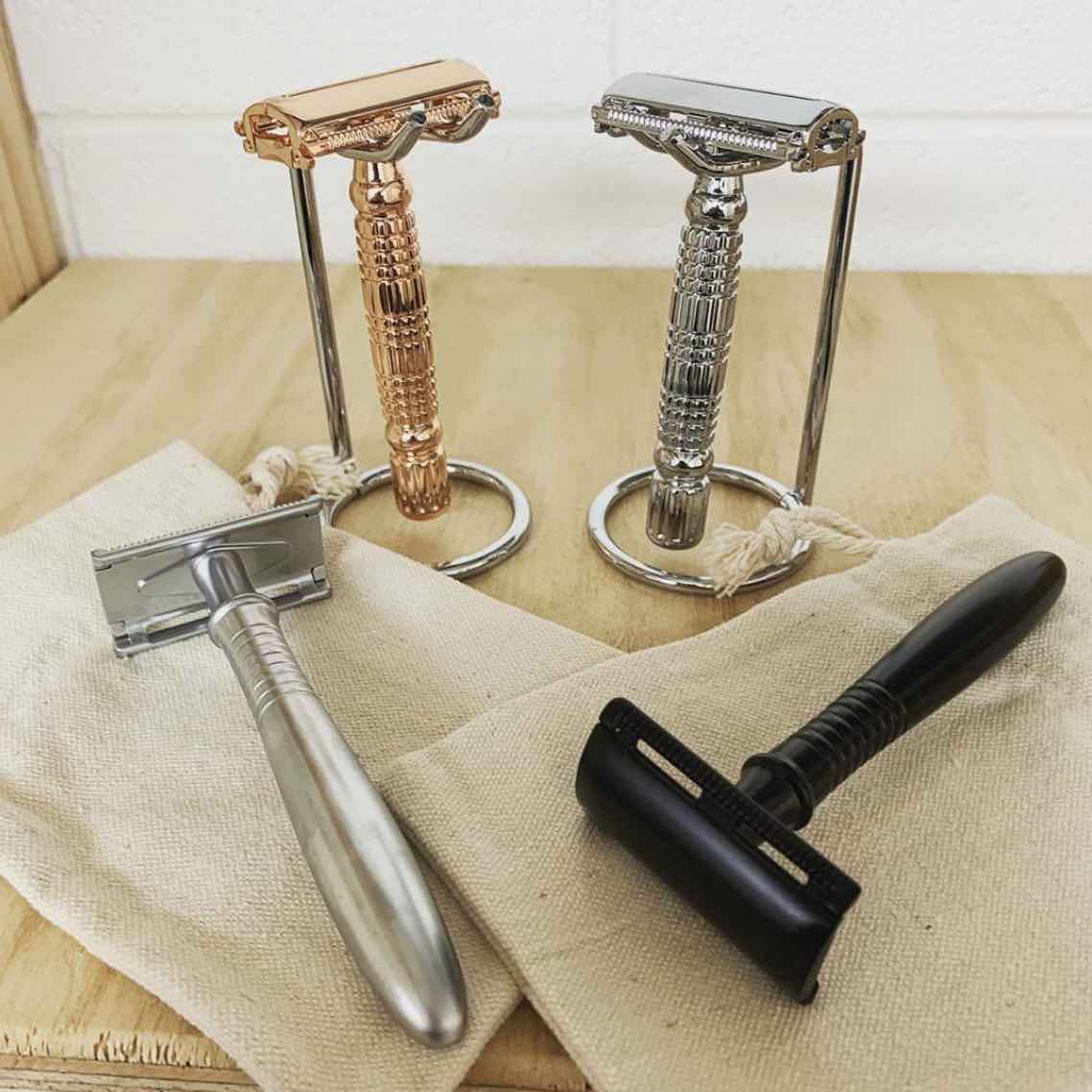 8. Well kept
Well kept's brass safety razor comes with one blade.
Price: USD $68
Country: Canada
Razor type: Standard
How to use a Safety Razor?
Shaving with a safety razor can seem VERY intimidating at first (and is a major reason why not more people are switching to this alternative right away!)
Safety razors require wet shaving which is actually better for your skin. Wet shaving involves using water and some type of soap (of course try vegan and zero waste options whenever possible). 
If you master your zero waste shaving with a safety razor, we promise there will be less cuts, bumps, ingrown hairs or general discomfort from blades that tug and pull.
Here's a step-by-step guide on how to shave with a safety razor:
Step 1 – Wet your skin with hot water or a hot towel (optional to do it in your shower). Then cover your skin with your shaving soap of choice.
Step 2 – Press the flat head of your razor against your skin and tilt to a 30° angle until the blade rests against your skin, and make sure you maintain this angle all the time and shave making short movements. Also, do not apply any pressure, as the weight of the safety razor will do the work of applying the right pressure for you. 
Step 3 – Keep on doing the same and repeat for finishing touches if necessary. 
Step 4 – Clean (we explain in detail just below)
We loved this old school style video that shows how to use your safety razor:
https://www.youtube.com/watch?v=KZDPEogOU34
How to clean & care for your safety razor
If you really want to ensure your zero waste razor lasts a lifetime, cleaning and caring are mandatory!
Every time after you finish shaving, rinse thoroughly with warm water. If you find some of your hair is stuck in the cracks of your safety razor, give it a shake or take the blade out. 
If you want a more pro option, then you can also fill a small bowl with warm water and add in two tablespoons of dish detergent. Take an old toothbrush and use it to scrub the safety razor. 
Finish off with a freshwater mixed with a little bit of isopropyl alcohol and give it another scrub. This final step will help you to get rid of any leftover soap scum, but should also eliminate any blood, hair, and dead skin that can build up over time. 
It is very important to shake the water off (don't use paper or cloth because bits can get stuck in the blade) and store them in a dry place to avoid rusting.
How to replace & recycle zero-waste razor blades?
Probably the only downside of using safety razors is to ensure you always have blades available, to replace them when needed and make sure those are recycled properly. 
Just like with any disposable razor blade, you can use a safety razor blade until it begins to dull — then, it's time to replace it with a fresh blade.
What about recycling? Well, these metallic blades certainly cannot go straight in the trash or recycling bin. Check with your city council to find out where your community collects scrap metal for proper disposal and ensure no one gets injured with your old blades.
The good news is that you don't have to go each time you change the blade! The easiest option is to keep them in a small container in your bathroom, such as a mason jar or an old prescription pill bottle. 
In case you really worry about the proper disposing of your blades, check with safety razor brands if they happen to have a take-back program. 
Travel with a safety razor
When flying, though, the blades don't make it through the security checkpoint – nor should they.
If you are planning to travel, we would suggest you follow any of the tips below to avoid getting your blades confiscated at the airport:
– Pack your safety razor in the luggage that is going to be checked. Unfortunately, there is no option to bring your blades in the carry-on bag.
– Buy a blade at your destination. Luckily, safety razors are becoming more and more popular among people all over the world. It would make sense to search in places such as zero waste stores, barbershops, and corner shops. 
– Preserve Razor. If you have kept your preserve razors before you moved to zero waste razors, then time to reuse them and purchase a replacement blade if needed.
– Use an old plastic razor. Similarly, most of us move to a safety razor before we finish our old box of plastic razors. So if none of the above options work for you, then the best thing is to go back to the old plastic razors you once stashed away and make good use of what you already own.
Anyway, beautiful people, I hope this guide was useful to help you make a more sustainable shaving choice. Share your experience with us on the comments below!
–
This post may contain
affiliate links
. This means we may receive a commission, at no extra cost to you, if you make a purchase through a link. We only share contents that are aligned with an ethical, sustainable, eco-conscious world. Read more about our
Terms & Conditions here