Making businesses out of social or environmental problems. As tough as it may sound, it is the way to go if we wish to live in a world without poverty, disease and needless suffering, of humans as well as our planet. Social entrepreneurs are leaders to a 'post-crisis capitalist system', of what has been already -and widely- recognised as a no-longer-working era. A new paradigm is being shaped, and many questions remain unsolved. However, we hope to contribute (even if it's just a little!) to an exciting new model, that definitely needs more experimentation and research for a social and self-sustaining type of businesses.
We have found out that countries like the UK, the US or Australia are some of the largest operating in the social entrepreneurial paradigm. "Social Entrepreneurship" is a concept that is getting deeply rooted in those countries in comparison to other parts of there world. But the good news is that it's slowly extending, and we believe there is no way back.
However, and after much research in the Social Entrepreneurial sphere, the world has not yet agreed on a standard definition of Social Enterprise.
And while we are all still handcrafting the concept through the search and shaping of the different business models and identifiers of the social based enterprises, we will attempt to give you some rough guidelines that will get you introduced to the charming world of social entrepreneurship.
Social enterprise is a little bit different from traditional charity or NFP models. A social enterprise has a sustainable and for-profit business model and, like any other company, it competes in the fast-moving markets.
https://impakter.com/a-world-where-charities-are-n-longer-needed/
Social enterprises operate like any for-profit business, investing in all the things necessary to create great products and stay competitive. The big BUT is that, unlike conventional businesses, social businesses are not engaged in a contest. Their goals are social, so they can learn from one another and best practices should spread rapidly.
Social Enterprise vs. Traditional Business vs. Non-profit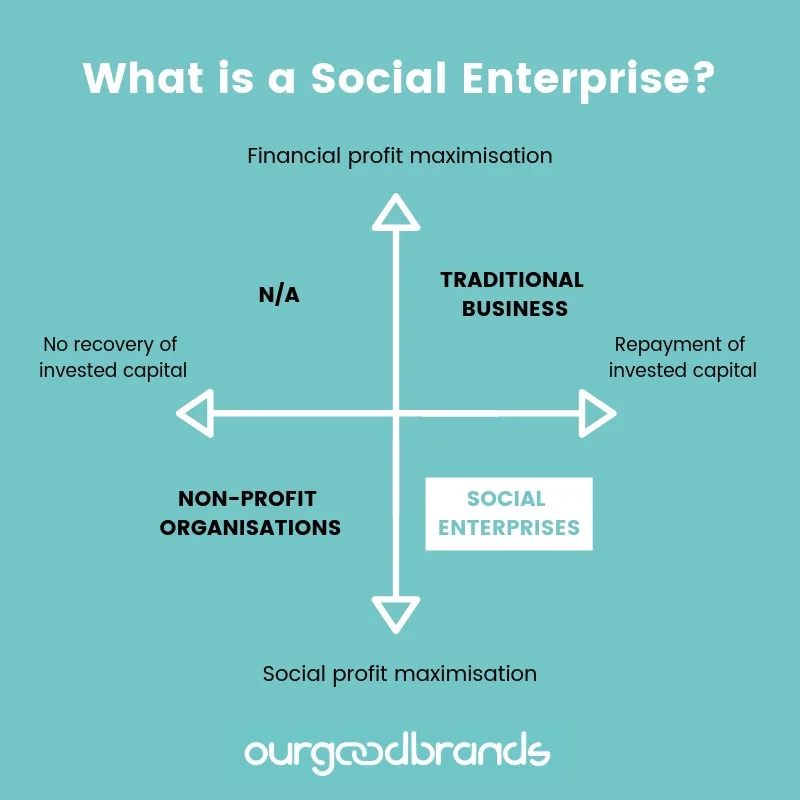 "Every decision that we make is ultimately about maximising the impact that we can have by funding life-changing projects around the world." Daniel Flynn, Chairman of the Thankyou Charitable Trust
Wrapping up, the main difference to other for-profit companies is that they don't have any private shareholders and commit to making a positive impact by funding or partnering with sustainable development projects that help end social or environmental issues.
However, there is also an important note: "In business entrepreneurship, social wealth is a by-product of the economic value created. All those who design and run social businesses are social entrepreneurs – but not all social entrepreneurs are engaged in social businesses (some models, for instance, still include conventional dividend payments to profit-oriented shareholders)." Source: Business Model Community 
Explained differently, social enterprises are designed and operated just like a 'regular' business enterprise, with products, services, customers, markets, expenses and revenues. It is a no-loss, no-dividend, self-sustaining company that sells goods or services and repays investments to its owners, but whose primary purpose is to serve society.
Also, a social enterprise, as it seeks self-sustainability it only relies on its investors at the beginning of a development project. Here, again, it differs from NGOs and charities, most of which are not designed to recover their total costs from their operations, and are therefore obliged to devote part of their time and energy to raising money.
So the closest definition of "social business" (that we are aware of!), has been defined by Mair and Marti:
'a process involving the innovative use and combination of resources to pursue opportunities to catalyse social change and/or address social needs'.
Social businesses include both profit and not-for-profit initiatives, but the whole priority is to give "social wealth creation" instead of "economic wealth creation". Mission-driven versus profit-driven.
As it has happened in all previous revolutions, industrial or economical, there was no clear roadmap to how to start your ethical business or social entrepreneurial venture. But it's beautiful and challenging at the same time, and we are proud to support all those change makers who have overarched their Why's, who have been angry or annoyed by a social or environmental issue, and who have decided to start a structure that is mission-driven.
If you need to define your roadmap, business model, and decide how to create your impact, ourgood partners at Four ppineapples, can guide you through the process. From mentorship, marketing or manufacturing solutions, they are the creative impact agency to go to if you want to make your idea a profitable and sustainable reality.
What has been your experience as a social entrepreneur? Tell us and we will consider featuring you on our media platform for ethical businesses!
This post may contain
affiliate links
. This means we may receive a commission, at no extra cost to you, if you make a purchase through a link. We only share contents that are aligned with an ethical, sustainable, eco-conscious world. Read more about our
Terms & Conditions here