As a designer and op-shop, thrifted and recycled fashion stylist, Jen is very well aware that Australians are the second highest consumers of textiles in the world! There are real environmental and social benefits, as well as savings from wearing recycled fashion,

and here Jen gives you very specific examples and real data. The impact of sustainable fashion and wearing thrifted outfits goes way beyond the environmental angle, as second-hand shops most frequently support society in many different ways. Recycled fashion, a true case of circular economy and give-back.

I wear more recycled clothing than I do buy new, and the best part is that on the thrifted outfits I select design and quality aren't compromised (check out my Instagram for a look-book of my second-hand styles). In this article, I will give you reasons for you to start including recycled fashion in your style mix, because not only will you look good, but you will be doing good too!
Australians are the second highest consumers of textiles in the world: the average Australian woman purchases 27kg of clothing per year – that's twice the global average and second only to the United States. And here is the clincher… of this 27kg, 23 end up thrown away! I have worked in the field of sustainability policy for over 20 years and the stats about environmental impact due to our wasteful fashion consumption shock me every day.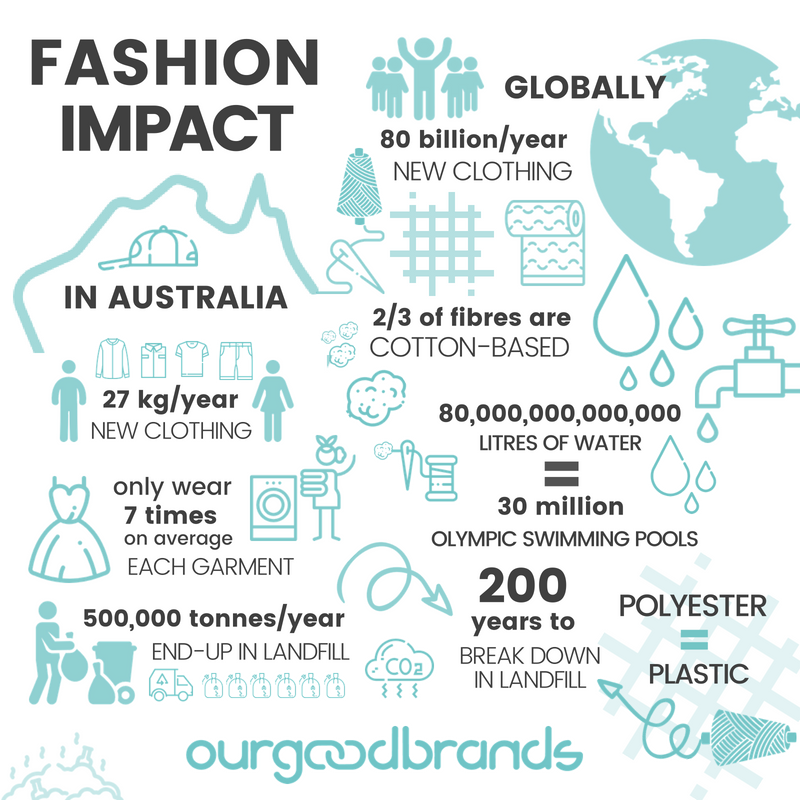 The impact of choosing recycled fashion 
There are real environmental benefits and savings from wearing recycled fashion. One study published in the International Journal of Lifecycle Assessment in 2010 assessed the environmental benefits of the resale of used clothing through charities (assuming that second-hand clothes, to some extent, replace the purchase of new clothes). In this study, two products were evaluated: a cotton T-shirt and a pair of polyester and cotton trousers.
It found that the purchase of 100 second-hand garments would save between 60 and 85 new garments. This lead to the conclusion that the collection, processing, and transport of second-hand clothing has insignificant environmental impact in comparison to the savings that are achieved by replacing the purchase of new clothing; which included a 14% reduction in carbon footprint for the cotton T-shirt and a 45% reduction of human toxicity (the potential harm of a unit of chemical released into the environment) for the poly-cotton trousers.
Another statistic, according to Fashion Revolution, shows that extending the life of clothing by just 9 months would reduce carbon, waste and water footprints of that item by around 20-30% each. This is huge! The positive environmental impact is just one of the great reasons to choose recycled fashion.
Recently, I participated on an Instagram challenge to style an outfit from your existing wardrobe that cost under $20, which is not much if you have to include shoes and accessories. But of course I had to take up the challenge, and it was a fun one. However, the reality is that there are many people in our community for whom that kind of budget is a daily challenge, not just for fun. With National Op-Shop Week coming soon in Australia (for non Aussies, op-shop = thrift store), I am reminded that aside from the environmental benefits and all the fashion and style reasons there is another really compelling reason to shop for recycled clothing at your local second-hand shop… human kindness.
Thrifted outfits wear human kindness
The Salvation Army uses money raised in second-hand shops to help the homeless, run programs that help people fighting drug and alcohol addiction, provide disaster relief for those who need support after floods and fire, and also helping women and children who are fleeing domestic violence.
The St Vincent De Paul Society, lovingly known in Australia as 'Vinnies', helps almost 1.2 million people a year. Their programs include life skills classes, vocational and educational training for homeless men, women and children, drug and alcohol rehabilitation, domestic violence refuges, food vans, refugee and migrant assistance, education, assisted employment, disability services, social housing, and home visitations.
Red Cross Shops support isolated, elderly people with a daily phone call to check they're ok, provide young children with a healthy breakfast when they might otherwise go hungry, disasters relief, reconnect families when they are separated by conflict or trauma.
I love shopping knowing that my hard earned cash is directly having such a positive impact in the world. But I also understand that some people find shopping for recycled clothing overwhelming, particularly at second-hand shops. That is why I have written an 8-page guide 'How to Master Thrift Shopping…and Look Fabulous'. This FREE guide walks you through practical tips and simple style exercises to help overcome the overwhelm and start to incorporate recycled fashion into your wardrobe.
Are you interested in giving away clothes you no longer use? Then read this article about the second-hand market: sell, experience, and storytell.
Share with us your experience of wearing second-hand clothes, comment below!
This post may contain
affiliate links
. This means we may receive a commission, at no extra cost to you, if you make a purchase through a link. We only share contents that are aligned with an ethical, sustainable, eco-conscious world. Read more about our
Terms & Conditions here