Gold is a Neutral is a brand that presents a collection of clutches that fully celebrate the Indian culture. They aren't just born to be a piece of fashion in a wardrobe, but to tell stories of the people making them, the ancient craft techniques, or the towns where the magic happens.
NOTE: We are sorry to inform you that this brand is currently no longer available in the market. We keep this post available for your reference in case it helps for inspiration, as we showcase social + eco enterprises and impact brands that make a positive difference in the world.
Reading Ruth's stories is like finding a travel diary that will make you want to know more about the places she's been. The poetry reflects every single step of the production of the handbags, from the embroidery to the dyeing, as well as the materials that have been carefully picked.
The start-up journey begins with Ruth and some manifest intention to explore India, but these were what we could describe as travels with a purpose. Her obsession with the country's textiles made her follow an itinerary that would take her to the region of Kutch in Gujarat state, India.
Gold is a Neutral can be proud of making sure that every single step in the production chain ticks the boxes of fair trade labor, using sustainable materials and demonstrating a deep respect for the craftspeople involved in the process of creating the handbags.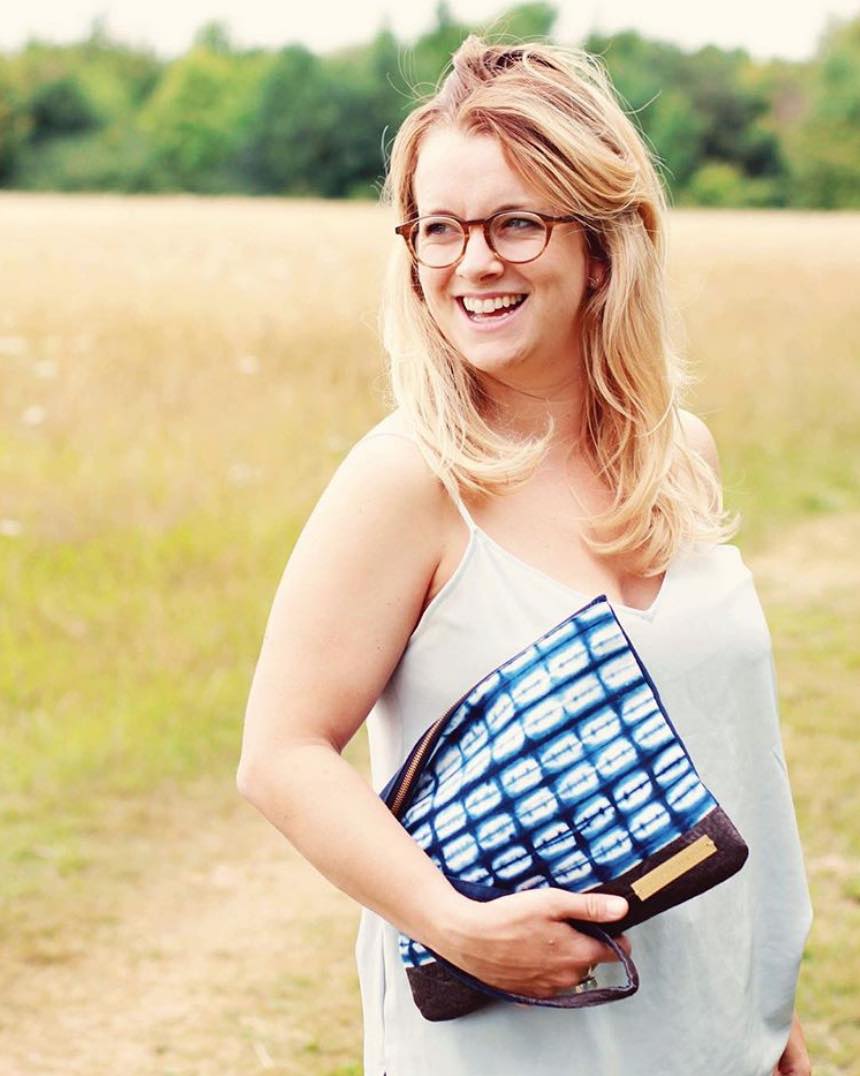 Fair trade handbags varnished with joy
You may wonder where the name comes from. Well, the brand does not use any gold, but it also does not use animal skins… no way baby! It only uses materials that bring joy, like a variety of organic kinds of cotton or Piñatex, which is a vegan leather alternative using pineapple leaf fibers (and no, not a single pineapple is harmed along the way!).
The word "gold" only seeks to inspire the joy, celebrating the textiles, honoring the age-old craft processes, and its combination with new innovative techniques… And most importantly, to celebrate the love the craftspeople put in each step to create the handbags, with the aim of generating fair income with joy.
When it comes to the materials, Gold is a Neutral uses five special fabrics from Kutch for this first collection, including Kala cotton.
Kala cotton is a different variety of cotton that grows in Kutch area, and a great alternative to genetically modified cotton. In fact, it is a very hardy local type of cotton that is being redeveloped into an artisan fabric by the NGO Khamir. Kala cotton is carbon neutral, energy-efficient, economically viable, and promotes valuable ecological diversity in India. It requires minimal investment and gives enough margin to the farmers to earn a sustainable and fair income.
All five bag designs are lined and backed in plain colored cotton from south India. This Fair Trade certified organic cotton is mostly excess stock fabric that is held at a large Fair Trade factory; purchasing the material from them rescues this fabric from languishing in a warehouse.
The brass tags with the brand logo on, are made by a Fair Trade jewelry company in Delhi. The Zips of the handbags are built to last. The wrist strap and base of the bags are made with Piñatex. And the packaging is plastic-free, using instead drawstring bags – again using Fair Trade, organic cotton in gold color.
Digging into the creation process of the fair trade handbags
Kutch, the region of India that inspired the first range of Gold is a Neutral bags, is home to a rich and diverse history of handicraft traditions. The textile crafts featured are tie-dye, embroidery, block printing and handwoven Kala cotton. All are made to order in very small batches by artisans who are connected to NGOs or ethical craft accreditation schemes.
Two of the bag designs feature tie-dye, and Ruth describes the dyeing workshop as an "outdoor workspace that is alive with steaming vats of color, washing lines draped with meticulously puckered bandhani sarees drying in the sun, shelves bursting with a rainbow of powdered dye and a bustling crew of artisans dipping, rinsing, knotting, folding and chatting; a dizzying testament to an enterprise that not only deeply respects tradition but is also unafraid to experiment, to innovate."
And Gold is a Neutral absolutely needed a piece of this tie-dye action! They went through a process of deciding what pattern would suit better, sampling the colors on different fabrics, and ultimately going into production with the chosen designs. The handwoven cotton was cut to the size of each bag panel, then individually folded, wrapped, and dyed.
Each and every piece is a celebration of that technicolor outdoor workshop in Khatri Chowk.
"The nature of this craft means each piece is unique: there are differences between every single hand-dyed panel of the Sherbanu and Mumtaz clutches. Some bolder, some bluer, some lighter, some whiter." Ruth Roberts Varghese
Another design of clutch features block printing from Kutch, inspired by the heritage craft known as Ajrakh. TheAjrakh technique involves between 14 and 16 steps of rinsing, applying to resist, printing and dyeing; the art form is largely practiced by members of the Khatri community whose name literally means 'one who fills with color'.
The traditional natural dyes are made from fruit and vegetable skins to roots, tree barks, indigo, turmeric, and even rusty scrap metal. The finishedAjrakh pieces are jewel-colored, "intricate masterpieces originally worn as turbans and shawls", which are now on increasing demand in the so-called "slow fashion" movement worldwide.
And finally the "embroidery heaven" takes over. This step also takes place in Kutch, where the fame of tribal embroideries is widespread. She met, Salma and Halima, from the Garasia Jat tribe, who tend to feature geometric shapes with a modern edge, "like a decoratively tiled floor".
"Thread colours picked, the ladies immediately began sampling and without any kind of pattern or guide, counted out immaculate rows of tiny freehand cross stitches." Ruth Roberts Varghese
Gold is a Neutral wants to take us to imagine each and every stitch being made by the expert hands of these talented women.
And the last step of the process: when all these exciting fabrics and trimmings make their way to Bangalore. Here the bags are assembled; it's where the cutting, stitching, and the pattern tweaking magic happens.
Who made my handbags?
Ruth can proudly name and tell stories about each of the people involved in the accessory brand.
In fact, the naming of the bags intends to honor the people who were involved in the process. Ruth decided that she wanted "each bag to have a female name that was personal to the artisans who made the textiles. So where there were female artisans in the case of Dhaniben (who dyed the Kala cotton with indigo) and Salma (who did the embroidery), it was an easy choice to use their own names. Where the artisans were male, I asked them to share the names of their mothers or wives so that I could use a name from their family.  I wanted female names not to discount the work of the male artisans, but because the bags are primarily designed to appeal to women and I wanted to encourage that woman-to-woman emotional connection across the miles between the customer and the artisan, or artisan family."
"We know their names, and we'll tell you all about them." Ruth explains, sharing stories like that of June Khatri, whose family has been involved in the Ajrajkh craft for at least ten generations, "Though he admits to having had little interest in the art form as a young child, the routine of his whole family is involved in various daily tasks around printing and dyeing built up his expertise and these days Juned is particularly excited by the use of traditional vegetable dyes in Ajrakh works."
At the end of the day, the beauty of fashion can only be admired if those who create the product have an opportunity to practice entrepreneurship with possibilities of a more creative future.
LOVE LOVE LOVE accessories like these? Check out Outliv, Mrittika, Arture and Kantala… Eco-friendly, vegan and BEAUTIFUL! 
Is there any other similar brand you know or are curious about? Comment below, and we will make it happen!
Other articles you'll love:
This post may contain
affiliate links
. This means we may receive a commission, at no extra cost to you, if you make a purchase through a link. We only share contents that are aligned with an ethical, sustainable, eco-conscious world. Read more about our
Terms & Conditions here