The Fashion Revolution Week event is a whole year affair for us. At Ourgoodbrands we are big supporters of ethical fashion (aka not fashion) brands. We constantly are interested in knowing who are the people behind the production, and what are the materials for each of the products. #WhoMadeMyClothes is a wise question that everyone should be asking!
Fairtrade is no longer just a good thing to do, but a MUST. There're so many wrongs in the fashion industry, the BIGGEST sector in the world but, how come are we still accepting it? How did we get to the point to not start a conversation earlier? #WhoMadeMyClothes?
Now fashion needs a revolution, and it needs it FAST!
Clothing isn't born in stores, so we need to start humanizing the efforts behind every single garment.
The Fashion Revolution Week event is not just for ethical slow fashion brands who want to have a showcasing platform. It's about having a conversation that includes you, the consumer. All of us, really!
It's about understanding facts, such as 80% of the people who work to make our clothes are women. That overall 75 million people worldwide are involved in the process of getting your garments to the shelves. This is quite a lot amount of people who live in very poor conditions: exploitation; verbal and physical abuse; unsafe and dirty working conditions, with very little pay.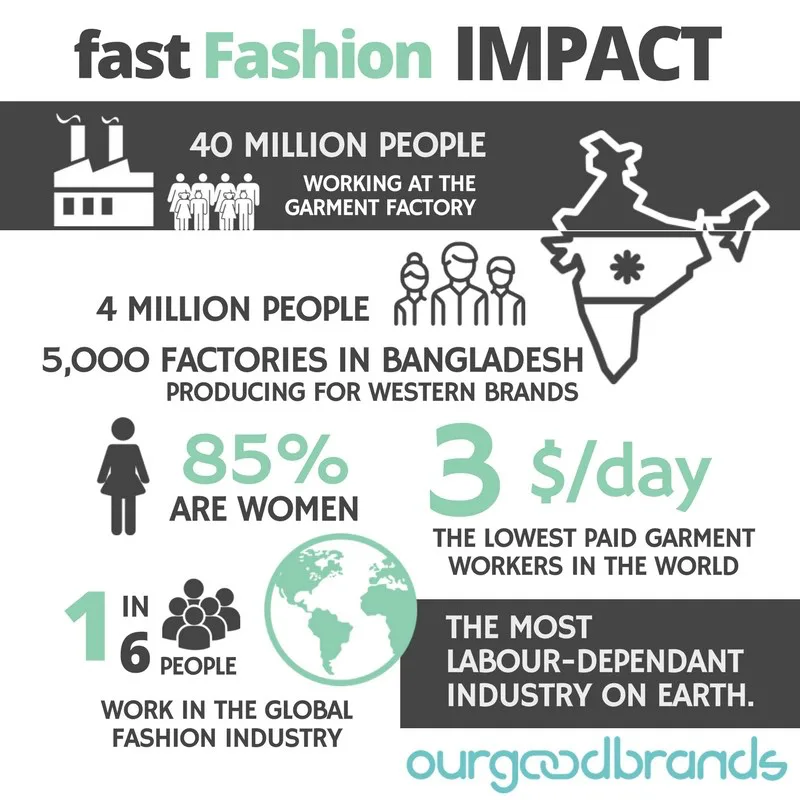 Consequences start from the growth of the cotton. Not just the chemicals that kill farmers, but how the big corporations put so much pressure on them, ending in suicides. Did you know that 280,000 Indian farmers have committed suicide over the last 20 years? It's the largest wave of suicides ever recorded in human history, and yet it's unreported.
It's about asking the most simple question: WHO MADE MY CLOTHES?
Think about it and your whole mindset will change. These are people like you.
And yet, we allow 150 BILLION items of clothing to come into our stores, and only in the USA 14 million tonnes of garments are thrown away each year. 36 kg per person.
A pair of jeans takes 7,600 liters of water to be produced, or a leather jacket, over 30,000 liters. The dyeing process, which is the key number one pollutant of our oceans and rivers. Or the leather industry needs to slaughter 430 million cows annually for us to continue buying wallets, handbags, or shoes.
Throwing away after few times using the garments is not just overlooking the fact that cotton farmers, spinners, weavers, dyers, sewers have worked for us "to be pretty", to just end up in the landfill or an incinerator. All this work for nothing, and we finish the cycle with countless consequences for the environment.
How can you get involved?
You don't need to throw away the clothes you already have. Instead, do this: show your label to the world and dare to ask on any social media platform #WhoMadeMyClothes. You will realize how many brands are not ready to answer. Whereas, the ethical brands and social entrepreneurs are PROUD to respond and share the lives of these people with you!
The event is taking place with events all over the world from the 23rd to the 29th of April. Check out your city and take a stand.
Say #WhoMadeMyClothes! Start today but keep the conversation on throughout the whole year.
Do you know #WhoMadeMyClothes? Is there any fashion brand you know or are curious about? Comment below, and we will make it happen!
Other articles you'll love:
This post may contain
affiliate links
. This means we may receive a commission, at no extra cost to you, if you make a purchase through a link. We only share contents that are aligned with an ethical, sustainable, eco-conscious world. Read more about our
Terms & Conditions here