A trip to the Philippines changed everything, and a disappointment for the leather industry became the beginning of a love story with pineapples. Using the leaves as a by-product of the agriculture industry, combined with very sustainable and innovative production efforts, what one day was waste is been turned into a natural textile with a growing demand in the fashion, decoration and automotive industries! This vegan material ticks all the boxes, from a circular economy business model, ethically and socially responsible sourced, versatile, lightweight and durable. Willing to take your brand to the next level? The answer is pineapples!
Dr. Carmen Hijosa is the founder of Piñatex®, a journey that started the day she was brought to the Philippines to consult on the leather export industry. Seeing firsthand the toxic impact of mass leather production she was determined to find an alternative solution. And what was available? PINEAPPLES! It was a vegan material, robust textile, abundantly available, and also commercially feasible. Hijosa knew there would be a lot of research involved, but her vision for a more sustainable future was the most genuine driving force.
Design is not just about product. Design is about responsibility. Dr. Carmen Hijosa
Piñatex® ticks all the boxes, and the first one is their deserved nomination as material innovators.
The mother brand Ananas Anam spent years developing the right technology to use the residual pineapple leaves to convert it into a vegan material that can be used from fashion and accessories textiles, to home decoration products and interior furnishing as well as in the automotive industry.
On this growing eco-conscious audience, more ethical entrepreneurs are crafting their products that would otherwise be made from leather or synthetic materials.
While many blogs will call classify this material as the new "vegan leather", the brand wants to make clear not to get confused with this description, as the production process is totally different, under sustainable standards – and of course, the texture feels way softer, since it's plant-based!
Piñatex® is a non-woven textile involving several processes. The first step is decortication, which consists in extracting the fibres from the leaves right at the pineapple plantation. The by-product of this process is a biomass that can then be made into organic fertiliser or biogas, a type of biofuel that is naturally produced by the decomposition of organic waste. Following the extraction, the pineapple fibres go through an industrial process, using needle-punch technology, to be converted into a non-woven textile (meaning the final material has not been woven or knitted). The brand does not include the use of toxic chemicals and heavy metals, which are harmful to both the environment and the people making the material.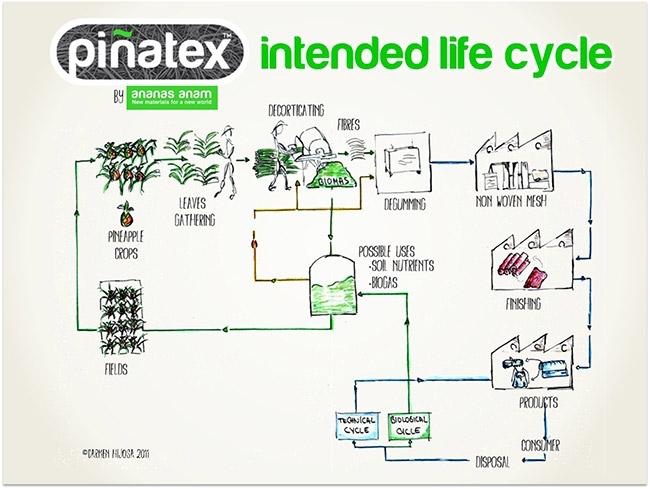 Piñatex® has passed ISO international textile testing standards including tear & tensile strength, flexing endurance, seam rupture, finish adhesion and colour fastness (a full report can be downloaded here).
"Piñatex offers a compelling new material, which has unique properties inherent in the fibres being used: strong tensile strength, finesses, takes colour very well, is pliable and durable and all these properties are well maintained in the non-woven substrate made from pineapple leaf fibres" Carmen Hijosa
The material is versatile, lightweight, durable and, most importantly, it has a low environmental impact. Here are some of this vegan material most important features:
Sustainability based on a circular economy
Piñatex® is been developed according to the principles of a circular economy, by using a pineapple leaf resource made from the byproduct of existing agriculture, which means no additional land, water, fertiliser or pesticide is required to produce the raw material for this textile.
The brand is basically extending the lifecycle of a material that would otherwise go to waste, extracting the maximum value from it and the additional factor of recovering and regenerating at the end of its cycle. A cradle-to-cradle a sustainable business strategy that simulates the regenerative cycle of nature in which waste is reused. As an example, when a tree or animal dies in a natural process, it creates waste that breaks down to become nutrients or another process; and so does Piñatex®.
@PinatexOfficial is been developed according to the principles of a #circulareconomy by using a pineapple leaf resource made from the byproduct of existing agriculture, which means no additional land, water, fertiliser or pesticide…
Click To Tweet
Natural as pineapples
Piñatex® is a vegan material made from pineapple leaf fibres, which has made it earn a PETA-Approved Vegan logo, certifying that no animals are harmed and no animal products are used in the making of this material.
It's a plant-based material, however, the brand uses petroleum-based binders and top-coatings in finishing – but without using harmful substances (such as PVC).
Ethical & Socially responsible
The pineapple fibre material brand connects people, ecology and economics to create a vibrant new industry that is both socially and environmentally responsible. Piñatex® applies commercial strategies to maximise improvement in human and environmental well-being -including social impact.
Piñatex® is a socially responsible innovation. It has never been made before now, so every step of the way is new. They are continuously developing their supply chain to meet growing demand, maintaining their ethics without putting any pressure on the farming communities, non-woven makers, finishing team or sales staff.
The life-cycle of Piñatex® begins in the Philippines, which provides an additional income stream for existing farming communities. The raw material is processed into a non-woven textile in the Philippines, then sent to Spain for finishing.
If you are lucky enough to own a brand made out of Piñatex®, it's recommendable to gently wax products with a natural colourless wax when the surface needs to be refreshed. Leave it in a warm place for 24 hours and rub it gently with a soft cloth.
This vegan material is a water-resistant (not waterproof!), so it's also recommendable to use Liquiproof ProtectorTM, a natural non-toxic coating that will make the product stain and water repellent.
Piñatex® is currently used to make footwear, accessories, clothing, interior furnishing and in automotive upholstery. Some of the brands we have on board are using this incredible innovative pineapple vegan material are Kantala and Gold is a Neutral, both great, ethical and sustainable accessories' fashion brands.
This vegan material has been developed to use as a low-impact alternative to leather and PVC/PU materials. The brand distributes directly to designers who create products in line with our vision for a more sustainable future and, at this stage, Piñatex® is brand-to-brand only, and is not available to individuals or through fabric retail outlets.
Currently, there are six different colours available. Charcoal (almost black), Natural, Brown, Paprika, Gold and Silver as well as Wrinkled Gold and Wrinkled Silver – and you may find some extra colours in limited editions as the brand grows!
If you wish to apply and become a very exclusive brand complete their Sales Sampling form.
Instead, if you wish to find all the brands that are currently using this vegan material use the hashtags #madefrompiñatex #piñatex #pinatex and #ananasanam.
Is there any other similar brand you know or are curious about? Comment below, and we will make it happen!
This post may contain
affiliate links
. This means we may receive a commission, at no extra cost to you, if you make a purchase through a link. We only share contents that are aligned with an ethical, sustainable, eco-conscious world. Read more about our
Terms & Conditions here