Natural medicine it's become a trend in the past years; it could be because the world feels saturated with antibiotics and artificial pills that seem to cause secondary problems when used. We are about to present the most sustainable essential oil. With such an abroad variety of brands available, many of us wonder which is the best one. What if, aside from getting the best natural medicine, you could also impact the communities that produce these amazing products?
Once upon a time, medicine was natural. And with doTERRA we have gone back to our ancestors' roots under a clear mission: discovering and developing the world's highest quality therapeutic grade essential oils. Thanks to their scientific approach and the high-quality standards, doTERRA products represent the safest and the most beneficial oils available in the world today.
Why are doTerra oils better than other brands? 
Pure and natural essential oils, with aromatic compounds carefully extracted from plants.

They are free from fillers or artificial ingredients; no dilution of active qualities

Also free of contaminants, pesticides, or chemical residues

Sourced from the best plant material found around the globe. Through a global network of leading essential oil chemists and growers to ensure correct species, growth in ideal environments, and harvest the raw plant carefully at the right time.

The doTerra 

CPTG (Certified Pure Therapeutic Grade®) 

testing process certifies that there are no added fillers, synthetic ingredients, or harmful contaminants that would reduce their efficacy. Another reason why this brand has created the most sustainable essential oils.
What makes doTerra the most sustainable essential oil?
But the impact of how and where they are sourced goes beyond a drop of oil. It is a catalyst for changing many lives, as two third parts of the countries that source the doTerra essential oils are considered developing countries. Some of the producers are Somalia, Guatemala, Haiti, among others.
doTerra founded the Co-Impact Sourcing®, a supply chain program that helps them to provide a job and sustainable income. These communities grow, harvest and distil these oils. As well, the organisation creates coalitions that ensure local communities receive fair and timely payments to support their families and communities. Also, they provide the resources, tools, and training necessary to ensure a long-lasting partnership.
Additionally, doTerra founded their charitable organisation, the Healing Hands Foundation. Its aim is to provide funding and resources to create community-based social impact projects in the areas where they source the oils. The final mission is to bring healing and hope to the world, for lives free of disease and poverty. Ultimately, to teach impoverished cultures to be self-reliant.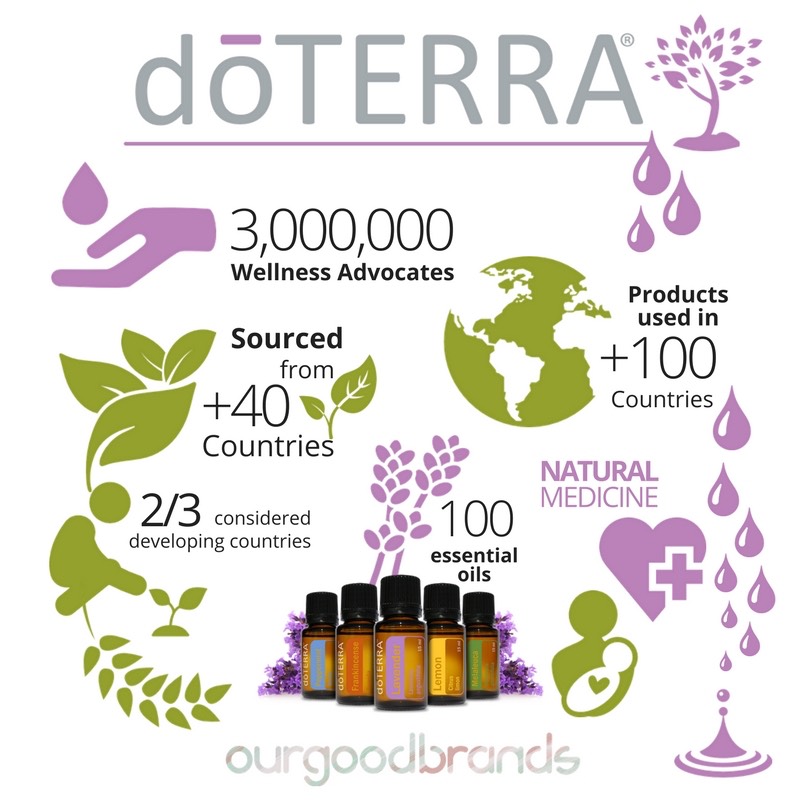 DoTerra counts with over 3,000,000 Wellness Advocates, selling products used in over 100 countries. There are more than 100 essential oils in its product line. All the range of most sustainable essential oils is sourced from over 40 countries, from which 2/3 parts are considered developing countries.
If you'd like to make sure doTerra is the most sustainable essential oil, check out the awards earned since the social enterprise started.
Is there any other similar brand you know or are curious about? Comment below and we will make it happen!
If you loved this content follow us on our Facebook, Instagram, Twitter, Pinterest or Youtube channels.
Are a good brand that would like to have the story featured on our positive news media platform to inspire more consumers to do the shift to a more sustainable lifestyle? Fill in this form NOW!
But if you love writing and you would like to be a change-maker for good, join our community of journalists and bloggers!