She founded Mandala Dream Co. and started creating eco bed linens, decor, slow fashion, skincare, and toiletries. Just by using hemp and botanical ingredients; made by hand with love and devotion. Because organic, ethical, eco and sustainable creation cannot be rushed.
Julie Grant is a warrior. On her corporate days, where the protestors chaining themselves to trees, she knew they were right. And eventually, she discovered this was also her true calling.
When we found Mandala Dream Co., we felt the rush to learn more about its story. At Ourgoodbrands we are kinda' used to see materials that will replace cotton or leather, but the plant they use… 
We found incredible Julie's knowledge and her pioneering production process… A material that needs to be shared with other social entrepreneurs and fashion and beauty businesses. It could be the key to save our planet. We hope you enjoy this interview as much as we did!
Julie, what was the triggering point?
Mandala Dream Co. was born out of me finally finding the calm amidst the chaos, though it took more than a few knocks on my skull before I woke to it. It ended up being a separation of old wants and new needs. The Mandala represents the oneness of the psyche with the cosmos, and for me, that's exactly where I found myself in 'oneness.' The Dream was to resurrect and renew sustainable eco practices and ancient traditions. Most importantly it was to bring about positive change for this earth, environment, and its people.
You fell in love with a material. Could you explain a bit more about it?
What initially started out as my passion for textile art and plant-based dyes using hemp and a few other fabrics, soon turned into a passionate love affair with hemp exclusively. The more I learned about this amazing plant and resource, the more I worked with it, slept in it, dressed in it, the more I couldn't resist. Initially, I started off with the bed linen, but have now branched off into eco fashion, as hemp fabric is so luxurious and it merely had to be shared.
What makes hemp so unique?
Hemp seeds and cold-pressed oils are superfoods containing essential amino acids and easily digested protein, also high in the omegas with a naturally perfect ratio. It's so nutritionally superior you can survive just on hemp seeds for an extended period, can you imagine what this could do to those in famine around the world?
We use these oils in our Skincare, it plumps up dry skin and even helps your skin to retain more moisture over time with its use.
Hemp Biodiesel can replace our need for fossil fuels. Plastics such as wraps for food, bottles and everyday items, if produced with hemp, you will find in there neither petrochemicals nor harmful bisphenol A (BPA). Even better, hemp plastics are not only heat resistant and durable they are 100% biodegradable.
Also, housing construction materials (such as hempcrete) made from hemp fibres have been found to be far superior to most materials used in housing construction in our era. Inexpensive hemp can be made into a huge variety of building materials, hempcrete, insulation, blocks, plastics, board, even carpets, while being so much stronger and will last soooo much longer than we use to build our houses. Did I mention they are also fire, mould and mildew resistant? Rot free and non-toxic? Have you any idea how many toxic chemicals and compounds are in our newly built housing!
Hemp paper can be recycled 8 times, while from our beautiful century-old trees are only 3 to 4 times. And even more… Research states that just one acre of hemp produces more oxygen from CO2 and methane than 25 acres of forest. Not to mention the water savings!
OMG! What is the origin of this genius plan?
Hemp is the same genus as Cannabis Sativa; however industrial hemp is a distinct strain with unique biochemical composition and uses which are one of the mother nature's wondrous gifts to us. You can't smoke hemp! LOL!
Does Mandala Dream Co. grow its own hemp?
I wish we could grow our own hemp!! However, current legislation & licenses are for 100 + acres at this time & we only have 5 acres. We need a shift in our mindset: growing cotton and wasting such huge amounts of water, depleting our soils, and poisoning our earth is simply outdated uneducated practices. So I'm hopeful for a brighter future for our next generations. Though it does appear Australia will wise up soon.
I've recently organized a hemp buying consortium with another two businesses which will allow us to purchase directly from a manufacturer and importing directly from Canada. Cutting out the 'middleman' may create a bit more work and volume initially, but will allow all of us to drop our pricing to make Humble Hemp more accessible for everyone.
How does Hemp grow?
No need to use pesticides or synthetic fertilizers to grow hemp successfully. That's why everyone could grow it quickly. The growing process improves the soil's nitrogen, making the land even better for other crops in the future, a perfect rotational crop for farmers and the health of our soils, which are incredibly sour here in Australia.
The growth cycle of hemp is only four months, so the option to harvest two times in one year would create a massive relief for our struggling farmers. The natural beauty we can create with this textile is inspiring, like a little cottage organic hemp creator of bed linen, eco-fashion and skincare I'm proud of our pioneering movement even on this small scale.
The creation process of Mandala Dream Co.

How do feel the textile of your products, linen, toiletries…?
The fabrics are so exquisite, becoming softer with each use, heirloom fabrics that last a lifetime and are also resistant to stains, mildew, and mould. This feeds into my wish for quality over quantity, as I believe less is more.
I am also working currently on finalizing a 'lifetime guarantee' on all of our Bedlinen, which I believe is a strong pitch and a fact of Hemp and its longevity.
How are your products made?
We have a strict 'no waste' policy, so that's an easy one to tick off.
The Meraki (i.e., made with love and devotion) skincare products are natural organic hemp-based Skincare and Beauty formulations with ethics and all 'small batch' made, to ensure the formulations are as fresh as can be while we continue to improve and add to the recipes. We also ask for the glass bottles and jars to be returned for a discounted refill in another small effort to reduce, reuse, and recycle. 
The Bedlinens are custom made based on design, color wishes, patterns, size, and, of course, the Ayurveda principles should customers wish to have their bed linen (or eco-fashion) botanically hand eco-dyed with Neem leaves.
Every item down to the last detail is entirely organic, with no elastics, no buttons, no zips, only rainwater used. Even our business cards and labels are made from our hemp remnants.
You mentioned that you infuse the bed linen with organic Neem leaves, how is that?
Neem leaves are thought to be the most complex leaves on our planet. The tree has over 130 biologically active compounds. Over 2000 years of traditional South Asian medicine is the testament to the wonder leaf. The medicinal properties include – antioxidant, antiparasitic, anti-inflammatory, antiseptic, antiviral and are especially useful in the treatment of eczema, psoriasis, acne, boils and other skin conditions.
With such a complete process, controlling from the primary materials to the final sale, sure you have a team?
Initially, there was just me involved in the creation process, though now I'm surrounded by the three most wonderful women who have impacted my world and assisted in growing the business organically. Sahara, our daughter, who researches nature tirelessly for skincare and beauty formulations; and my girlfriends (sisters by choice) Zsuzsanna, the fearless master seamstress and artisan, and Wendy, the pattern maker and sanity checker. Without them and my family, my husband Kaleel and son Kingston, all of this would still be just a Dream.
And how do you wish this dream to continue?
We are a tiny cottage business and though I believe the hemp industry is coming full circle, and we will be in a position of authority poised to supply some of the demand. But I wish other farmers and fashion and beauty social entrepreneurs start also producing with hemp.  No way I want to monopolize on that, as I'd be much prouder to see people using hemp in everyday life, knowing I was a tiny part of the collective change. 
I hope to see opportunities arise to educate the masses on the difference Hemp can make to the collective health. My BIG Dream is to see the adoption of all that the humble hemp plant can offer while changing our environment our planet and its residents for the better. To know the hemp farms growing and spreading over cotton and other not so environmentally friendly crops across our nation would be a joy.
To realise our waterways are changing, our toxic overuse of water, chemicals, pesticides and fertilizer addictions cured due to healthy Hemp.
For now, we will continue to release new bed linen creations, add to our eco-fashion, skincare, and beauty ranges.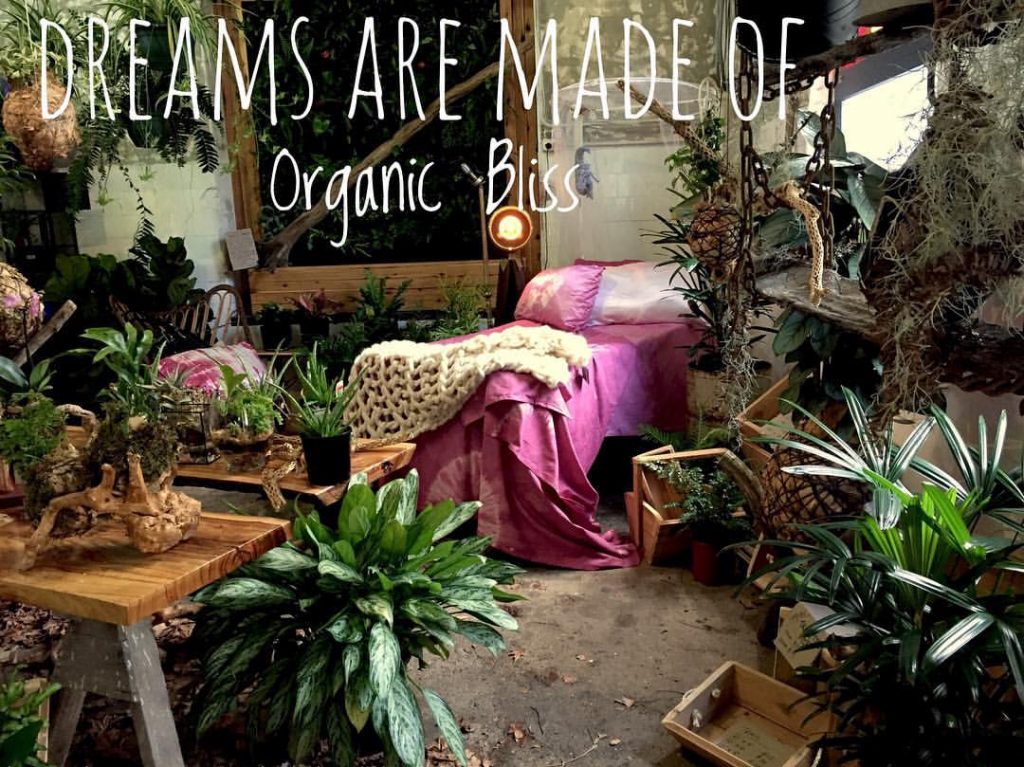 What is your message to consumers?
Purchase ethically, without cruelty to people, animals, and the planet because this is the key.  The scarcity of our creations is the allure for some while giving back to the planet and consuming consciously, is the motivation for others. Purchasing quality over quantity is the message.
What advice would you give to entrepreneurs that are starting fashion or beauty business?
For the social entrepreneurs who want to join the sustainable ecosphere; I'd suggest they'd stay versatile and fluid as it's an ever-changing beast. Research your competitors and their propositions, but model yourself on businesses that you admire and genuinely love their ethos. Reach out to eco-bloggers and like minders. A sadly prepare yourself for the 'fakers' & 'takers', as plenty will promise the world for free product and not deliver. So consider a contract for all of these dealings from the start… that will get the non-genuine running away.
How can we order Mandala Dream Co. products?
The website indeed only works as a tool to view the products and make the connection. We start producing once you have ordered because we don't like to hold any stock, also because we custom depending on the style you prefer. 
The textile art has a very long process, from growing and harvesting, fermenting, collecting rainwater, and vatting it's a labor of love entirely.
What I enjoy the most is sending photos to my clients and sharing the process with them.  It's beautiful to see how it all comes together… just for them. People appreciate the fact of the exclusivity of each product created.
Is there any other similar brand you know or are curious about? Comment below and we will make it happen!
Other articles you'll love:
This post may contain
affiliate links
. This means we may receive a commission, at no extra cost to you, if you make a purchase through a link. We only share contents that are aligned with an ethical, sustainable, eco-conscious world. Read more about our
Terms & Conditions here