Modern slavery is not something that happens "over there" that we don't have to think about. If we care about the people who make your products we can make a difference. Tackling one of the world's largest and most complex human rights issues requires serious strategic thinking. Fashion Revolution event is a campaign that allows ANYONE to engage. You can start by asking #WhoMadeMyClothes or participate at some of the many events led by independent citizens worldwide. Let's agitate change and work together to positively impact the lives of the estimated 40 million people living in modern slavery today. We can end modern slavery in our generation. Brands, consumers, legislators – shall we?
The Global Slavery Index's 2018 report, published by the Walk Free Foundation, states that $127.7 billion worth of garments at risk of including modern slavery in their supply chain is imported annually by G20 countries, today accountable for 80% of world trade.
#ModernSlavery is not something that happens "over there" that we don't have to think about. If we care about the people who make your products we can make a difference @WalkFreeFdn co-founder Grace Forrest #FairTrade…
Click To Tweet
Unravelling the numbers, we were shocked to find out that 40.3 million people are trapped in modern slavery, for which an abrupt 71% are women (data 2016).
Hidden causes of modern slavery
Currently, modern slavery is linked to the hazy supply chains of many industries including electronics, agriculture and fashion. This 30 billion dollar industry and its large contribution to modern slavery are fuelled by:
Cost pressures (the greater the pressure is on suppliers means greater pressure on workers)
Highly competitive environments
Fluctuating supply and demand for labour
Long supply chains, loss of transparency
Indirect procurement
Modern slavery in fashion can come in any from across the supply chain: sewing the clothing, converting the fibre to yarn or even harvesting the cotton!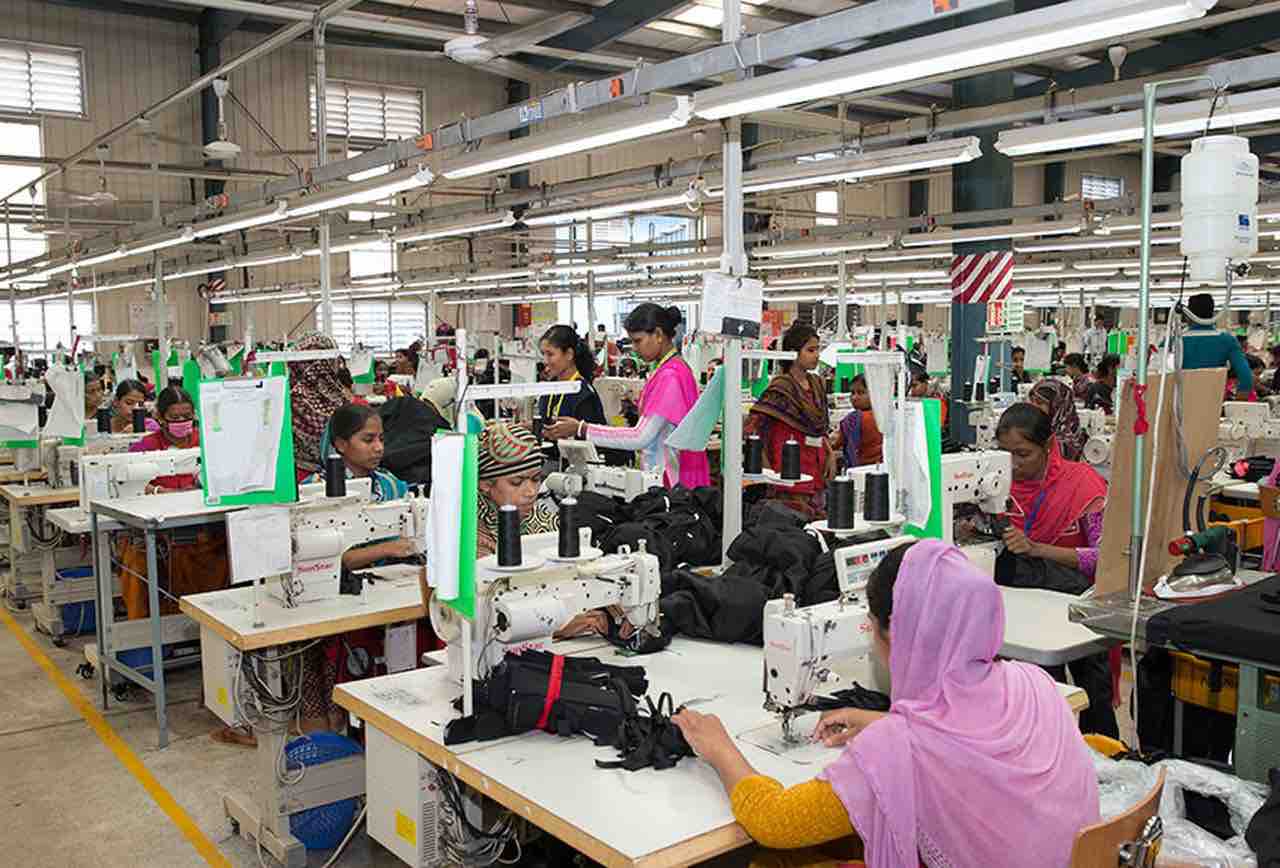 The major a fashion brand is, the more likely they don't have control over their supply chain (more collections, more processes, more contractors involved), so tracing every single step involved from harvesting, production to delivery of the final garment makes it quite difficult. And this is the reason why it makes it easier to get illegal activities unnoticed.
Tackling one of the world's largest and most complex human rights issues requires serious strategic thinking. Of course, consumers have a voice, but asking them to change the industry from the core is like asking passengers to drive the planes. This is why we are persistently requesting brands to operate ethically, and that involves not putting pressure on suppliers, and understanding their own supply chain by taking control over it.
Learn about some current federal laws in the US – The Trafficking Victims Protection Act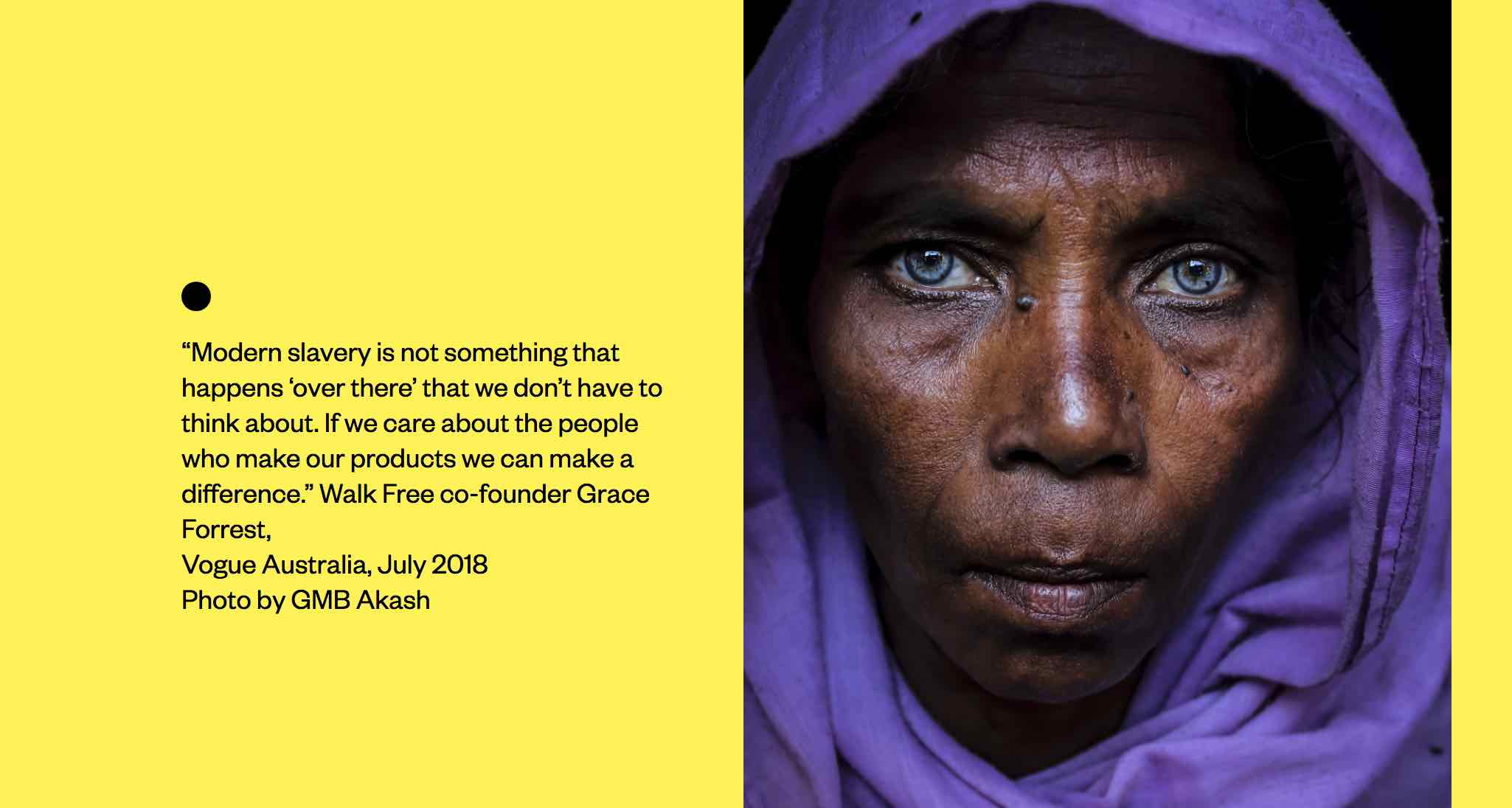 How brands can report: the Modern Slavery Act's criteria
The Modern Slavery Act of 2016 requires that businesses of a certain size publish what they're doing to combat slave labour in their supply chains. These are the key questions large brands (including fashion) need to answer:
Description of what the entity is.
The entity's structure, its operations and its supply chains – this means you understand your supply chain.
The Modern Slavery risks present in the entity's operations and supply chains – this means you understand the risks.
Policies and process to address Modern Slavery risks in its operations and supply chains – you have a plan.
Describe how the reporting entity assesses the effectiveness of such actions (to assess risks) – you're measuring your progress.
Describe the process of consultation with entities the reporting entity owns/controls.
How can you mitigate modern slavery from your business?
Updating procurement policies, for example, issuing a Code of Ethical Purchasing
Including a list of minimum requirements in contracts
Reviewing and updating your tender evaluation process
Create management plans
Engage and inform the executive and the board
Tailored education for staff
Supplier engagement
Read the Fashion revolution Transparency index, a review of the 150 biggest global brands and retailers ranked according to how much they disclose about their social and environmental policies, practices and impact
There is a reason why today it's very rare to see "Made in the USA, Italy, London, Australia…" label and the whole reason behind this is because since the late 1990s multinational fashion brands have outsourced their apparel manufacturing to low-cost locations. Large fashion brands have taken away the manufacturing from their very own countries, involving a massive crisis when it comes to employment. While these brands have gone somewhere else (this is Asia, mainly) they have largely contributed to the current model making modern slavery a widespread issue.
Producing cheap has resulted in garments becoming very cheap for consumers, which has created a situation where smaller fashion brands also had to outsource to become competitive. A ripple effect that has severely removed for brands to even have the option to produce in their own countries – basically because the manufacturing has faded. And consumers, indirectly, we are supporting modern slavery in a crucial way through the choice of clothing, tech, other commodities, or even tourism.
Walk Free Foundation suggests, with citizens and governments everywhere acknowledging that we're all implicated in this mess.
"Too often, the onus of eliminating modern slavery is placed only on the countries where the crime is perpetrated. They certainly have a responsibility, but they are not alone in this regard. An atrocity as large and pervasive as modern slavery requires a united, global response." Global Slavery Index
The good news is that the Fashion Revolution is a global movement led by citizens that campaign for a fashion industry that conserves and restores our environment and gives people, especially women, a voice. An industry where dignity in work is the standard and not an exception. Start by asking brands #WhoMadeMyClothes?!

How can you get involved in the Fashion Revolution Week 2019?
Future Fashion Focus: LIVE Mastermind
In a nutshell: Future Fashion Focus has been organised by industry-leading experts to help ethical and sustainable fashion brands start and scale their ventures. Brand owners will learn how to stand out in a sea of greenwashing, build a loyal audience and convert them into paying customers, so they can make more income and impact! 
There will be opportunities to get valuable feedback from marketing experts and connect with fellow brand owners to raise the profile of your ethical fashion brand and learn all the strategies you need to grow.
Who is it for? Ethical and sustainable fashion and accessories brand owners ready to start or scale up their venture, looking for expert support and industry-leading strategies.
Details: Friday 26th April, London Museum of Brands, 1.30pm – 5pm
Tickets: £40 plus Eventbrite fees, available here
Ethical Brands For Fashion Revolution
In a nutshell: The UK's leading independent ethical fashion showcase is back! Named as the leading fashion event in London for Fashion Revolution Week 2018 by Elle Magazine, Ethical Brands For Fashion Revolution will bring together the UK's best fashion and accessories brands, plus industry-leading experts for a day of shopping, connecting and vibrant discussions about the future of ethical and sustainable fashion.
Who is it for? Anyone with an interest in ethical and sustainable fashion!
Details: Saturday 27th April, London Museum of Brands, 10am – 5pm
Tickets: £3 plus Eventbrite fees, available here
Are you already taking part in the 2019 Fashion Revolution campaign? Share with us your experience on the comments below!