Discover some of the top zero waste items and eco-friendly products to support you on your journey to living more sustainably and plastic-free!
Have you ever considered purchasing a few eco-friendly products to help you save some waste and reduce your environmental carbon footprint? Well, turns out that going zero waste usually makes your life more convenient as much as it helps you to save some dollars in the long term.
Choosing to live sustainably may sound challenging at first as it entails changing habits and exploring options outside our comfort zone. Not to mention, a lot of us have gotten used to some products that we consider essential in our daily lives. Luckily in this day and age, various brands have made eco-friendly products for every possible need, making it easy for us to make the switch! Here are 6 eco-friendly products to help you live a more conscious life.
1. Compact Reusable Bag
As you may know, plastic pollution remains to be a global issue. It clogs our drainage system causing floods. It ends up in our waterways leading to the oceans, causing harm to marine life, and contaminating our natural resources.
The good news is that we can still do something about it. To help alleviate the impact of plastic waste in our environment, we can start by refusing single-use shopping bags and switching to reusable bags.
A compact reusable bag is a great alternative to flimsy shopping bags. Chicobag is built to be sturdy, and it can hold up to 25 lbs. of grocery items. We love the range of Biome reusable bags as there is an extensive range, a fit for everyone! 
To reuse, just simply wash and let dry. Not only do you help wildlife and the environment, but you also get to save money. Some stores offer discounts and incentives to shoppers who bring their own bag instead of charging for plastic.
Compactable promotional bags, smart + sustainable and strong like an ox
2. Reusable Coffee Cups
Do you often buy a drink from your favorite coffee shop? If you are looking to live a more conscious life, you will find reusable cups and lids a total gamechanger!
Onya is 100% recyclable and is sustainably made with food-grade silicone. It is microwavable, dishwasher-safe, and it can keep your drink warm longer. Even their packaging is sustainable. They also ship low-waste and plastic-free.
With billions of single-use coffee cups ending up in landfills and polluting our environment, (no, coffee cups are not recyclable!) having your own reusable coffee cup can definitely help reduce waste. Some of our favourite brands are Frank Green, Keep Cup, Onya Life, Atlas & Ortus, and if you rather explore a marketplace with several options, then check out Biome's reusable coffee cups or EarthHero drinkware section.
3. Sustainable Accessories
Love adding touches of details to your outfit? Complete your wardrobe with sustainable fashion accessories that are ethical and eco-friendly.
Sustainable accessories should also be fair-trade. This means that the products were produced in such a way that there is no negative impact on the workers. They are compensated fairly, and they work under safe conditions.
You will find a lot of sustainable accessories to be eco-friendly. For instance, traditional belts are normally made from animal leather. Yet, belts and handbags can be made out of sustainable alternatives such as cork, recycled plastic, and recycled rubber, pineapple leather and more.
You will find a wide range of items such as fashionable sustainable handbags, sustainable watches, scarves, wooden sunglasses, and even, pieces of ethically made jewelry. Everyone can live an eco-conscious life without sacrificing style. These make great gift ideas too!
The art of crochet & weaving to up-cycle trash plastic bags into colourful accessories
4. Reusable Water Bottles
Go eco-friendly and stay hydrated by saying goodbye to disposable water bottles that pollute our oceans, and switch to reusable water bottles. These are usually made of food-grade stainless steel and with a triple-wall design to keep your drink warm or cold for hours like this bottle from S'well Stainless Steel Water Bottle. 
Other brands offer reusable bottles that are made of glass and are dishwasher safe. You will also find reusable BPA-free bottles that come with filters to remove bacteria, protozoa, odor, chlorine, and other chemicals. In the same token, there another of our favourite reusable water bottles with filter on the go is LifeStraw. That's perfect for outdoor trips such as hiking! For more options check out the range of Biome's reusable water bottles or EarthGero zero waste on the go!
11 Zero waste detergents & DIY toxin-free laundry alternatives
5. Eco-Friendly Food Bags
Do you want to upgrade the way you organize your fridge? A great alternative to single-use food plastic storage bags is eco-friendly food bags. It's a total kitchen saver to keep your food organized and also avoid spoiling. Stasher bags are non-toxic and just as functional as your usual food bags. You can also easily clean them for reuse.
There are different types to choose from to fit your needs. You will find microwavable ones, freezer-friendly ones, and some are dishwashing safe. Use these waste-free eco-friendly food bags to store sandwiches, vegetables, fruits, and more. 
One set of Stasher bags includes food bags of different sizes from 4 fluid ounces to 12 cups. You can even marinade dishes with liquid in them because of their leak-proof feature.
6. Reusable Cotton Rounds
Cotton pads are essential in skincare. However, producing disposable cotton balls, rounds, or pads requires a lot of resources. One kilogram of cotton uses the same volume of water that one person would drink over a period of three years. Disposable cotton balls that end up in our landfills or in the environment also degrade soil quality and pollute our waterways.
To live a more sustainable life, swap your single-use cotton pads for sustainable cotton rounds. One pack contains seven pads that replace 1,750 single-use cotton rounds. 
LastRound is made of natural and eco-friendly materials, and even the case is plant-based. You can easily incorporate it into your daily skincare. Use it for cleansing, applying products, and removing makeup. It comes with a case so you can easily pack it in your bag and makeup kit.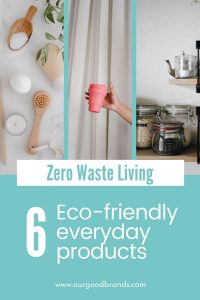 This post may contain
affiliate links
. This means we may receive a commission, at no extra cost to you, if you make a purchase through a link. We only share contents that are aligned with an ethical, sustainable, eco-conscious world. Read more about our
Terms & Conditions here