Style never goes against sustainability. In fact, there is a greeny trend where less and green is more. The goal is to make your home healthier using natural materials instead of synthetic ones full of toxins. Enjoy this bunch of sustainable home decor ideas!
Do you want to decorate your home that is healthy for your family and the environment? If so, the eco-friendly home decor will help you do just that. Eco-friendly home decor is the latest craze for eco-conscious people. Discovering new ways to live sustainably can be exciting, as well as rewarding. Who knows what you might create with these ideas? You could change the way people see home decor while also creating beautiful, inviting, and colourful spaces. 
The idea of using sustainable and natural materials in your home is the healthiest option for us, as we are not meant to live separated from nature anyway! There are many ways you can blend eco-friendly items into your current decor without making drastic changes or spending loads of money. In this blog, we will discuss how you can use eco-friendly decoration for your home and help you discover some ethical and sustainable brands that'll help you in your journey!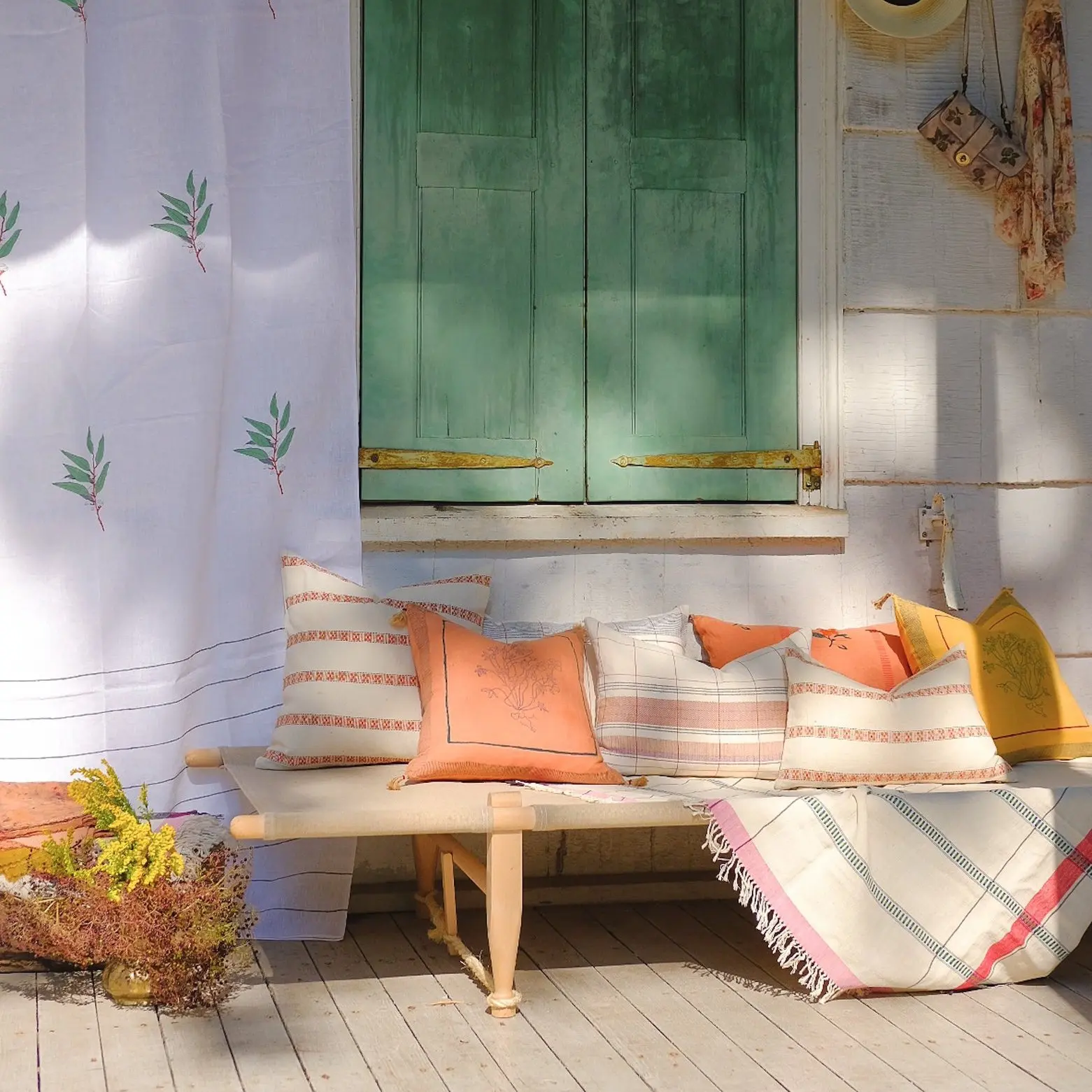 1. Go Green with Colors
When choosing a color scheme for your eco-friendly home decor, you may want to use green colors in order. Green is the traditional color of "going green," which also symbolizes stability, growth, peace, and balance. A mix of light blue with greens can create an inviting space to make you feel calm and relaxed! You can use these colors on the wall, on your furniture, as well as area rugs on the floor. Green is also a great choice for any handmade items for decorating your homes, such as knitted blankets, woven baskets, or jeweled crafts.
2. Reclaimed Wood Shelves
To create sustainable home decor that is also stylish, consider using reclaimed wood for your shelves instead of plastic wrap. You can use many different types of wood to achieve the look you want in your space. Our favorite choice is bamboo because it is sustainable and sturdy. To make your space even more eclectically stylish, paint the shelves a fun color!
3. Rattan Furniture
Rattan furniture is perfect for any room in your home. It offers a luxurious and breezy feel with its patterns, colors, and textures. You can use it to create an outdoor space or part of the living area inside your home! Also, this furniture can live for years so that you can enjoy it for a long time.
4. Soil Cement Planters
It is a very strong material that can withstand any weather conditions and last for years! If you want to add some greenery to your home but want something more modern, these planters made out of soil-cement are perfect. You can even customize them, so they fit any area of your home. Also, painting or coloring these planters is very easy to do, and the results can be long-lasting.
5. Handmade Knitted Blankets
Knitting is so popular because not only does it keep you entertained, but it also creates warm and cozy blankets. Knitting also helps improve hand-eye coordination and increases focus. Wool knitted blankets and throws can adorn any room. Also, these are warm and comfortable on cold chilly nights. Made Trade is one of our fav brands of eco-friendly home decor, so we highly recommend you to check it out!
6. Wool Rugs
Rugging is a high-quality material that looks great in any home because it has natural color variations, making the rug look antique or vintage. Plus, wool material rugs are easy to clean, which makes them low maintenance for busy homeowners! This natural fiber rug is perfect in any homeroom, especially if you need to add some softness and warmth! It's durable as well because they're woven by hand with natural fibers. Plus, this piece also has an eco-friendly aspect with how the fibers are sourced. Wool rugs are hypoallergenic, and they have natural antibacterial properties. It is also the softest and cozy natural fiber around.
4 Minimalist decoration ideas to make your room look larger with less
7. Cotton and Silk Fabric
Cotton and silk fabric are both soft to the touch. Cotton is a natural fiber that lends well to any decoration from curtains, tablecloths, or upholstery. On the other hand, Silk has many benefits in that it can be dyed easily without shrinking or shedding, so you can create a unique color scheme for your home! Decorate your home with both of these natural fibers and enjoy the benefits of these sustainable fabrics.
A circle for purpose with home & kitchen items made from textile offcuts
8. Silk Pillows
A silk pillow is a great investment because it will last for years to come. Silk pillows are best for those who have allergies or asthma as they do not produce dust mites like other types of fabric, nor do they develop allergens with use. It also makes your skin soft and wrinkle-free.
9. Silk Throw Blankets
A silk throw blanket is a luxurious item that can be enjoyed for years and years to come with careful maintenance. Silk blankets are known for their durability, colorfastness, wrinkle-free surface, and soft-touch, making them perfect as accessories or decoration in any room of your home! Silk blankets are also soft with a sheen finish and come in a variety of colors.
Reviving the ancient Egyptian craft heritage of kilim weaving
10. Silk and Cotton Linens
If you love decoration, you'll know that bed sheets is one of the most popular decoration items for your home.
It is best to use silk linens for bedding if you look for the most luxurious, fluffy option. Silk is one of the softest fabrics on earth! The wear and tear that your sheets would normally show with time won't happen as quickly with Silk. It's also hypoallergenic, so it won't irritate your skin the way that other fabrics might.
11. Jute Baskets
Jute baskets are the best replacement for plastic baskets. They come in a variety of sizes and colors. Jute is made from natural fibers usually sourced from the leaves, bark, or stems of plants. Plus, it's eco-friendly material! You can keep them around the house for storage purposes or use them as décor to store things in. You can also buy woven baskets with a liner made from 100% cotton, so it's easy to clean and maintain! Made Trade has the most beautiful collection of all types of eco-friendly home decor.
12. Wood and Stone Decorations
Instead of buying decorations made out of metal or plastic, opt for stone and wood! You can purchase stones at local garden stores that have outdoor plants. You could also use a rock from the backyard as an accent piece in your living room. Wood is readily available too if you live near a forest with lots of trees. Plant stands are usually found around the store entrance, so you could pick one up and use it as a decoration!
Ethical home decoration handcrafted in Morocco by master artisans
13. Stone Lanterns
You can find these easily at garden stores. They are usually made from stone, and some come with LED lights inside that make them look really beautiful in your backyard during nighttime hours. You don't have to worry about them rusting or getting too wet because they are sealed with special paint.
Top 7 tips for home improvements to save money & the environment
Wrapping Up
When it comes to eco-friendly home decor, there are many ways you can make your house more sustainable, from DIY projects like creating a green wall in the living room or using recycled materials for furniture. And also, from lighting fixtures to finding natural cleaners that will help reduce harmful chemicals in your environment. There are plenty of opportunities to be environmentally conscious without doing anything drastic. We hope you've enjoyed this blog post about home decor committed to sustainable living practices.
This post may contain
affiliate links
. This means we may receive a commission, at no extra cost to you, if you make a purchase through a link. We only share contents that are aligned with an ethical, sustainable, eco-conscious world. Read more about our
Terms & Conditions here