What started like a casual encounter between Dutch Henriette and Kenyan Ruth, ended up becoming more than a business, a family. The techniques used for the creations are not Kenyan, but all the materials are locally sourced. The eco-friendly decoration pieces are made in a way that is inclusive for the families in Kenya and so creates a real impact in the community. Learn about their stories through the beautiful Afrodutch Collections.
Henriette and Ruth met in Kenya and they decided to go on a venture together. They started to create eco-friendly decoration products, combining the Kenyan style and natural materials, with the Dutch final touch. This would make the Afrodutch Collections a contemporary design that respects the culture and involves Kenyan women in the process.
Whether the eco-friendly decoration is crafted at home or on the workshop, they can bring their babies along. The beauty of this business is that the production stays in Kenya, giving the opportunity to improve the standard of living and creating a better income for Kenyan families.
Henriette does the designs and developed few techniques for making paperstone. She taught Ruth the techniques and as Henriette says:
"Ruth is now sooo much better than me. She is now the teacher and trains the ladies, but also still involved in some parts of the production process. Ruth has brought the production process to a higher level."
Made by hand, these ladies are creating beauty out of waste. The products only use disregarded mostly natural materials, available in nature or purchased locally.
When the temperature in Nairobi drops and the rainy season starts, it's the perfect time to make the cottonfield buntings and cards from reused cotton. These are completely handmade with inspirational features such as friendship, birthday, wisdom, love, feathers, wildlife, birds or nature.
The sheets are obtained from a huge second-hand market, then washed, sorted, teared in small pieces and hand printed with stamps; after that, they are stitched and ironed. Same with the cotton cards, which are also painted to make the cotton thicker.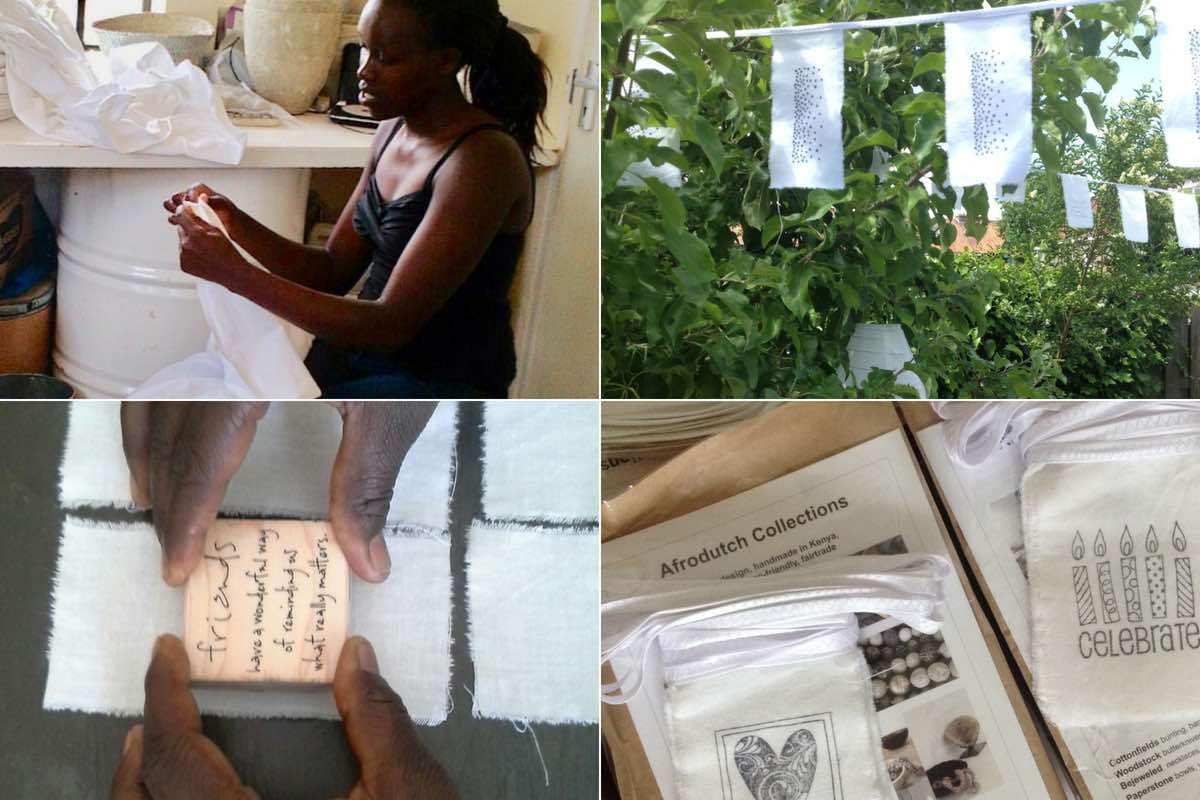 The jewellery range is made out of several materials that are recycled, natural and we find the production process quite innovative.
The light weighted beats are made out of paperstone, which is a variety of composted paper and non-petroleum based resin coloured with natural pigments and usually mixed with black or red soil. For the paperstone to turn into other colours, they would use turmeric or curry (also known as currystone), or coffee grounds for the coffeestone range.
The necklaces are also combined with other beautiful beads from Ethiopia, like the silver, or clay from Mali, and of course, the region of Kenya, which could be wood, horn, bone or recycled aluminium and brass.
All paperstone is made from scratch and they buy the newspapers in bulk. They are torn by hand in small pieces (cutting doesn't work), soaked in water, drained and made into a kind of pulp or paste by kneading it for a long time. When the pulp is ready it is moulded into different shapes and put outside to dry for a couple of days. When it is completely dry the products are varnished 2 to 3 times.
The paperstone collection looks and feels warm and smooth to the touch, it is light but also very strong.
While the paperstone, cotton fields and bejewelled collections are made in the workshop in Ngong, artisan John and his workers in Kibera handcraft the range of Woodstock. This collection includes spoons, bowls and serving boards, which are made out of leftover pieces of wild olive wood. Recently the brand has also partnered with workers from the Machakos woodworking Cooperation. With Henriette's designs, they make stools and side tables in the old African tradition out of yellow wood and jacaranda wood.
The business now belongs to Ruth. Henriette tells:
"She has grown soo much. She is such an intelligent, courageous wonderful woman. I am sooo proud of her. She now drives a car, she owns a plot, has a workshop and a small house. At the end of this year we hope to move to a different bigger plot and build a bigger workshop, showroom and house for her family."
The impact of the business on Ruth's family is huge. The kids go to a good school, also two kids of her brother and sister in law have lived with Ruth and her husband, who have finished now their studies.
Need more reasons to purchase decoration made by hand?
In 2014 and in 2015 Afrodutch Collections was nominated by Craft Africa into the Best of 20 of Kenya's Contemporary Craft and Design.
Find the whole collection on their website!
Is there any other similar brand you know or are curious about? Comment below, and we will make it happen!
This post may contain
affiliate links
. This means we may receive a commission, at no extra cost to you, if you make a purchase through a link. We only share contents that are aligned with an ethical, sustainable, eco-conscious world. Read more about our
Terms & Conditions here