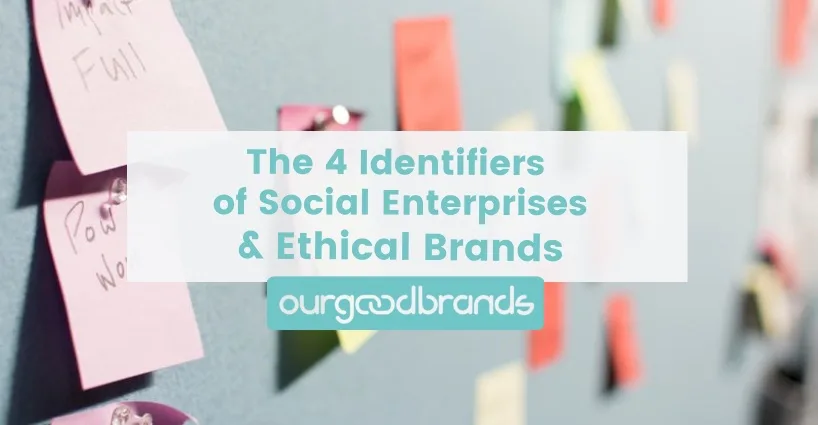 How to identify social enterprise businesses? There seem to be loads of good noise around ethical, ethically-made or sustainable brands, and today we will share with you the 4 identifiers that will help you to recognise social entrepreneurs. No more dishonesty, no more greenwashing, here is the key guide for you to make better choices while purchasing or researching those good brands.
There are 4 identifiers that will help you find out whether a business is a social enterprise or a truly ethical and sustainable brand. Here's how the basics look like (and if you want to know more in-depth about Social Enterprises, we have a detailed guide with 4 types of business models ready to make an impact!). For now, let's help you identify social enterprises or ethical brands.
1. Social Entrepreneurs have overarching WHY
Basically, the mission for being is bigger than themselves.
Social Entrepreneurs have this naturally because the whole reason why they exist and started a business is that they are usually irritated or upset about something. Their WHY is a bold and strong statement to provoke a change, which is also what keeps them going.
If you had a chance to read any of our interviews to the different social entrepreneurs when we asked the question "What advice you'd like to give to those businesses willing to create an impact" the most common answer is: "Remember WHY you started". From the social entrepreneurs and ethical businesses we had a chance to speak to, they especially remember this statement when things get tough; being the reasons low source of income, refusing offers that don't appear to be ethical or as aligned with the business' values, cheaper ways to source their materials from, between others.
A recent example of this was Think Love Live, an Australian based brand, for which the founder Anna Crommelin had the opportunity to be featured in a very popular summer calendar to show the bikinis and yoga wear. She refused, and published on social media:
"A Great opportunity of hot models showing off recycled plastic bikinis… however, I just can't do it. Think Love Live we want our shots to be of everyday women, not any airbrushing or the race to "perfection"… Just fit healthy women of various ages. I want to contribute to a more body positive space and be a brand of the environmental movement as well as building up women. Thanks to all the women who model for #thinklovelive"

2. They have a Community of Customers
To whom do you sell your products and services?
Basically, Social Entrepreneurship is also about selling a product or service, it is based on business, not a charity. They are like an ordinary business with a commercial side. They have a solution for someone that is willing to pay for it. And of course, the mission helps to add up value, but don't get it confused: if your product is not good enough, the mission will not drive you the sales.
3. They have a Community of Service
Who are you committed to uplift?
This community of service can also be known as charities, beneficiaries or community of people they care for and serve, for which the business is willing to create an impact.
We have seen brands helping communities of homeless, people with some sort of disability, supporting the research of an illness, communities who have suffered from sexual abuse, or to support those who don't have access to a specific product (for example, sanitary pads – check out Saathi Pads amazing brand and story). If you are willing to find what your purpose or community of service is, we could definitely help you find what is yours and connect you to the best options available.
A quick note, it's possible to see cases where your community of customers and service is the same. As an example, we have Mohammad Younes, considered the founding father of social entrepreneurship, a selling-based business model for Grameen Bank, the bank for the poor, in which he offered microcredits to women in Bangladesh. In this case, his community of customers and community of service was the same one, but the final goal (overarching WHY) of his social enterprise was to uplift India's economy by raising the middle class.
4. Social entrepreneurs have a business model where the impact is completely woven into their business
The very key to being a social entrepreneur is that you are born to make an impact. If you are a fast fashion business brand, tarnished by social work rights, unethical sourcing of materials and contributing to a fast unsustainable way of consuming, but then suddenly you decide you want to clean up your "face" for marketing and branding reasons – then you most likely would start up a Corporate Social Responsibility kind of initiative. Does this make you a Social Entrepreneurial business? Well, NOT AT ALL!! As mentioned earlier, Social Entrepreneurs have a big WHY and reason for being, which is solving a problem that goes far beyond making a profit (which is also ok!) but to play and take part in the bigger picture!!
This infographic summarises the 4 identifiers of social enterprises and ethical brands!
Need more help? Our partners at Four ppineapples – the Impact Marketing Agency – know exactly how you can start an ethical brand! This includes mentorship, marketing and B2B manufacturing solutions.
This post may contain
affiliate links
. This means we may receive a commission, at no extra cost to you, if you make a purchase through a link. We only share contents that are aligned with an ethical, sustainable, eco-conscious world. Read more about our
Terms & Conditions here