Smartphones are products made up of thousands of different components. Each of these parts comes from different suppliers and contain a wide variety of materials. While it may seem like an impossible task, step by step, Fairphone is mapping their supply chain to understand exactly what goes into our phone and where it comes from. On their way to create the world's first ethical smartphone and address unfair practices to the electronics industry as a whole, they deliver a circular economy business model with a take-back program implementing their best recycling methods.
With their ethical smartphone, Fairphone is making a positive impact across the value chain in mining, design, manufacturing and life cycle. But what are the problems that tarnish the electronic industry and how this brand is addressing them?
As a general overview, what makes electronics and tech difficult to be ethical is the sourcing of the materials: ethical supply chains are tough to create and implement as well as the extraction of the materials in a way that is fair to other human beings.
An ethical supply chain in the electronics industry, a replicable business model
There are over 30 materials in your phone, some of them are tantalum, tin, copper, carbon, iron, nickel, silver, zinc, aluminium and gold. And, as you can imagine, many steps take place between the mine site and the final product. One of Fairphone goals is to create a fair supply chain, by sourcing conflict-free materials that support local economies, instead of armed militias.
Some of these materials come from mining activities that can also cause environmental pollution, deforestation and water supply depletion. This endangers not only animal but also human habitats.
On their work to contribute to a more responsible source of the materials, Fairphone makes an exercise of transparency by publishing a list of the suppliers and smelters, focused specifically on the four recognised conflict minerals: tin, tantalum, tungsten and gold.
To give you a more specific example, one of their tasks of responsible sourcing is focused on gold mining. Some of the factors they address are child labour issues, as well as increasing economic prosperity by improving the incomes for workers and providing training and also a better mining equipment.
So far, they have set up traceable supply chains to source conflict-free tin and tantalum from the Democratic Republic Congo, conflict-free tungsten from Rwanda, and fair trade gold from Peru.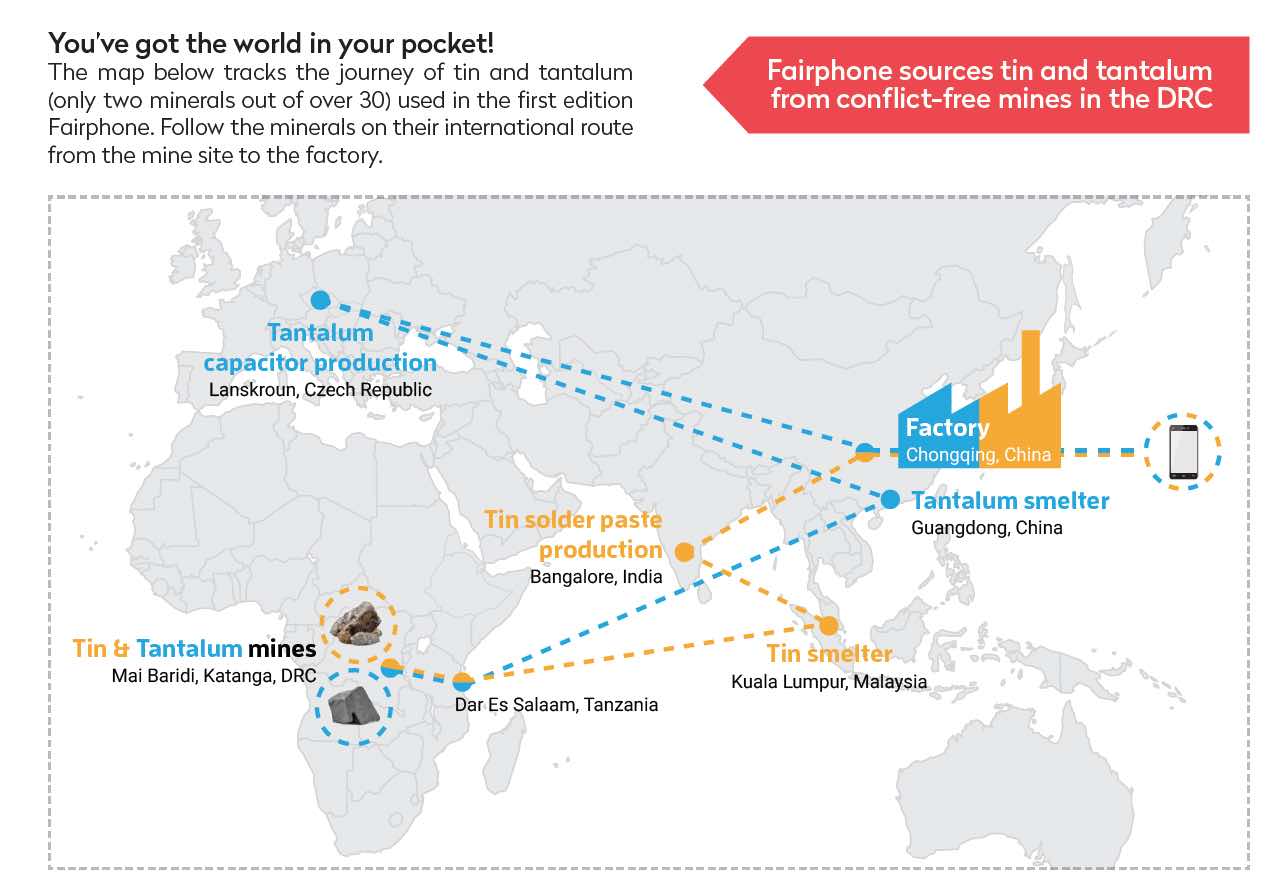 But to ensure sustainable production and profits, Fairphone intends to provide long-term access to international markets. With all these different practices on the supply chain, they are encouraging other industries to replicate their business model and expand the overall impact.
Fairphone's circular economy: from the design to the recovery of the materials
Their second version of Fairphone was designed with a circular economy in mind: they considered every part of the phone's lifecycle to use resources as smartly as possible. This ethical smartphone will last far beyond the industry average of two years, and one of the keys is its modular design, easy repairs and frequent software updates.
The brand has also implemented a "take back" program, consisting in well-researched recycling methods to recover the most important parts of your phone. By addressing the full lifespan of mobile phones with a recycling program for your old phone or your Fairphone, certain materials such as gold, copper and palladium can be re-purposed instead of ending up in landfills or the oceans.
The Jane Goodall Institute will receive half of the recycling profit and allocate it to their community-centred habitat conservation projects. And by giving these materials a new use, you contribute to preventing a further destruction of the environment through the extraction of natural resources.
If you are an owner of one of the 1.6 billion unused phones shoved into the far corners of drawers and closets, we encourage you to dig them out and start recycling with their recycling program! Fairphone provides a free shipping label as well as a €45 discount on the Fairphone 2 – which you can use the discount code yourself, or pass it along to a friend. Not bad, uh?
B2B From ownership to service: a new Fairphone pilot just for companies
It's perfectly normal to rent an apartment, a car, a party dress… But would you ever consider doing the same with a phone?
Fairphone next pilot project is to get businesses to rent these ethical smartphones. Some of the benefits are:
– Lower costs (a fixed monthly rental fee instead of buying phones)
– Easily manage repairs (some done in-house with spare parts; Fairphone takes care of the rest)
– Always have working devices (each package includes extra phones to replace those that might be out for repair)
– Reduce end-of-life worries (they'll take care of recycling)
Putting ownership in the hands of Fairphone gives the brand the change to gain more control over the device with the final aim to improve their circular economy business model.
No wonder that Fairphone is been granted with a B Corp certification, and is been "awarded" with many prizes
Fair phone, the ethical smartphone at a glance
Is there any other similar brand you know or are curious about? Comment below, and we will make it happen!
This post may contain
affiliate links
. This means we may receive a commission, at no extra cost to you, if you make a purchase through a link. We only share contents that are aligned with an ethical, sustainable, eco-conscious world. Read more about our
Terms & Conditions here