Passionate about yoga, travelling and the eco-conscious world, Maxime decided to take on an adventure that led her to Rishikesh, India. She shares now the most important lessons she learnt that you should know before booking your Yoga Teacher Training Course.
In September 2018, I went to the capital of yoga and signed up to the 200-hours Yoga Teacher Training course. For 28 days I went through a program of VERY intense practice and learning the basic theories of yoga.
In this article, all I want is to share with you some of the expectations when doing the Yoga Teacher Training course in India, as well as some of the things I wish I had known before!
1. There are many types of yoga
If you ever start researching to join a Yoga Teacher Training course, be aware that you will find many are specialised in the different types of yoga. The purpose of this ebook was somehow to get you introduced in the world, and I will let you explore further when it comes to the types of yoga. For a basic list, you can find Hatha, Ashtanga, Vinyasa, Yin Yoga… All these types I have practised, and I rather have you to try them out in a guided yoga class than me explaining it. Firstly, I am not a yoga teacher (even though I have a certificate that does not make me one) and I truly don't feel comfortable to talk in-depth about Iyengar yoga because I haven't practised it. Secondly, because yoga is really about experiencing; our bodies are different and therefore how we flow with it will also be a unique experience. 
What I can provide is a rough idea, this infographic and glossary can be very useful to have an initial approach to some of the yoga styles available.
2. Becoming a Yoga Teacher takes time
You will always be a student. I truly encourage you to follow the yogic path and undertake the course, but if you join the Yoga Teacher Training don't expect to be a teacher in one month. You may get a certification, which is a good start, but it is not the whole point. In fact, many of my peers were already yoga teachers and didn't have a certification. Be aware that yoga is a long journey, a life journey. 
In fact, with a 200 hours program, you will feel that many concepts are rushed. There will be a few incongruences between what you thought yoga is all about, how it's taught under an incredibly abbreviated program. You will have expectations of what you will become, plus the reality when a bunch of human beings from different backgrounds come together to undertake the course.
For example, I truly missed the chapter about sustainability and how we could all adopt more eco-conscious practices in our daily lives. The disappointment came from the fact that in every lesson you will learn that we are deeply connected with Mother Nature. My yoga school was for sure not into eco-friendly practises, but also I could see many students using heaps loads of plastic in a country that doesn't have the waste management. 
3. Yoga is not about talking but experiencing it
Because of the excitement of the first days in this new experience, you will find yourself talking heaps about why you joined the yoga retreat and what are you expecting as an outcome. This is completely natural and fine. 
However, as the days go by and you have started to understand what yoga really is, you will quickly see that there is also a lot of "cheap talk" around. To make sure you practice yoga in your fullest capacity, you also need to consider your actions out of the program. What I mean by this is that "being a yogi" also involves how you react towards other classmates when they are asking questions, how you respect the teacher or the people working in the ashram.
Believe me, talking all day about yoga will make you more of a yogi, but your actions will. Say hello and smile to those people who prepare the food for you. Appreciate the teachers taking the time to prepare the lessons, treat them as humans. Respect your peers when they are asking a question; if you find it silly, it might be important to them.
4. Address an issue when it's needed. 
Yoga is not about avoiding conflicts, it's about how you can do your best to get the message across, and eventually solve the issue.
Yoga is not about a bunch of happy hippies making funny postures. It is about real life. We had an Ayurvedic yoga lesson that told us certain body types couldn't handle well specific food. My body type is a strong Pitta (fire), and as it turned out, spicy food is not recommended for Pittas (funny fact most of the westerns we are some sort of Pitta combination). I promise you that a 70% what we were served in the ashram, from breakfast to dinner, was spicy. It is not exaggerated spicy, but when you ask if it is – they say "No". Because the funny thing is that it is not spicy for them (LOL!)
But day after day, my body was telling me it doesn't feel good (diarrhoea, acne, heartburn…). Does anyone have to be taken down for it? Do we just have to shut up?
All we are taught is about "A W A R E N E S S" and "Listen to your Body".
This is yoga my friends, the real-life yoga.
5. Spend time with your peers
Go out of the retreat when you get a chance, to have a walk around the town. Buy some fruit in the market or have dinner in an authentic Indian restaurant. Staying in your room during every break, working or being on the phone, will not allow you to perform what the real yoga experience is about. Surprisingly, many will stay in their comfort zone. Trust me, going out of it feels actually much more comfortable than staying isolated. Which leads me to the next point.
6. Forget your phone and truly disconnect
What I noticed while I was using the phone (several reasons, social media updates for the business, or emails to respond) you will experience mood changes. As our philosophy teacher said, "mobile phones or technology are not bad things; they have their purpose and we should use it, however, we should not waste our time with them." In this eBook, "Change your life with yoga while you make the world more sustainable" I explain in depth about the frequency waves and how our thoughts create our auras. The phones and electronic devices can also profoundly affect our frequencies, and therefore, our aura.
7. Be kind to others
This includes letting the teacher talk. It may sound really obvious but we found many students that would be talking over the teacher. This can create a confusing echo for those who are really willing to understand the essence of what the teacher is saying.
Also, another form of kindness is about being generous to your classmates. Let everyone participate, let everyone step to the front and work on their asanas with the teacher. Some people may be shyer than you. Encourage them to experience the practice with the teacher instead of monopolising the front stage every time he asks for a volunteer. This is yoga!
8. Yoga is not about learning the vocabulary (as if you were yogipedia) 
Some people attending the Yoga Teacher Training were more focused on learning the Sanskrit words. Turned out that these were most often the same people that would choose not to spend time with other fellow students; who would sit by themselves while having lunch, on the phone or closed in their bedrooms. There is truly no need to learn words that you will not use again (of course, if you are passionate our you have a specific goal, go for it!). The whole point is that yoga means "union", so make sure you appreciate what is around you (including nature and people) and not just what is written in the textbook.
What is yoga benefits? Change your life & Download FREE eBook
9. Avoid trying to give lessons to others
Understand the difference between discussing vs. debating. Your opinion is part of a discussion, where you share your experience, not trying to convince or impose your experience on the others. It is not enriching for the listener, and it's also not yoga. 
If you really apply the yoga philosophy, then the best way of practising is that a subject of "discussion" consists of improving, growing and learning. And philosophy is the best way of improving ourselves. A debate, instead, means we have to prove it, that there is only one possibility. In yoga you don't have to believe; instead, you only have to be there and experience whatever comes to you.
 "The more you know, the more you don't know," the further you go in your training, learning, and experience as a yoga teacher, the more you'll realize that there's an infinite universe of knowledge and wisdom to bring to the practice." Mark Stephens
10. Expect a plant-based diet
And as I have already explained earlier, expect it to be spicy. There are many reasons why veganism is good for you, especially if you are practising a high intensity of yoga practice. In fact, the Yoga Teacher Training is an intensive program designed to have scheduled around four to five hours of asanas (aka physical practice) and food will become one of the most important elements. In my school, I was very disappointed with the food, and this has nothing to do with spicy. After 10 days we started really noticing that we were served an extremely well on carbohydrates. Not so much of legumes, fruits and fresh or even raw vegetables – in fact not a single salad leaf. After some discussion happening between us, we realised that the diet was so high in carbohydrates because these were cheap. Think, at the time we were 40 students in the ashram and each of us had paid around US$1,200 for the course – including accommodation and food. If management could save money in the food, the profits would be much higher. Interestingly enough, you had the canteen right next to the ashram kitchen in which you could buy the healthy stuff: smoothies, salads, fruit etc.
But again, most of the things are our choice and that had an easy solution. I was going every couple of days to town to supply myself with the fruits and veggies that I knew were good for me. I also brought in my kit a few supplements (spirulina, magnesium, and my doTerra oils). And it was good to go! When I incorporated this to my diet, my mood raised, I performed better – even though my body hurt. ALWAYS.
11. Embrace boredom
Reality is that all of us, at some stage, happened to be bored. The second week is critical because it's the point where you are into the routine, and by this time you will have realised that every single day is the same: 
5 am. You wake up. You do the Shatkarma cleansing; you do a bit of theory combined with some Pranayama exercises. Then the vinyasa class. Breakfast. Anatomy and Philosophy theory lessons. Alignment practise. Lunch. Break (it's hot, you are tired after 8 hours activity). Ashtanga. Tough. Tough. Shower. Meditation. Supper. Sleep. Day after day; and the day after too. 
When I felt down and moody, literally bored, one of my buddies gave me the best advice: 
"Yes, there is a routine. Yes, it is the same. What can you do, to make it fun"? 
"If you want to spend time with a beautiful person, then have a meeting with yourself." Maxime Dücker
So I did. I embraced and accepted boredom as part of the journey, and levelled up to the next stage of self-discovery and tested myself every day. I tried to take the most out of the lessons and learn as much as I could by truly listening and engaging with the teachers (this not necessarily involved taking notes). To avoid feeling sleepy, I ate a bit less and drank more water. 
But the whole point is that this practice is what I apply now to my everyday life. When I am caught in the boring routine, I don't blame it because it is the result of my own creation. Instead, I ask myself what I can do to jazz-it-up?!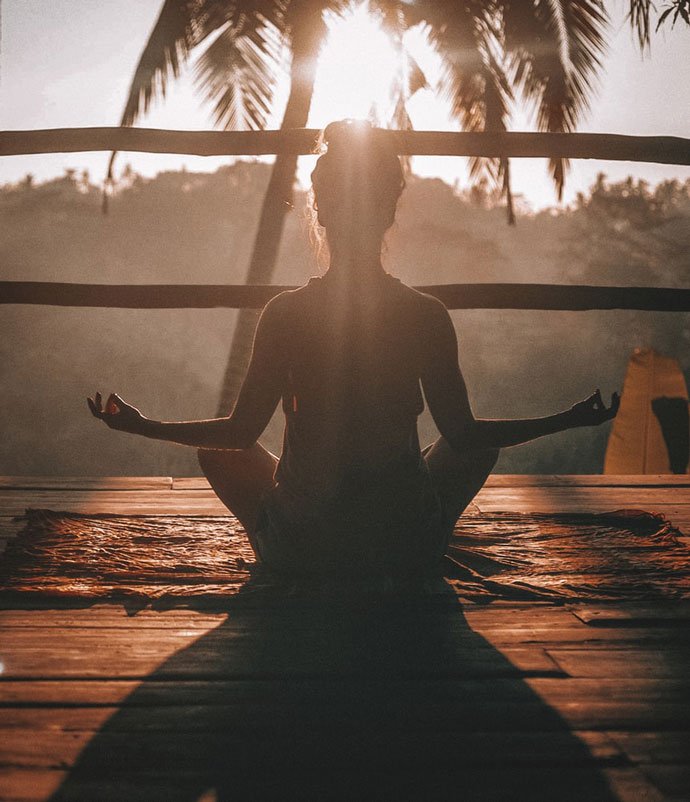 12. Enjoy diarrhoea
You may find that after the first week of intense yoga practice (physical + theory + diet) you will release toxins and that can take many different forms. By it, all means your body is getting ready for the full yoga experience. Of course, adjust the diet as your body tells you to, awareness of our bodies is the whole point of yoga. But understand the body is a doctor for itself.
So, symptoms such as diarrhoea, vomiting, a cold or fever, all are natural cleaning processes. Any healing process in the body happens when we relax. Have you ever noticed that when you go on holiday you get sick? Well, there you go…!
Are you planning to go to a Yoga Teacher Training course? Download this FREE ebook and get all the detailed information on what to expect on a YTT and embrace sustainability along the way!
What is yoga benefits? Change your life & Download FREE eBook
This post may contain
affiliate links
. This means we may receive a commission, at no extra cost to you, if you make a purchase through a link. We only share contents that are aligned with an ethical, sustainable, eco-conscious world. Read more about our
Terms & Conditions here