Smokers around the world buy roughly 6.5 trillion cigarettes each year. That's 18 billion every day.  All these tiny cigarette butts cost big bucks to clean up, while deadly cigarette waste poses a huge environmental and health problem. So do not flick the butt and raise some awareness on how to fix the problem.
Never underestimate cigarette butts again, because these tiny deadly nasties are creating a huge environmental issue: from water pollution, destruction of wildlife, to damage of the soil inhibiting plant growth. Consequently, cigarette butt pollution is also directly affecting our human health. 
Fighting cigarette butt pollution starts with each of us, so here's an awareness article to ignite a conversation instead of a smoke. 
The negative impact of cigarette butts
🚭 Cigarette butts are actually the most abundant form of plastic waste in the world, with about 4.5 trillion individual butts polluting our global environment. 
🚭 Cigarette butts can take up to 10 years to completely degrade, the chemicals they release can remain in the environment for many more years beyond the life of the cigarette butt itself.
🚭 98% of cigarette filters are made of plastic fibers that are tightly packed together, which leads to an estimated 1.69 billion pounds of cigarette butts winding up as toxic trash each year.
🚭 Cities spend between $3 million and $16 million on cigarette clean-up. 
🚭 If we look at the total waste, just cigarettes make up more than one-third —nearly 38%— of all collected litter. 
🚭 Disposing of cigarettes on the ground or out of a car is so common that 75% of smokers report doing it.
What are cigarette butts made of?
Primarily plastic. They are made of cellulose acetate, a man-made plastic material, and contain hundreds of toxic chemicals. When tossed into the environment, they dump not only that plastic, but also the nicotine, heavy metals, and many other chemicals they've absorbed into the surrounding environment. These lingering toxins include arsenic (also used in rat poisoning), and lead (a poison that can affect the brain development of children). 
Cigarettes are non-biodegradable, meaning they won't organically break down from living organisms, and instead, they'll take over 10 years in degrading.
The cigarette butt pollution problem has only gotten worse in recent years as e-cigarettes have become more popular, mainly because those too are largely made of plastic.
What is the problem with cigarette butts?
Cigarette butts are small and tend to go unnoticed as people casually flung them into the street or out a window. They are hiding almost everywhere: scattered along with green spaces, sidewalks, roadsides, beaches, waterways—virtually everywhere we go. 
When these toxic plastics are improperly disposed of on the street corner or out the car window, they slowly leach toxins into our natural systems, presenting a serious threat to us and our environment. 
These tiny toxic butts also cause significant harm to our water sources. It is not uncommon for field researchers to find cigarette butts inside of dead sea birds, sea turtles, fish, and dolphins. The chemicals leaching from cigarette butts can be lethal to freshwater and marine fish species. The toxic exposure does not just poison fish, but also animals, like birds who eat cigarette butts.
A recent study also found that cigarette butts inhibit plant growth.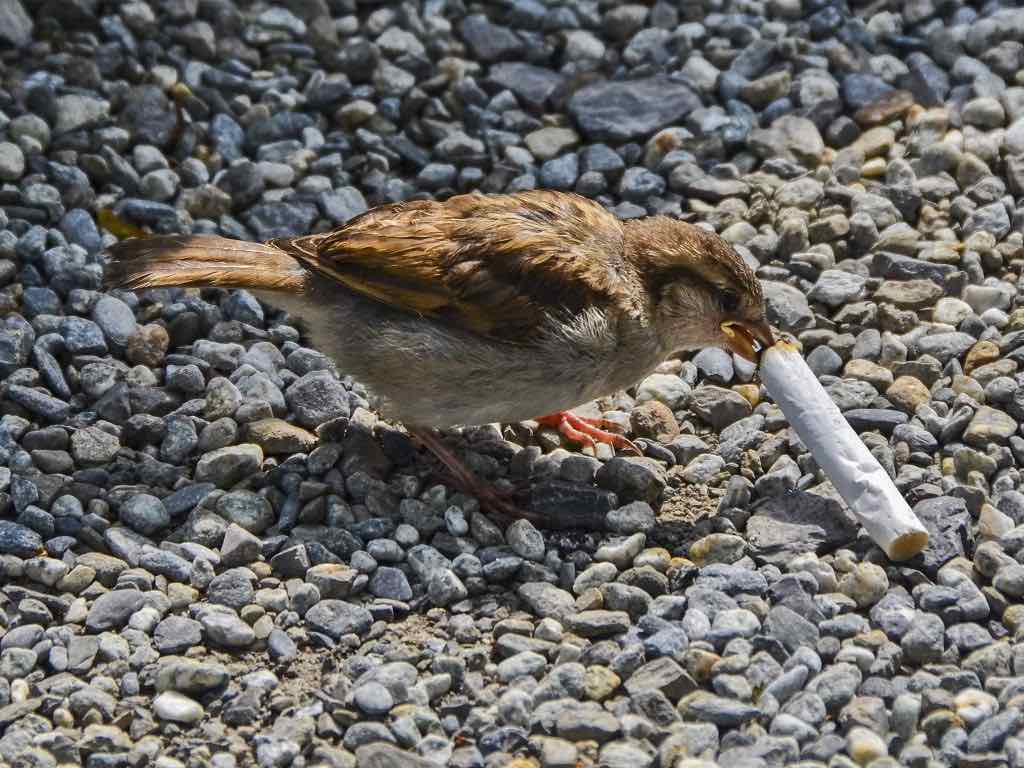 What is the solution to the cigarette butt litter?
It is imperative to ensure that cigarette butts find their way to the waste bin or sent to a recycling facility. Smokers should consider finding designated smoking areas or carrying their own "pocket ashtrays" to collect their waste. 
Cigarette butts require labor-intensive work to be removed from the environment. That's a major issue, as cities spend between $3 million and $16 million on cigarette clean-up every year. So ideally, we would not have to deal with cigarette butt pollution if smokers were not to commonly litter them in the first place.
Some great organizations, Great Global Cleanup or World Cleanup Day bring the world's largest clean-up initiatives, sometimes with hundreds of countries involved engaging with millions of volunteers from all over the world. You can encourage others to do their part as well by reminding people of the dangers of smoking as well as cigarette butt pollution. 
Ban the butt?
The city of San Francisco spends some $7.5 million a year cleaning up cigarette butts, and is far from the only municipality dealing with such waste. 
A number of companies claim to make more environmentally friendly products, such as Smokey Treats and Greenbutts. The president of Greenbutts, Tadas Lisauskas, says the company is in negotiations with major manufacturers to implement their filters. 
In the meantime, e-cigarette brands should look into a more proactive way to collect and recycle their plastic waste. 
Whether they achieve it or not, still many of us remain skeptical that startups like these address the root of the problem: people's proclivity to litter cigarette butts.
We believe that large corporations should be responsible for cleaning up their waste. A more radical solution? Ban cigarette butts altogether.
This post may contain
affiliate links
. This means we may receive a commission, at no extra cost to you, if you make a purchase through a link. We only share contents that are aligned with an ethical, sustainable, eco-conscious world. Read more about our
Terms & Conditions here