Some travel trends come and go, but exploring the world's exotic destinations in an eco-conscious way is a movement that is here to stay. The award-winning responsible travel company, Jumbari Family Safaris, invites families to explore Africa's sought-after destinations, diverse cultures and unique wildlife, responsibly.
Jumbari's eco-safaris are African travel experiences which aim to minimize your carbon footprint while on safari. Their itineraries encompass ethical tourism practices that simultaneously educate their clients on the challenges faced by the people, environment and wildlife of the destination.
Jumbari only partners with environmentally sensitive properties who cater for the needs of families and support responsible practices such as wildlife conservation, sustainable development, community upliftment and philanthropic initiatives, ensuring that each trip they curate makes a positive impact on Africa.
To support responsible travel in Africa, Jumbari has partnered with the Hoedspruit Endangered Species Centre, a South African based wildlife conservation facility focusing on caring for rare and vulnerable species in Africa. To support the Centre, Jumbari Family Safaris will donate 1% of each booking value to the HESC on your behalf. 
In the spirit of responsible travel, Jumbari Family Safaris has curated 3 conservation safaris to inspire eco-conscious family travel in 2020.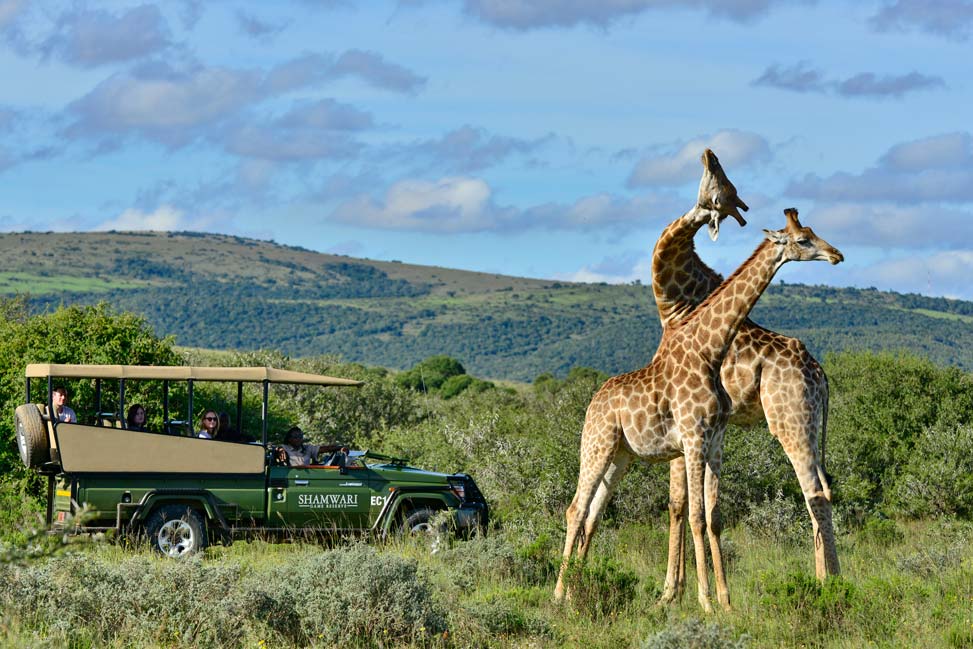 Jumbari Family Safaris has listed their top 3 conservation safari experiences for families to inspire your responsible 2020 travels.
South Africa and Victoria Falls Conservation Safari for families
Jumbari presents their 10-day Conservation Safari that takes you to 3 iconic destinations in Southern Africa – Cape Town, Victoria Falls and the Kruger National Park. The itinerary features eco-friendly lodges and hotels, such as Camp Jabulani, a lodge committed to wildlife conservation in the Kruger. The proceeds of your stay include a 50% donation towards the upkeep of the Jabulani elephant herd that resides in the area, as well as an 8% donation to the Hoedspruit Endangered Species Centre.
Day 1 – 4: Starting in Cape Town, you will stay in the Belmond Mount Nelson, a hotel in the heart of the city dedicated to reducing its impact on the environment. Your time in Cape Town can be spent soaking up the city's natural surroundings, as well as discovering its local cuisine, rich history and diverse culture. Enjoy guided sunset fynbos walks, a half-day excursion to sustainable farms in the Cape Winelands or embark on a Township Farm Tour to explore the gardens that uplift the local community.
Day 5 – 6: Next up, you will head across the border to Zambia to witness the mighty Victoria Falls. Your eco-sensitive lodge, Tongabezi Lodge, invites you to reconnect with nature on daily game drives, walking safaris and sunset cruises on the Zambezi River. During your stay, visit the Tongabezi Trust School that provides education to the children of the Tongabezi staff.
Day 7 – 10: The last leg of your conservation safari takes you back to South Africa to the Greater Kruger National Park. Your eco-friendly safari lodge, Camp Jabulani, gives you direct access to a private VIP tour of the Hoedspruit Endangered Species Centre for an exclusive 2-hour guided tour.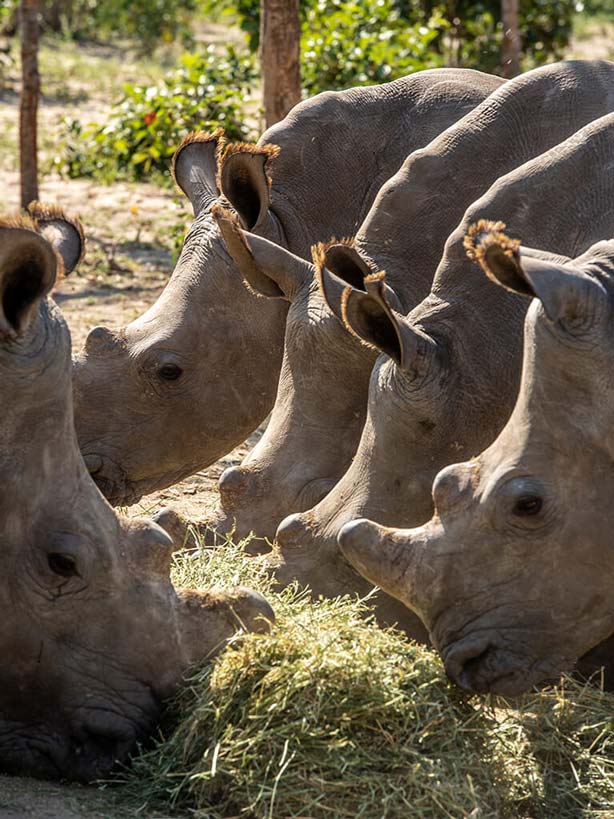 A Rhino Conservation Safari for the eco-conscious family
This 12-day Rhino Safari itinerary has been crafted for families who have a keen interest in rhino conservation in Africa. Travelers will support leading rhino conservation initiatives by staying at eco-friendly camps associated with the Rainbow Rhino Initiative, Gondwana Wildlife Foundation and Save the Rhino Trust. 
Day 1 – 4: This conservation experience starts in Gondwana Game Reserve, South Africa where families can partake in conservation projects such as the translocation and veterinary care of wildlife, husbandry and care of rhinos, monitoring the cape leopard cameras and elephant dung sampling.
Day 5 – 8: The safari continues at Lelapa Lodge in Madikwe Game Reserve, where travelers (age 18+) will have the opportunity to partake in an exclusive Rhino Conservation Experience alongside the Honorary Officers Counter Poaching Unit (HOCPU), headed up by Phillip Hattingh.
Day 8 – 10: The next leg of Jumbari's rhino conservation safari takes families to Namibia. Starting at the Desert Rhino Camp, families will gain insights into the desert-adapted black rhino alongside expert wildlife guides. The highlight of your time here will be an early morning game drive with a Save The Rhino Trust guide in search of the rhino in the rugged landscape of Damaraland. 
A Conservation Safari inspired by The Lion King
In an effort to help raise awareness around lion conservation in South Africa, Jumbari launched a Lion King inspired itinerary. This 7-day South Africa Lion Safari has been crafted for families looking to relive the real-life Lion King experience while simultaneously contributing to the conservation of lions in Africa. Travelers will have the opportunity to come face-to-face with the rescued lions at the Born Free Big Cat Sanctuaries at Shamwari Game Reserve, as well as learn about the successful relocation of Sylvester the lion at Addo Elephant National Park. During the trip, guests will be accommodated in eco-friendly, family lodges in South Africa.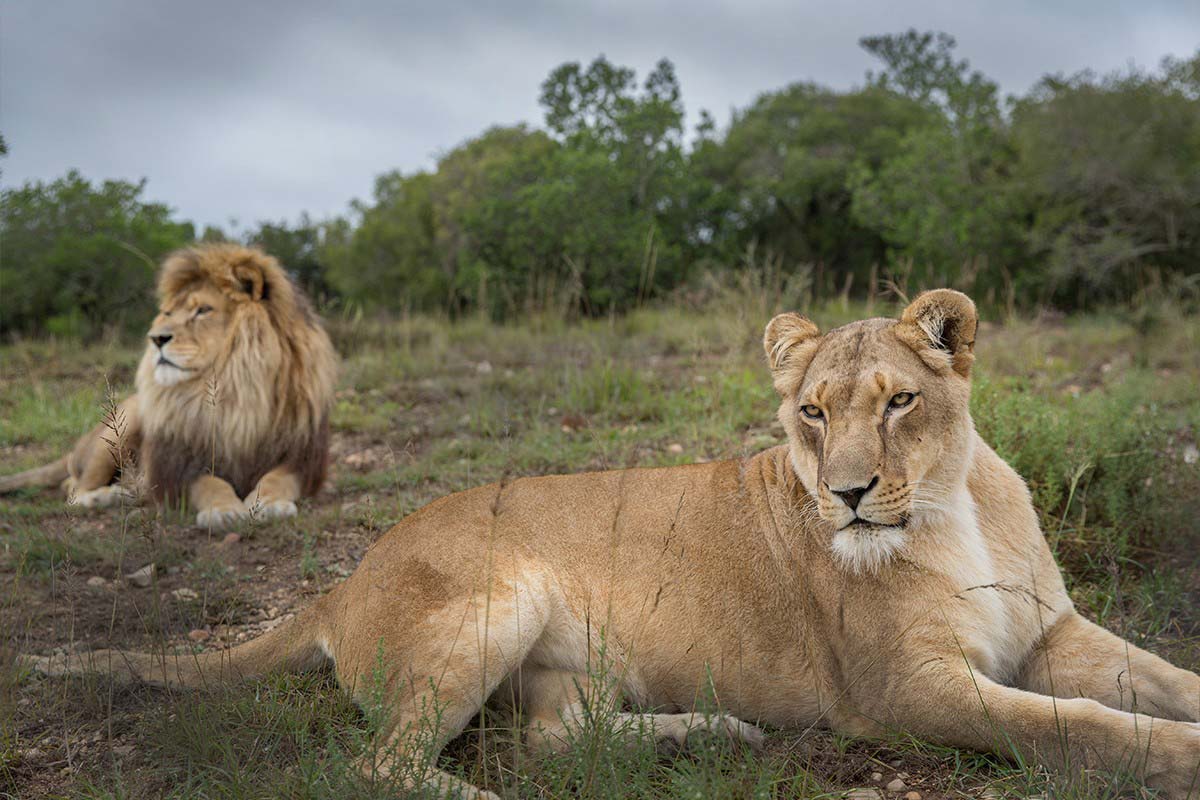 Day 1 – 3: The safari begins in Shamwari Private Game Reserve, located in the Eastern Cape of South Africa. Connect with the African bush on expertly guided bush walks and daily game drives through the malaria-free reserve. Shamwari Private Game Reserve is home to the Born Free Big Cat Sanctuaries. The Jean Byrd Education Centre and Sanctuary aim to promote the conservation of big cats in Africa and house several rescued lions from around the world. 
Day 4 – 7: Your lion safari continues at the eco-friendly Kuzuko Lodge, located in Addo Elephant National Park. The park is home to Sylvester, the wandering lion, who gained international coverage after escaping the Karoo National Park in South Africa, twice. After a public petition to save Sylvester from the threat of euthanization, he was relocated to Kuzuko Private Game Reserve where he is now a father of 2 cubs. Learn about the successful relocation of Sylvester while enjoying daily game drives alongside your expert guide. 
Want to experience a responsible conservation safari with your family? Get in touch with one of the expert consultants from Jumbari Family Safaris to start curating the perfect eco-safari for your family. 
Visit jumbari.com to find out more about Jumbari's family-friendly, eco-safaris and follow them on Facebook, Twitter and Instagram to keep up to date with all things Africa family travel. 
Was a safari trip ever in your bucket list? Share your ideas, experience and questions on the comments below.
Disclosure: This post was sponsored by Jumbari Family Safaris. Ourgoodbrands only features brands and contents that are aligned with ethical, sustainable, eco-conscious world, which means we have carefully researched and written the contents in this article, and specific product information is checked with the business. For the interviews, any opinions expressed are the writer's own, generally being the founder of the brand. Images supplied and approved by the brand featured, or credited accordingly otherwise. For more information about our policies, click here.
This post may contain
affiliate links
. This means we may receive a commission, at no extra cost to you, if you make a purchase through a link. We only share contents that are aligned with an ethical, sustainable, eco-conscious world. Read more about our
Terms & Conditions here