Are charities an entity from the old paradigm? To us it sounds and feels like and "us" and "them"; where we are claiming to give back to fix a problem we have created. Here we discuss the difference between social enterprise vs nonprofit with the ultimate goal of building a more sustainable economy for EVERYONE.
42% of Americans don't trust the charity system. And I don't blame them. Research seems to have proven that 40% of the actual donations are spent in structural and operational costs instead of going to the actual cause. Why? Marketing and Communications. What for? Fund-raising more money. Somehow understandable… 
But, does it make sense that almost half of the money donated by people is spent on getting more people to give more money? Campaigns on fund-raising are literally swallowing the money that should go to the cause. For me, that is unsustainable. There is a more sustainable way, and that's what I'd like to discuss with you. 
Charities vs Social Enterprises
To start with I think in their essence, charities, nonprofits and NGO's, do an amazing job and have a genuine purpose – because they were born with the ultimate goal to give back. And that's already much more than most of us do – most businesses do!
But charities no longer work because their model is based on the goodwill of the philanthropic and donations of the public. Most often, charities have a volunteering based model, for which the staff is not paid – and forgive me, but I dare to say this is also very unsustainable.
Overall, most charities are not designed to recover their total costs from their operations and are therefore obliged to devote part of their time and energy to raising money. The income depends on third parties, and charities spend loads of time raising the money, a time that could be used to do the actual job to solve that problem.
Simultaneously, Charities have a tough time expanding because they are not able to invest as much in brand awareness, so if people don't know about the charity – hard luck for the charity to raise more funds. 
Charities involve uncertainty because once the organizations have the money there is no guarantee that it is utilized to fulfill the exact cause which it was meant to be, and for sure it never comes back.
But a Social business is not dependent on charity.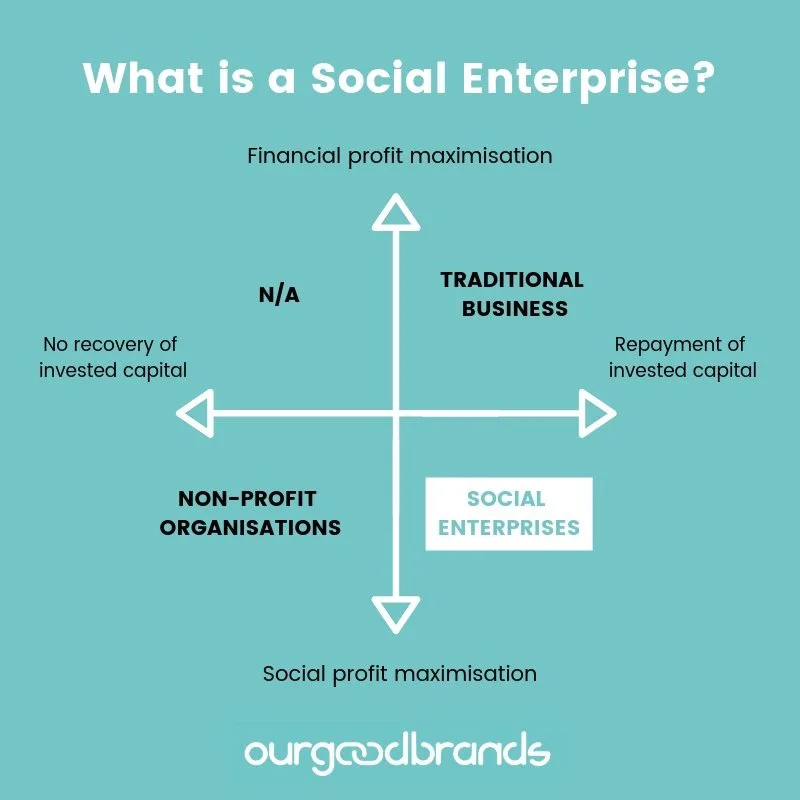 And then, the other side of the coin: philanthropy. Not that I am against philanthropy, but with the charity model depending on them as their source of income, we are establishing a relationship of "dependence" which goes exactly against the "empowerment" concept or value we are trying to achieve.
Also, philanthropic sometimes use charities and non-profits as a mechanism for their PR and CSR reports for the companies. Not always those companies have a true, honest and mission behind the purpose of giving back, but use them as a strategy to get data for their yearly reports. This includes impact data on Corporate Social Responsibility, which turns out, it has become an on-demand "must-do" if you wish to access tenders and governmental grants (for example).
Giving today, but what happens tomorrow?
I was reading the other day a content piece which said:
"Charity is the act of extending love and kindness to others unconditionally, which is a conscious act but the decision is made by the heart, without expecting a reward. When Charity is carried out selflessly, it is a one-way act where a person gives but asks for nothing in return."
NOTHING IN RETURN.
This is the whole point. Many will discuss this, as "the return" is just the fact of giving back (which is addictive and it's good for you; it realises hormones such as dopamine and oxytocin – making the act of giving even better than sex).
Very nice! But then, isn't this all about giving today, tomorrow, and the following day?
Are we trying to solve those major structural problems, or are we giving bread today for them to be hungry tomorrow? Are we working on the core issue, or are we limiting people in the umbral of poverty to access scalable solutions?
How we can solve the gap in the system?
The answer is Social Entrepreneurship. At Ourgoodbrands all we feature are examples of ethical businesses that have got a sustainable and profitable business model that enables them to give back with a long term perspective.
There are many ways for Social Enterprises to get their business model right. Most specifically we have found 4 ways to build your social enterprise ready to make an impact. In the guide, you will find there are what it is called 4's Social Enterprise business models: Selling, Sourcing, Staffing or Sharing.
The key is that Social entrepreneurs were born to empower or the humans, improve the health of our planet with eco-conscious practices, and have interwoven to the cause a profitable business model so they can give back more to the pursued cause.
On the other hand, Social Entrepreneurs have found a viable way for them to use charities, nonprofits and NGO's (we specify in detail about the Sharing business model and the 3 forms it takes to give-back). But basically, the most common feature is that social enterprises are using non-profits as their driver to give back. 
If you ask me: why this has become a trend? Because social entrepreneurs cannot figure it all out!
The reality is that for most social enterprises it is already very difficult to create a profitable and sustainable business, so it becomes an impossible deed building a whole new structure that operates as if it were a charity. 
 So, the most feasible way for social entrepreneurs to give back in this new economic paradigm is by using charities, nonprofits and NGO's as a mechanism to completely fulfill the purpose of impacting the world in a more positive way. And that's a good start. Just imagine for a moment if all businesses had to give back, from the first dollar of profit?
Potential solutions for nonprofits
 Here are some of the conclusions I came up with for nonprofits to thrive and become a bit more sustainable (your ideas are welcome!):
 1. Maybe a good idea is for non-profits to target social entrepreneurs and establish authentic relationships with them.
 2. I have also seen many non-profit organizations that are already moving to the revenue space, however many are still supported by grants (which also takes incredible time and effort).
 3. Reinventing their core model. Such as Charity Water did: reinventing charity using smart branding, transparency through technology and creative partnerships that got the organization  to connect with donors and do business in a new way. How they do it is that they have come up with innovative campaigns and experiences to inspire their audience and truly engage with them. And a bold way he has disrupted charity is that the 100% of public donations (this means, every-single-penny) go directly to water projects. In 11 years, the charity has raised about a quarter of a billion dollars, delivering clean water to more than 7 million people.
My final thoughts are that there is a lot to discuss around charities and non-profitable organizations. Whereas I am aware of their meaningful work, I truly believe it's worth starting a conversation on how we could make charities a bit more sustainable. On how we could get more businesses to establish relationships with them, interweaving the purpose and the profitable piece and make the whole picture more authentic, so people can trust the system again.
 There is a lot to be researched, and a lot to be said when it comes to charities, non-profits, and social entrepreneurship. We are creating a new roadmap and it seems to be very positive. My dream is to see a world where we are fully focused on addressing the Sustainable Development Goals (and incredible framework) and put those wicked problems where they belong: in a museum. 
I want to see a "World where charities are no longer needed."
This post may contain
affiliate links
. This means we may receive a commission, at no extra cost to you, if you make a purchase through a link. We only share contents that are aligned with an ethical, sustainable, eco-conscious world. Read more about our
Terms & Conditions here