We all want more men involved in this eco-friendly, eco-conscious and ethical movement. So we have teamed up with IndieGetUp for a giveaway valued at $1500 USD packed with some great brands of men's ethical clothing! 
NOTE: this giveaway is now closed. Congratulations to the winners and thanks everyone for your participation!
IndieGetup is a digital platform for a community of conscious individuals to discover the very best in new and innovative grassroots clothing brands around the globe.
They approach the world of fashion unlike anyone else because rather than looking for a consumer-driven solution, they focus on solving problems for growing local businesses.
As a freelance digital marketer, co-founder of IndieGetup, Brandon Dendas, found that up-and-coming, local clothing companies often had a hard time effectively leveraging awareness for their brands when using a direct-to-consumer approach.
What IndieGetUp does differently is that it created a solution that would make it fun and easy for grassroots clothing brands and people all over America to connect with one another, in a way that is also more cost-effective and creative.  Until now, most marketing platforms were getting clothing companies to pay to be showcased – meaning that once a company stopped paying, their brand would become invisible to online shoppers.
With IndieGetUp you can find 300+ clothing brands by your lifestyle and location (worldwide), to Discover the Difference and Wear the Best.
If you are an ethical fashion brand willing to join, they're constantly searching for the greatest brands to add to their platform with an average of 3+ submissions from new companies every week! WoW!!!!!
The brands that contribute this Men's Conscious Wardrobe Giveaway are:
Livsnjutare (n.) Swedish – One who loves life deeply; an enjoyer of life. LIVSN creates durable outdoor clothing for those who value experiences more than stuff.
"We believe in replacing more with less. We look to replace throwaway items with well designed pieces to remove clutter and create space for living. We want to keep what matters."
Tindlid is an outdoor lifestyle brand that plants a tree with every product purchased. Over 100,000 trees planted with your good choices!
Mediterranean sneakers designed for people who love life. The sneakers are ethically made in Spain and contribute to the Spanish Association Against Cancer.
A brand that has created a range of Hats, Hoodies, T-Shirts, Pins and Stickers. For every order TMA plants 10 trees and donate 10% to give clean water to those in need. So far over 4,500 trees have been planted!
Certified organic body care, safe mineral sunscreens and a fabulously pure and effective products of the highest natural quality, based on simplicity and thoughtful preparation, with the intention to soothe and heal. 
Joggo Bag is a Perfect Blend Of Style, Function & Purpose. Through their ethically manufactured products Joggo Bag supports education of refugee children.
Harvest & Mill is exclusively made with organic cotton that is grown, milled, designed and sewn in the USA.
The brand is rebuilding American manufacturing with clean and ethical practices from seed to stitch.
Their promise: Fair local wages, Toxin free fabric, Low CO2 footprint, Honest labels, Healthy farming
Kit Culture. Comfortable, well-made clothes for active guys.
Natural Comfort, Reduced Impact. Kit Culture believes in the superior comfort and versatility provided by natural materials. And they also believe that the best way to make new products is to make use of materials already in existence so they are in constant search for the best deadstock and sustainable fabrics. Made in Los Angeles.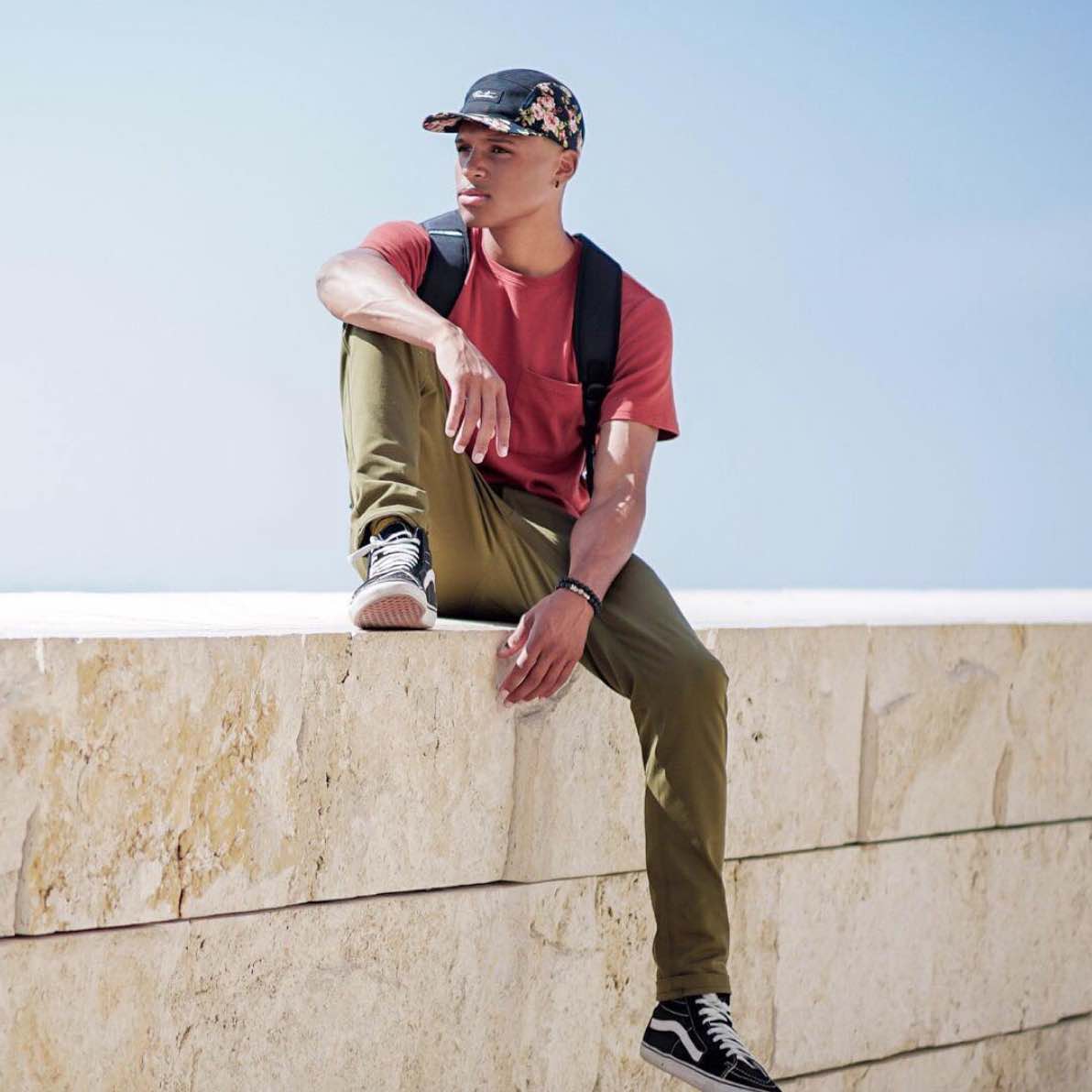 Sustainability means responsible innovation. Outerknown builds products by making every decision with the highest regard for the environment and the people we work with. SUSTAINABILITY IS THE DESTINATION. OUTERKNOWN IS THE JOURNEY.
"We created Outerknown to smash the formula. To lift the lid on the traditional supply chain and prove you can actually produce great looking menswear in a sustainable way."
Arvin Goods is the only basics brand to put sustainability first. Each product is made using closed-loop production practices, which means that every Arvin basic is made using donated/upcycled materials with minimal water used while eliminating waste and toxic dyes. It also means that unlike other brands, Arvin is cost-effective. Built for both the eco-minded and the design-conscious. Designed in Seattle, WA and PETA Vegan Approved.
Johnny Fly Co. is a brand of wearable lifestyle, artwork, and one of a kind wooden eyewear! Today, the "Fly Factory" has since released a number of different Eco-fashion innovations, including our line of Chemical-Free Leather.
Patara brings a collection of sustainable footwear inspired by the coastal lifestyle. When buying these shoes you will support small communities skills and traditions, under fair trade conditions. Some of the materials used are natural cork, natural jute, and organic rubber. Designed to go to the beach, the bar, and everywhere in between.
aTana's line of products are created to last a lifetime, and will always be made within an eco-conscious framework, by manufacturing products with materials that have less impact on the environment and are better for the urban and outdoor adventurers.
RECOVER is a clothing company that not only reduces the environmental impact of it's garments, by producing them with 100% recycled apparel from materials that would otherwise go to landfills. No dyes, no chemicals = less water, less energy. Inspired by environmentalists, athletes, artists, and all people who want to make a statement about the environment while wearing clothes that reflect their ideals.
Krochetkids provides life-changing job opportunities to women in need. Headwear, apparel, and accessories made by women in Northern Uganda & Peru. Every product we make is hand-signed by the person who made it.
Are there any favourite Men Ethical Fashion brands you'd like to share with the eco-community? Comment below, and we will make it happen!
This post may contain
affiliate links
. This means we may receive a commission, at no extra cost to you, if you make a purchase through a link. We only share contents that are aligned with an ethical, sustainable, eco-conscious world. Read more about our
Terms & Conditions here