The badass character of Barefooted Welder's striking creatures with life-size and sometimes gigantic dimensions, roar to overwhelm. This scrap metal sculptor walks barefooted collecting trash and transforming it into remarkable beauty. Feel the adrenaline, his creations will blow ya' away!
We interview MickyD., the scrap metal sculptor behind the Barefooted Welder. The soul of the energetic characters is as unique as the trash-treasures, welded into curious elements that entertain and amuse with bravery in the eye of those watching. He shares his story and motive behind his badass art, the impact he has made just by using 100% recycled materials in his creations and shares some extra inspiration that will make you want to unleash your own creative potential. Without further ado, we hope you enjoy Barefooted Welder's story as much as we did!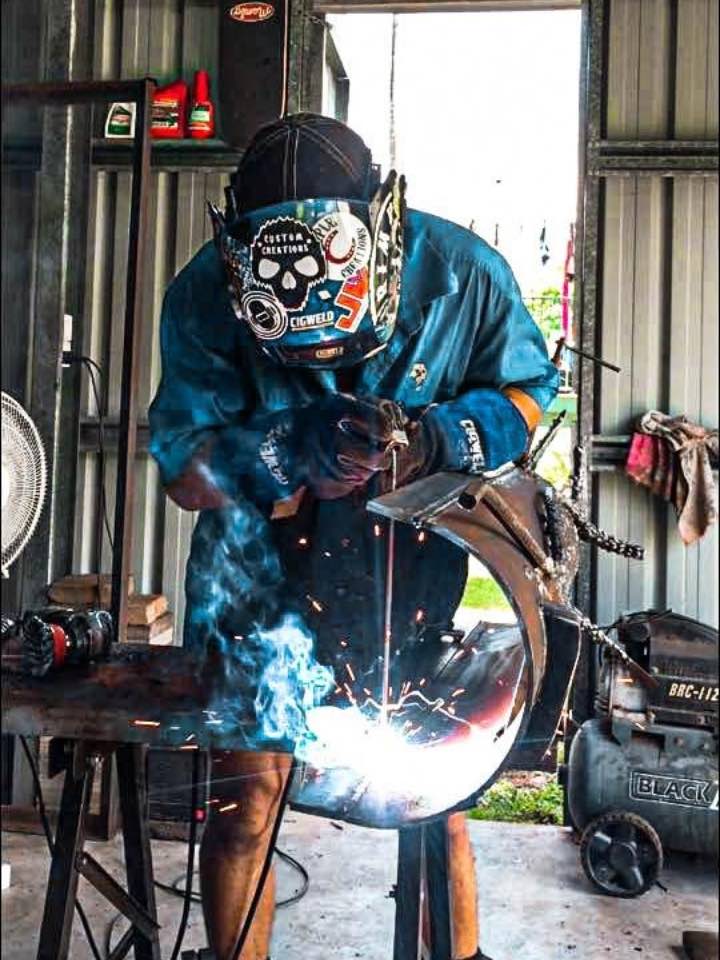 Hi MickyD., we'd love to hear a bit more about your background, and what led you to start making scrap metal art sculptures?
My professional background is a welder, but as a child, I was drawing comic characters all the time. Later on in life, largely influenced by art in the shape of movies and music especially, I decided to start experimenting with spontaneous ideas that would come up in my head. But nothing became serious until my goal became to make my children proud and simply spend more time with them. I started in a very small garage adjoining a small apartment. 
People call the Barefooted Welder the "Badass" metal art sculptor… Why is that?!
Haha, this is something you should ask my fans! When I started, I was not even aware of my own scrap metal art style until I noticed that "Badass" was a common word used when people commenting on my art. Barefooted Welder is a character that spends loads of time outdoors, experiencing the Australian nature. I am a rebel by choice, so I believe my risk-taking attitude and adrenaline have become an important aspect of my creations.
What is the mission of Barefooted Welder, what's the type of positive change you are seeking to create by using recycled materials in your art?
With my art, I want to create something that the world has not seen before and get people to connect with Australian culture. The fact that my art it's made out of waste helps me to raise awareness of the amount of trash that is thrown away every day to landfills, hoping that we can keep alive the idea of what Australia used to be before this consumption-apocalypse. 
How does your creative process look like, as a metal art sculptor?
Scrap metal guides my freestyle art because it's the recycled materials that push me to think out of the box. As much as I like the outdoors, risk, and adventure, I like to bring this excitement into my own creative process, to the point where there is no process. No rules, no boundaries; and if there are rules, I bend them. Because it is in the process of breaking the rules where we find new results.
What are the most common materials found in your scrap metal sculptures, and how do you manage to get such a large amount of heavy waste?
The most common scrap metal materials I find are aluminum, mild steel, and copper. Collecting trash is one of the most challenging chapters that involve the creation of my art. Recycling is expensive and time-consuming, especially metal, mostly because, as you said, it's a heavy material. To find this waste I walk across landfills (I try to put boots on when I do that!), I go hoping bins and stop by hidden spots that were meant to be nature… and the fun part is that I don't find just scrap metals!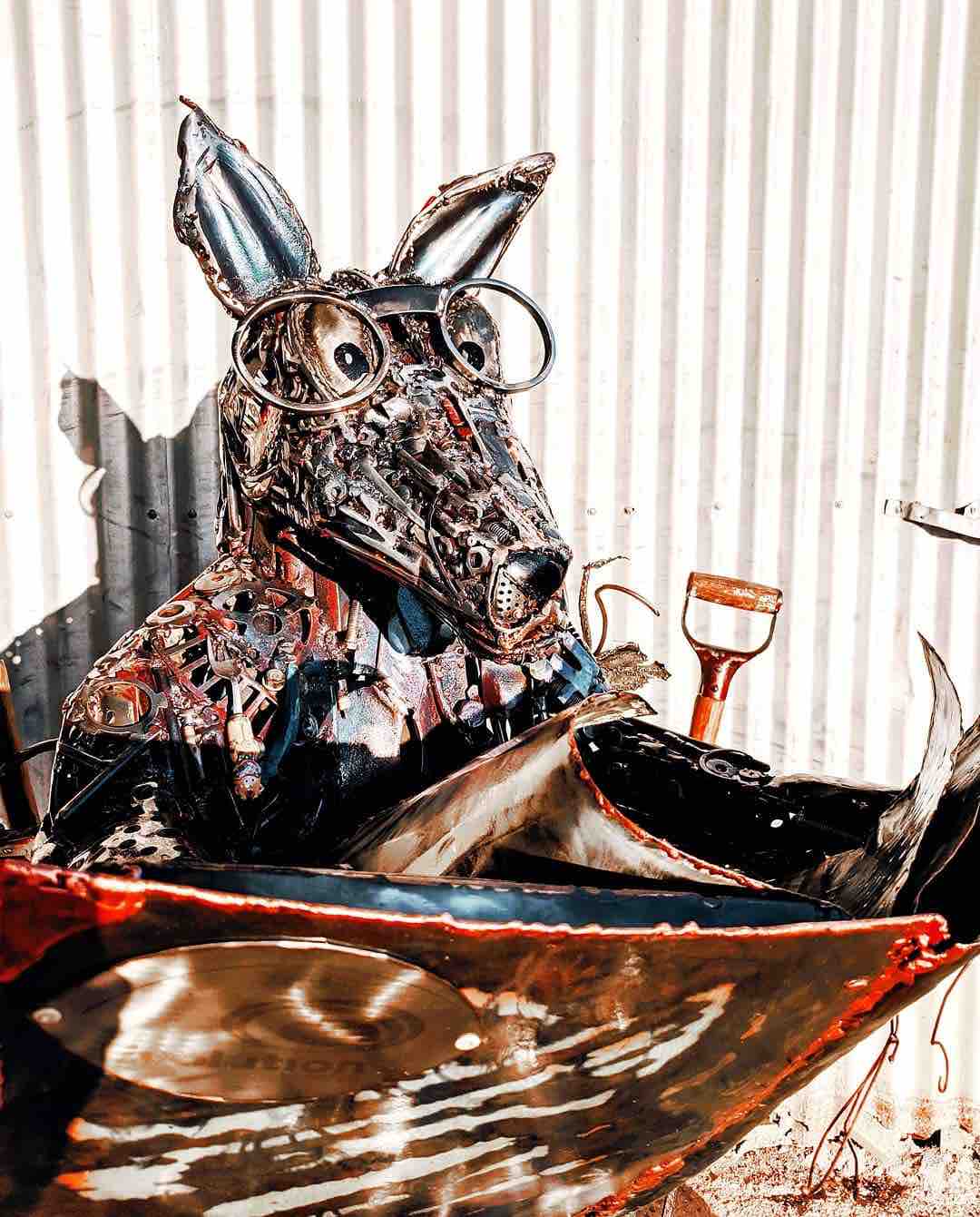 What do you think is the solution to start a more sustainable way of disposing of our waste?
There are a few problems that have taken us to the current waste crisis. There are many businesses that don't get rid of their waste responsibly, and governments choose to not invest in facilitating the technology that is required to do so. Some solutions to avoid this vicious circle could be implementing recycling policies that return in tradable recycling credits, a virgin materials tax, or even a recycling subsidy. 
And eventually a whole change in the current system, in which money is not the biggest driver!
Could you please provide some data worth sharing on the impact you have made with Barefooted Welder metal art sculptures? 
Looking at all the sculptures that I have created over the past years and the amount of scrap metal I have available on my workshop, I have estimated over 7 tonnes of scrap metals collected from landfills. This, translated into the environmental impact, by using recycled scrap metals in my art, I have saved around 11.62  tonnes of CO2, 39,116 kWh of energy, 68,110 L of water, and 14.28 tonnes of the waste that comes with extracting the raw sources. It is pretty impressive what one person can do with waste!
One of the key distinctions most of the eco + social entrepreneurs have in common is that they tend to collaborate. How do you perceive collaboration and how has it helped your business?
There are definitely a few businesses in the local area that have helped me a lot, with a special mention to Honey Combes, allowing me to collect metal waste from their center of operations. There are also some brands that have supported my art through sponsorship, such as Cigweld and ESAB Australia; which is much to be appreciated because my welding tools and equipment are quite expensive. With companies like this backing up Barefooted Welder's art, they are directly contributing to both, for my art to come to life, and for me to keep on cleaning up the landfills.
What has been the greatest success of Barefooted Welder so far?
Finding myself, and doing something I love for a living.
Is there any advice you'd like to give to other small businesses trying to make a difference?
I am probably not a great one to advise, to be honest. Simply to just believe in yourself, in your idea, and set up to achieve your goals.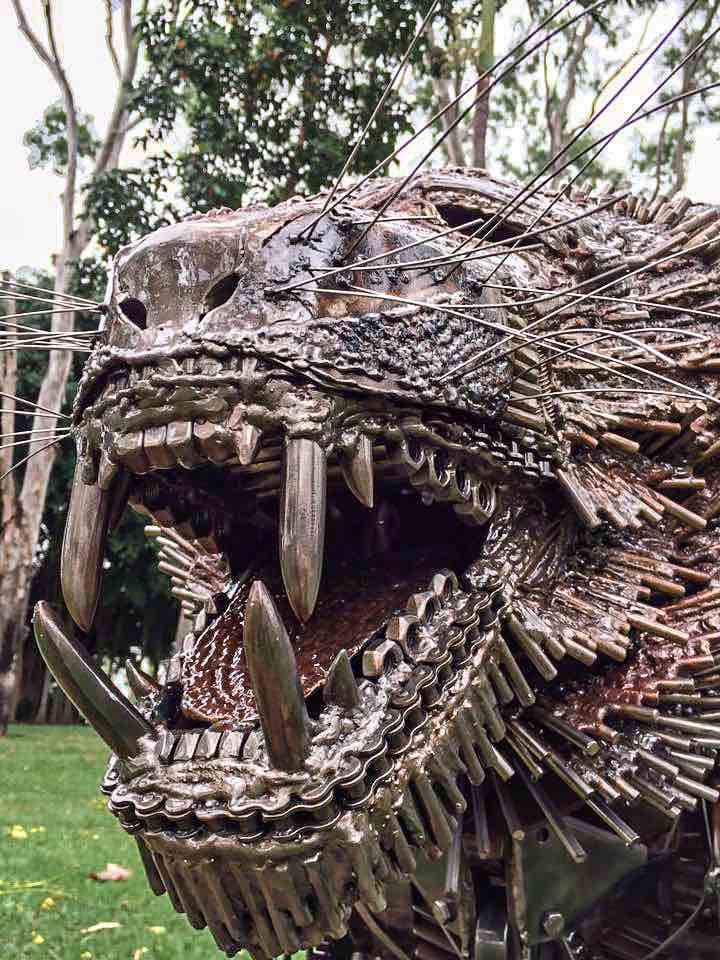 If each of you could write a message on a big wall that the entire world could read, what would it say?
Limits don't exist if you don't give them a reason.
Finally, where can we find you? Shop, online, worldwide…?
Hey you guys, please check out my brand new website at www.barefootedwelder.com.au or reach out to me personally at @barefootedwelder on Instagram or Facebook. If you ever happen to travel in Australia between the Whitsundays and Cairns, come stop at Barefooted Welder's workshop! We are a unique destination with Kali the tiger watching the front door and a giant seahorse under construction hanging from the ceiling. 
This post may contain
affiliate links
. This means we may receive a commission, at no extra cost to you, if you make a purchase through a link. We only share contents that are aligned with an ethical, sustainable, eco-conscious world. Read more about our
Terms & Conditions here