Four Twenty Two is the first brand that has come up with sustainable antibacterial and biodegradable tights. Your skin will stay fresh, nurtured and safe from bacteria. Each set comes with a free reusable washing bag to extend the lifetime of these sexy tights!
We interview the team of this brand Four Twenty Two, responsible for creating these smart and sustainable biodegradable tights. They found a sweet spot in the market looking at the fact that tights are nylon yarn, a petrol-based material that produces microfibres, and the production of which releases nitrous oxide, a greenhouse gas 300 times more harmful than CO2.
Here you will learn how ethically and sustainability they have developed this eco-friendly alternative to tights that were tossed in a blink of an eye!
Hi Four Twenty Two team, would love to hear a bit more about your background before starting Four Twenty Two?
We were four friends, now business partners, everyone with a different professional background but with the same goal: to make an innovative product that will make a change in this world. Sanja Lazarevska, the owner of For Lady LTD and the only one with the experience in the hosiery industry was the one who had the knowledge and the suppliers network; Oliver Veleski an experienced marketer and brand strategist, responsible for the character and the soul of this product; Dushica Veleska, an octopus in this operation, a liaison between our customers and us, our suppliers, lawyers… and Marija Janeva, a true negotiator and a person responsible for all legal and patenting firms. 
How did you come across the idea to develop biodegradable tights, especially looking at the fact that there's nothing similar in the market yet? 
Every conversation, lunch or a drink we had was ending with the conclusion that we need to make something that will not only change our lives but that will leave a mark in the future too. The idea was born two years ago and until today, we have never stopped working on this innovation to become a real change in the fashion industry. 
What is the mission of the brand, what's the type of positive change you are seeking to create? 
To start an evolution, not a revolution. To introduce a product that will be an initiator and example to many manufacturers that it is feasible to make a high-quality product but with a bigger purpose and the most important… to educate our consumers about the benefits of using a product that will not harm the environment. 
So you've created the first biodegradable tights! What technology makes this possible? 
The whole magic is within the yarn and when it comes to the yarn the Italians are real artists. They made the first smart yarn that has the ability to decompose into biomass without leaving a single trace in the environment… isn't that amazing! 
What are the textiles used in Four Twenty Two biodegradable tights?
The composition of Four Twenty Two tights is pretty simple, 94% goes to the smart biodegradable yarn and 6% is the lycra and the rest is special Aloe Vera formula and organic colors.
There is an estimate that 34 millions of pairs of tights will be produced globally by 2023… Imagine that amount of non-biodegradable product that will remain on this planet for more than 50 years @FourTwenty_Two #ecofashion… Click To Tweet
We could assume biodegradable materials are also healthy when put close to the skin. What are the properties and benefits of the textiles used for the tights? 
The benefits using the smart yarn are meant for the environment, the organic colors and the aloe vera formula are the ones that are going to be responsible for keeping the skin fresh, nurtured and safe from many types of bacteria.
What is the approximate lifecycle of the tights and how should we take care of them? 
We all know that tights are a sensitive product when it comes to a lifecycle, it can vary from one use to several uses. When it comes to taking care of the tights, we took care for that part too by giving away a free reusable washing bag to all our customers which will actually extend the lifetime of our tights. 
What type of tights do you have in the range? 
Since we are at the beginning with this product we can offer 40 Denier Antibacterial Biodegradable Tights with Aloe in three different colors (Charcoal, Sand and Clay) and sizes from small to extra-large
Where do you source the materials from and where do you produce?
The product is made in Macedonia and we have suppliers from all over the world, the yarn comes from Italy, the reusable-washing bag from Turkey… but the most important part is that all of our suppliers are dedicated to delivering a product that is certified as safe for the environment. Four Twenty Two Tights are packed into FSC certified packaging and delivered with biodegradable sleeve envelope. 
Could you please provide some data on the positive impact Four Twenty Two is seeking to make?
There is an estimate that 34 millions of pairs of tights will be produced globally by 2023… Imagine that amount of non-biodegradable product that will remain on this planet for more than 50 years. This was the main reasons why we want it to introduce Four Twenty Two Tights on the market. 
What have been your challenges as an entrepreneur starting such an innovative eco-friendly product? 
To take part into one of the biggest industries is a challenge by itself but we believe in our product and we take every obstacle as a new lesson so we can make this product and our business successful.  
What has been the greatest success of the brand so far? 
We cannot brag with volumes in sales at this point, but we are happy that we are receiving many positive comments from consumers and that's our mission. 
Is there any advice you'd like to give to other small businesses trying to make a difference? 
Analyze the market, find your place and be patient. 
You are based in the United States, how does a social entrepreneurial venture look like there? 
We have two main selling points, one in the US and one in Europe and yes, the more we communicate with consumers the more we realize that there are millions of people sharing the same ideology as us. 
If each of you could write a message on a big wall that the entire world could read, what would it say? 
There is no planet B
Finally, where can we find you? Shop, online, worldwide…?
For now, all our customers can order products on our online stores www.fourtwentytwo.us and www.fourtwentytwo.eu and we will give all our efforts this product to be available in retail stores really soon. Follow us on Facebook, Instagram or Twitter!
Have you ever tried biodegradable tights before? Share your experience with us in the comments below!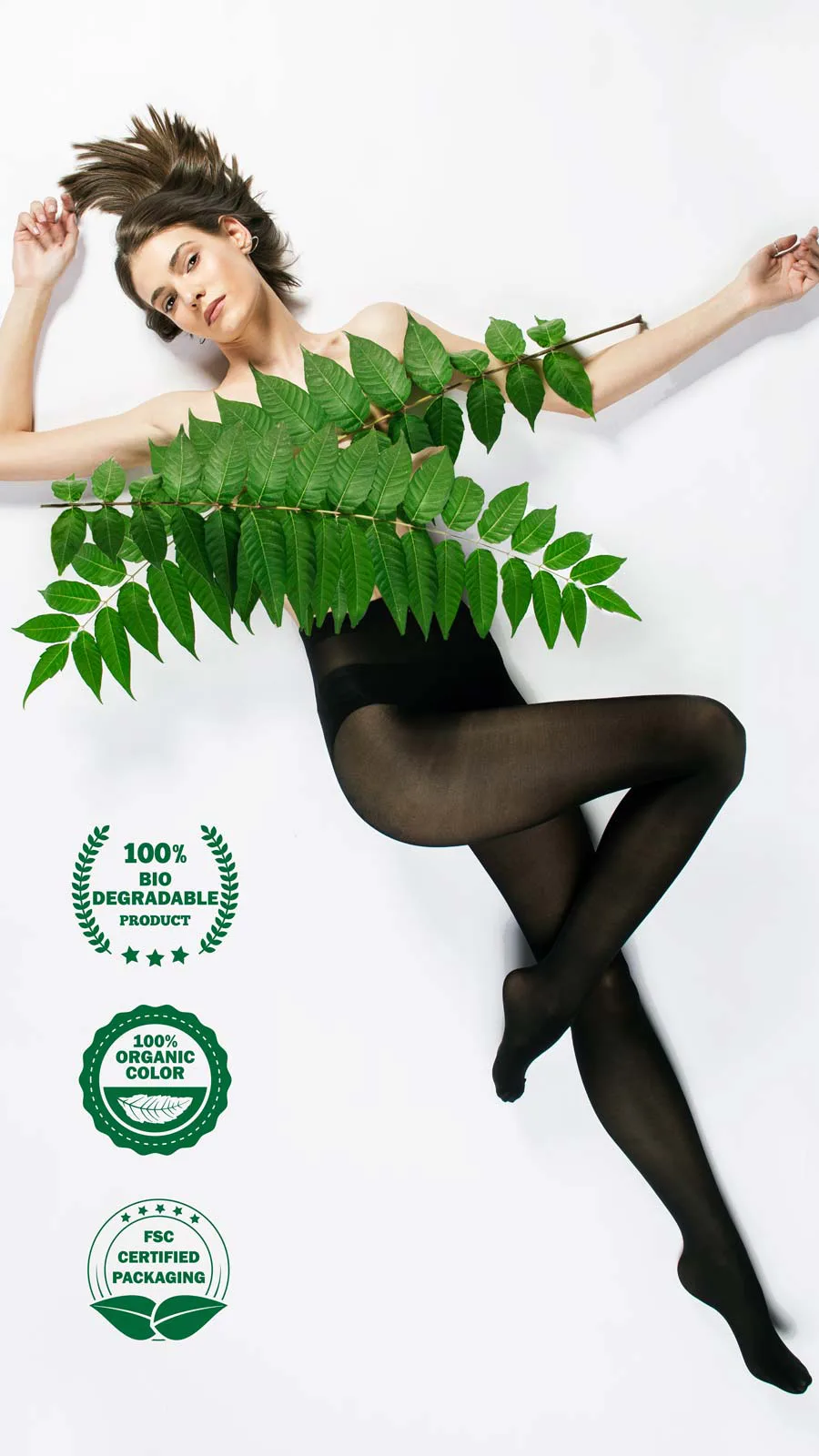 Disclosure: This post was sponsored by Four Twenty Two. Ourgoodbrands only features brands and contents that are aligned with ethical, sustainable, eco-conscious world, which means we have carefully researched and written the contents in this article, and specific product information is checked with the business. For the interviews, any opinions expressed are the writer's own, generally being the founder of the brand. Images supplied and approved by the brand featured, or credited accordingly otherwise. For more information about our policies, click here.
This post may contain
affiliate links
. This means we may receive a commission, at no extra cost to you, if you make a purchase through a link. We only share contents that are aligned with an ethical, sustainable, eco-conscious world. Read more about our
Terms & Conditions here