Rue Rangoli has created a circular economic business model turning used products into wealth while training craftsmen and designers from fragile or excluded backgrounds to bring out their creativity allowing them to live off their talent. The range of products goes as far as your imagination, using innovative materials such as tyre tubes, newspapers, felt and even elephant dung! Promise it doesn't smell, in fact, it's considered one of the favourites in the upcycled zero waste range. The impact goes beyond their socially responsible business… find out about Rue Rangoli's measurable positive impact and say YES to upcycled design creations!
We interview Patricia, a firm believer that upcycling is the future and so she started a brand where all the products are made out of waste. Her awareness of inequalities and long journeys in Africa and Asia meeting brilliant artisans shaped what Rue Rangoli is today. Learn about an incredible sustainable business model and the full potential of upcycled innovative materials, because the future is of the new era is here.
Hi Patricia, please tell us a bit about yourself and what got you inspired to start Rue-Rangoli?
Hello all!
Well… I guess it's best to start at the beginning! I lived the first ten years of my life in Pondicherry in India, a country with great inequalities. Those first ten years of my life shaped my sensitivity to development issues and greatly influenced my decision to choose a career in International Cooperation.
It was during my 20 years of travel and my many journeys throughout Africa and Asia that I was fortunate enough to meet the most wonderful artists driven by ethical and environmental issues. Many are academically brilliant and could have had brilliant careers but instead chose to help disadvantaged populations and are fighting to improve their everyday living conditions.
I thought to myself, I have to show the world these heart-warming initiatives and beautiful creations… and so, here we are!
Why did you choose to launch products that were upcycled instead of new materials? Where this did this passion for upcycled design come from?
With today's consumerist society, there is so much waste in the world… and there is so much that can be done with it! It's hard to imagine the treasures that our garbage can contain.
I think it's essential to show that upcycled creations can be just as, or even more beautiful than something brand new. In our societies we forget the value of each product, we buy, use, throw away and buy again. So I think it is also essential to restore the value of each product we buy, whatever is it and improve the quality instead of the quantity.
I also firmly believe that upcycling is the future; our society needs to shift to conscious purchasing so that we can build an economy based on preserving our planets' resources, an economy that turns used products into wealth.
You partner up with a range of designers and artisans representing the Asian, African and European culture. How are these collaborations happening and who would be able to join Rue-Rangoli?
Before partnering up with designers and artisans, I like to visit them, their teams and workshops to get to know them personally and to build a long-term partnership based on trust.
All of our partners integrate an environmental and socially conscious approach. Nowadays, it's more and more common to find upcycling initiatives (yay to that!) but very often, those initiatives aren't socially conscious. It's really important for us to work with artisans that have both socio-economic positive approaches. For example, we work with refugees in Italy who work with plastic bags, we work with designers in India who empower local communities and work with tyre tubes, newspapers, felt,… Any organisation or company involved in upcycling and social purposes can join us. The more the merrier!
Could you give us a general overview of how the creative and production process look like for the upcycled design creations?
Some of our products are co-designed by Rue Rangoli and our artisans, others are purely designed by our craftsmen. All of our artisans work with locals from their area and pass on their knowledge to them. They locally source all of the raw material, the materials they use are collected in the streets, in unused scraps from big firms that would have otherwise gone to the dumpster, in fields, … they each have their process to clean the materials depending on what it is. Then, with their magic fingers and talent, they transform everything their hands touch into beautiful products!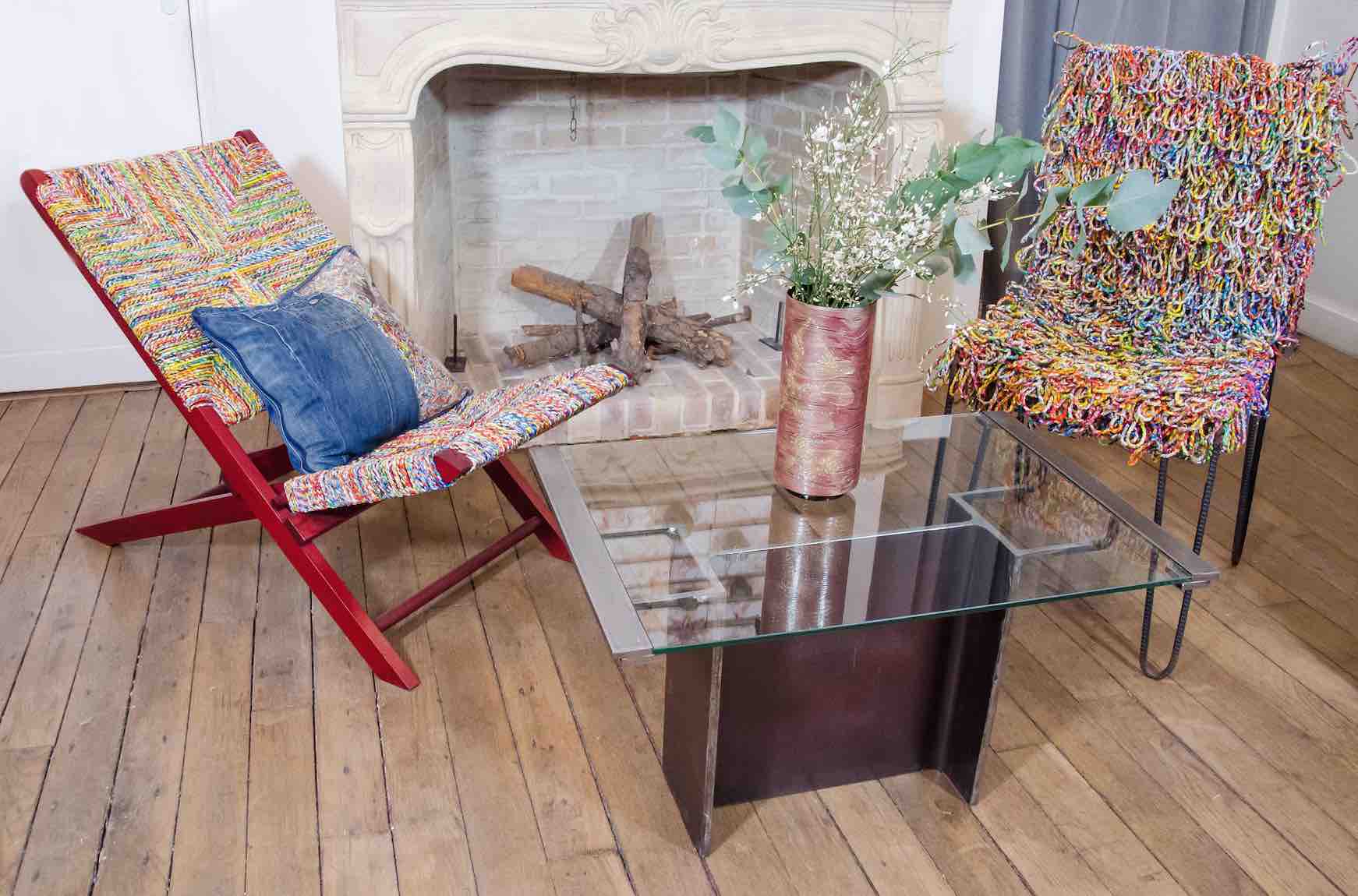 What kind of upcycled materials can we find within the range of upcycled products at Rue-Rangoli?
There's a little of everything, and definitely, something to please everyone! We pay attention to the design of our products and try to adapt them to the needs and desires of our consumers. We want to make the consumer feel good about their purchases by having beautiful and designer products instead of them feeling obliged to buy because of a sense of social or ecological responsibility.
So you can find earrings, handbags, placemats and pouches made from plastic bags; gift bags, wrapping paper and stationary are crafted from block-printed newspapers; elephant dung (I swear it doesn't smell) is washed, treated and dried to then transform into stationary, tyre tubes become designer computer bags, backpacks and handbags; soda bottles become stylish boxes, telephone wires and soda cans become storage trays and jewellery, naturally dried wood is given a second life as bowties and art pieces for around the home, bamboo is coming in to replace single-use straws, plastic wrappings become designer furniture; Paris' construction waste become hip furniture, wax and recycled rice bags transform into trendy bags, and a long list of etceteras!
We assume each upcycled product at your shop is unique due to the nature of the sourcing materials. Are there any favourite materials for the designer crew?
I think a personal favourite of mine would be our elephant dung paper and stationery… I absolutely love it, and I love the effect it has on our customers "Elephant dung? NO WAY!". Another of our crews' top picks would be the upcycled furniture from plastic wrappers, really unique and beautiful. I could go on and on because honestly, all of the materials are unique, tell a different story and are great for various different reasons.
Could you give us some data on how many kilos worth of material you have upcycled since Rue-Rangoli started?
Well, to give you a rough idea,… Our partners in South Africa upcycle roughly 350 plastic bottles per day, 300 kg of plastic waste was upcycled in the Philippines in 2018 alone, roughly 15 tons of plastics bags were upcycled in Italy, 164,000 kg of elephant dung was transformed in India, 25,000 newspapers found a second life in India, 10,000 cinema posters were transformed, 25 tons of recycled tires in India,… not bad hey!
And what about the social impact you are creating, do you have any data worth sharing?
With the work we do together with our partners, over 200 families have a chance at a better life. Our artisans in Vietnam also help finance heart surgeries for children born with heart defects… to this day, over 500 operations have been financed!
What is the packaging used at Rue-Rangoli?
Upcycling all the way! Most of our products don't come in a ready-made packaging. All of the bags we use are recycled: the major part is made out of newspapers, others with fabric scraps. When it's possible for our smaller orders, we use elephant poo envelopes otherwise we use second-hand cartons.
You are based in Paris. How does the social and eco-entrepreneurial venture look like there? Are there any exciting things and change for good happening in France? Do you see people becoming eco-conscious?
There are more and more new eco entrepreneurial initiatives emerging everyday in France.  For example, Paris' municipality decided that there would be a street dedicated to Zero Waste in Paris! People and shops and other professionals located in this street are involved in this achievement, which is really quite exciting!
Globally people are becoming more and more eco-conscious, but it takes time to change behaviour. We need to concentrate on educating people about the necessity to change their way of life by providing positive and exciting solutions.
Is there any advice you'd like to give to other businesses trying to make a difference for good?
Nothing is impossible if we simply believe! Trust yourself and others, send a positive message instead of making people feel guilty.
If you could write a message on a big wall that the entire world could read, what would it say?
Yes we can! Make our dreams for the planet become reality.
Finally, where can we find you? Shops, online, worldwide…?
Our physical shop is smack bang in the Latin Quarter of Paris at 74 rue du Cherche Midi, in the 6th arrondissement. Online, you can check out all of our creations at rue-rangoli.com; you can follow us for daily news on Facebook, Instagram, Twitter and LinkedIn; and you can also be kept in the loop for the events we host in our shop (like DIY Tawashi, DIY Xmas decorations, creative writing, conferences,…)
Is there any other similar brand you know or are curious about? Comment below, and we will make it happen!
This post may contain
affiliate links
. This means we may receive a commission, at no extra cost to you, if you make a purchase through a link. We only share contents that are aligned with an ethical, sustainable, eco-conscious world. Read more about our
Terms & Conditions here