Reducing waste is good for your business. The efforts and costs of not implementing strategies to do so are much larger. Conquer waste management with these easy tips & create a more positive impact.
Managing and reducing waste is an obstacle many businesses, large and small, face. Four companies alone produce more than six million tons of plastic every year. This is a huge problem, especially as we begin to see and feel the effects of climate change. 
Too often, reusable and recyclable items end up in landfills due to poor waste management and miseducation. If you think your business can do better in terms of waste disposal, take a look at some of these tips to help get you started.
1. Conduct a Waste Audit
Before doing anything else, you'll want to asses just how much waste your business gets rid of. Take the time to run an evaluation to identify the types and amounts of waste your company produces each week. Doing this will also help you determine how much of your money goes towards waste removal. After you review the results, you'll have the ability to make more informed decisions moving forward.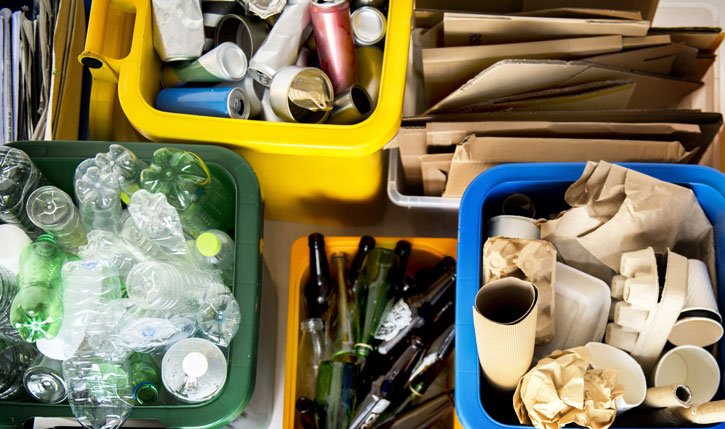 2. Reduce, Reuse, Recycle
Reducing your office's use of paper can help you be more environmentally friendly. Try to keep documents online when you can and urge employees to only print when necessary. If your business sends bills or invoices to customers, set up a virtual system for them to pay and access what they owe. This will help both you and your clients cut out the need to throw those items away. 
Implement reusable options such as these when you can:
Don't throw away that laser printer ink cartridge – you can use some

up to 10 times

.

Replace

single-use coffee cups

with ceramic mugs you can wash.

Encourage people who bring their lunch to do so in Tupperware or lunch boxes. 

Purchase metal silverware and straws.

Consider installing hand dryers in place of paper dispensers in bathrooms.

Go paperless, since technology offers cheaper and better alternatives to using paper.
When you do need to throw things away, make sure you have the means to get rid of it properly. Recycling is usually more cost-effective than tossing waste into a landfill. It's also one of the easiest and best ways to practice sustainability. Place dedicated bins all around the office and update workplace policies and procedures. Introduce your business's employees to the program at a meeting, so everyone is on the same page.
You may not know that you can also recycle "e-waste," or broken electronics. These include mice, desktop monitors and various computer parts. Businesses go through items like this on a near-weekly basis. Before you get rid of anything, make sure that it's completely unusable and can't be repaired. Allocate a box for employees to put their old tech in and research centers near you that will recycle the waste. Doing so will save you from chucking these items into the trash.
Related article: Complete Guide to Electronic Waste Recycling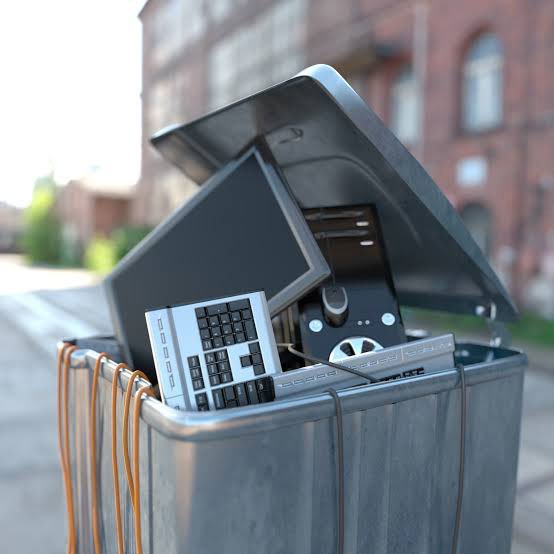 3. Donate Unused Items
Many businesses supply occasional lunches and desserts for their employees. Often, the leftovers are thrown in the garbage. This wasted food contributes to about 8% of the world's greenhouse gas emissions. You can fix this by prompting employees to take home what they want. Afterwards, if there's still unclaimed food in the fridge, donate it. Research your state's laws on food waste to see how you can approach this.
You may want to get rid of unused furniture, like chairs and desks, especially if you're in the midst of a renovation. Instead of putting those items in a dumpster, drop them off at a local thrift store or school. You can do the same with any old printers or computers you're upgrading. 
4. Compost Food Scraps
Did you know that many of your food scraps are organic materials that can help plants grow? When you compost, you dispose of items like coffee grounds and banana peels, which then decay and create nutritious soil as a result. Create a composting effort in your office by putting a bin in the break room. Hold a meeting where you provide information on what can and can't go in the bin. If you need to, post reminders – on reusable paper, of course. This will push employees to think twice before they throw their food in the trash.
5. Switch Your Packaging
If your business packages and ships items, you're probably creating a lot of waste without knowing it. Take a look at how much plastic, cardboard, tape and paper your company is using. Switch to biodegradable materials, and if you can, eliminate unnecessary packaging altogether. Eco-friendly options are widely available for almost every product. Switching your packaging is one of the best ways your business can take more sustainable actions.
Alternatively, to reduce waste and enhance your brand's presence, consider making use of unique and renewable custom packaging solutions, just as you would prioritize grease trap cleaning in Sydney to maintain your business.
Instead of the conventional way of using biodegradable boxes of packaging, introduce a fun and memorable factor in the way you package your goods as well. From integrating eco-friendly messages to incorporating a striking sustainable design on the packaging itself, you get to both contribute towards a greener future while winning more clients as well!
The majority of
Packlane's cardboard material
options contain recycled content, to the highest degree allowed by the paper industry's standards. Our boxes are printed in North America (USA and Canada) using materials sourced within each local region, resulting in a much lower carbon footprint than manufacturers who source raw or finished materials from overseas. What's more is that we also have
Econoflex
which is our first response to one of our most popular customer requests: a fully recyclable, budget-friendly, and environmentally conscious Shipping box solution! They are made from 100% recycled and recyclable materials and are the most
eco-friendly shipping box
available today.
Save The Planet
By cutting down on waste and unnecessary consumption, your business can help in the fight to save the planet. Sustainable practices are often simple to accomplish and more cost-effective than one might think. Step into the office with these approaches under your belt and the world will thank you for it.
5 tips for empowering your community to conquer waste management
This post may contain
affiliate links
. This means we may receive a commission, at no extra cost to you, if you make a purchase through a link. We only share contents that are aligned with an ethical, sustainable, eco-conscious world. Read more about our
Terms & Conditions here