What does it even mean a reef-safe sunscreen? We were pretty shocked when we heard about the environmental impact we create every summer. Here's what to look for when choosing an eco-friendly sunscreen.
We all are pretty stocked to the fact that the weather is finally starting to warm up! However, that means more time under the sun and more bottles of sunscreen to keep us safe. Before you reach for your go-to bottle, you may want to stop and think about the ingredients and their effects on the environment and your own health.
Sunscreen is one of your best defences against the sun's harmful rays. Unfortunately, some of the commonly used ingredients in sunscreen can be harmful to humans, the ocean, and all of the creatures who live in the sea. About 14,000 tons of sunscreen is thought to be washed into the ocean every year. Big tourist destinations and popular diving spots typically have higher concentrations due to the high traffic.
It's tough to know what to look for when you're in the sunscreen aisle. Glittery "reef safe" and "ocean safe" labels also aren't as reliable as you might hope. To get you up to speed, we explain why some sunscreen is harmful, what ingredients to look out for, and tips to pick a bottle when you're shopping in the aisle.
Why are some sunscreens harmful to the oceans?
Sunscreen isn't inherently harmful to the ocean. The ingredients are what make sunscreen toxic to the ocean and to humans. Popular ingredients like oxybenzone are found in the most popular sunscreens and are among many dirty beauty ingredients that you should avoid. 
A Food and Drug Administration (FDA) study published in the Journal of the American Medical Association (JAMA) found that maximum usage of certain sunscreen resulted in exposure and absorption of ingredients like avobenzone, oxybenzone, and octocrylene. Although the FDA still recommends sunscreen use, they also recommended further research so we can learn more about how this affects us and the environment.
There are many studies that have looked into the potentially harmful effects of sunscreen. A study published found that common parabens, like methylparaben and 4-Hydroxy benzoic acid, were found in the ocean and in ocean creatures. One other study found similar results and discovered that common sunscreen ingredients like oxybenzone, octinoxate, and more have been identified in fish and suggests consequences in the food chain. These ingredients have also been found to contribute to reef bleaching.
Another study found that common sunscreen ingredients like oxybenzone and avobenzone contribute to phototoxic damage to cucumber plants. 
Potentially Harmful Sunscreen Ingredients
There's a handful of limited studies that have looked into the effects of different ingredients. Organizations like the Haereticus Environmental Laboratory and Stream2Sea keep lists of ingredients harmful to humans and sea life. Below are a few ingredients to look out for when you're shopping for your next bottle of sunblock.
Octocrylene

Oxybenzone

Parabens

4-methylbenzylidene camphor (4MBC)

Octinoxate

Avobenzone

Homosalate
In addition to sunscreen, you should also look out for these ingredients in other beauty and grooming products. Opting for natural beauty products in your full beauty routine can help you steer clear of questionable ingredients. 
A list of Toxic vs Reef Safe Sunscreens
Besides choosing a reef-safe sunscreen from the list below, we also encourage you to advocate for local legislation that bans the sale and use of toxic sunscreens. For instance, in 2018, Hawaii passed the first-ever statewide ban on oxybenzone and octinoxate sunscreens, soon after, island nations including Palau, Bonaire and Aruba followed suit. Due to widespread community support, the Florida Keys were also able to pass an oxybenzone and octinoxate sunscreen ban in Key West, but chemical companies have been working tirelessly to try and revoke this important legislation through the use of statewide preemption. At the federal level, you can ask your federal representatives to support the first federal bill to ban oxybenzone and octinoxate sunscreens in National Marine Sanctuaries with coral reefs!
Toxic sunscreen brands you should avoid this summer

Reef-safe sunscreen brands you should consider this summer

Should I skip sunscreen completely?
Although excessive sunscreen can be harmful to you and the ocean, this doesn't mean you should ditch sunblock altogether! The Centers for Disease Control and Prevention (CDC) still recommends applying sunscreen throughout the day in addition to doing other protective measures.
You can choose sunscreens with safer ingredients and use additional methods to protect yourself from the sun. Zinc oxide and titanium dioxide are typically found to be safer for oceans and for humans. 
Tips to pick reef-safe sunscreen
Ingredients aren't the only thing you need to keep an eye on. Other things like water resistance and application type also play a factor in how sunscreen safety. These things also show how well it sticks to you and doesn't wash away in the sea.
Put down aerosol sunscreen

: Any type of spray makes it easier to spread to the air and the sand. Then, the sunscreen washes into the ocean.

Pick a water-resistant sunblock

: If you're planning to spend lots of time swimming in the ocean or a lake, water-resistant sunblock is your friend. The less that washes into the ocean, the better. 

Scrutinize the label for ingredients

: Some sunscreen brands are catching on to the reef-safe sunscreen "trend" and pointing out ingredients that are not used in their formula. However, an "oxybenzone-free" label isn't all it's cracked up to be.

Take "ocean safe" labels with a grain of salt

: "Ocean safe" doesn't always mean it's safe for the ocean. This sometimes simply means it's waterproof. "Reef safe" and "ocean safe" is not regulated by the FDA, so this label doesn't always mean the sunscreen is actually safe.

Opt for mineral or physical sunscreens

: Physical sunscreens block the sun's rays and create a "shield" on your skin. Chemical sunscreens absorb the sun's rays and more commonly have the potentially toxic ingredients mentioned above. 

Read the fine print for non-nanotized titanium oxide or zinc oxide

:

One study

found that sunscreens with only non-nanotized ingredients are less stressful for sea life than sunscreens with nanotized ingredients.  Non-nanotized refers to ingredients that are at least 100 nanometers when looking at diameter. 
Sunscreen alternatives
In addition to sunscreen, you can also use other things to protect yourself from the sun. Bringing umbrellas and tents can give you some relief from direct sunlight. It's perfect to bring to the beach or the lake. Protective clothing like hats, sunglasses, and clothes that cover your skin can also add an extra layer of protection. Clothes with UPF (ultraviolet protection factor) protection are especially great for keeping your skin safe.
Take a look at this visual reef safe sunscreen guide from FloridaPanhandle.com. It visualizes a lot of the things that can help you decide what sunscreen works best for you. At the end of the day, your choice of sunscreen is up to you. We recommend consulting with your healthcare provider and doing your own research when selecting a sunscreen safe for you and our reefs.
Please include attribution to FloridaPanhandle.com with this graphic.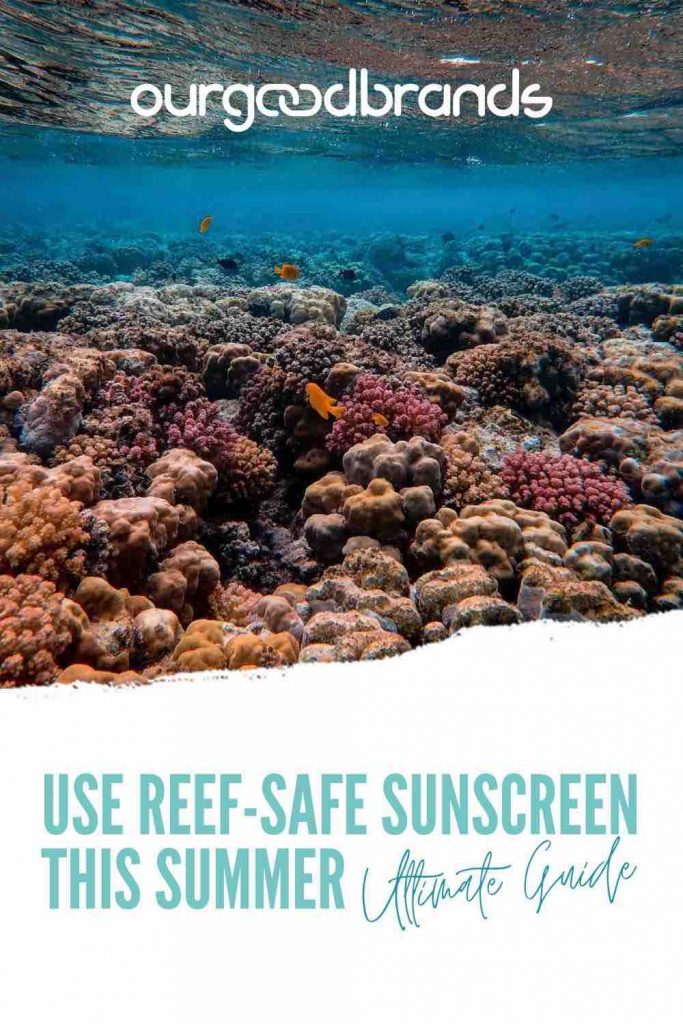 This post may contain
affiliate links
. This means we may receive a commission, at no extra cost to you, if you make a purchase through a link. We only share contents that are aligned with an ethical, sustainable, eco-conscious world. Read more about our
Terms & Conditions here