More and more countries around the world are legalizing cannabis, and North America with the United States and Canada, are at the forehead of both medicinal and recreational use of marijuana. In this guide we attempt to provide some insight on the differences for medicinal vs recreational cannabis, the therapeutic effects, risks, and side effects as well as showcasing some of the best recreational destinations in America.
Read this quick guide to learn the differences between medicinal vs recreational cannabis, its therapeutic benefits, risks, legislation and recreational destinations in North America, including Canada and the United States.
What is medical marijuana?
Medical marijuana uses the marijuana plant or chemicals in it to treat diseases or conditions. It's basically the same product as recreational marijuana, but it's taken for medical purposes.
The marijuana plant contains more than 100 different chemicals called cannabinoids. Each one has a different effect on the body. Delta-9-tetrahydrocannabinol (THC) and cannabidiol (CBD) are the main chemicals used in medicine. THC also produces the "high" people feel when they smoke marijuana or eat foods containing it.
Quick distinction between THC & CBD
Cannabis plants produce a second important substance called cannabidiol, or CBD. The compound appears to reduce the risk of psychotic disorders, by counteracting the effects of THC. But CBD and THC are made from the same precursor chemical, so maximising THC reduces CBD levels. This may have important implications. Here are some CBD side effects you need to know before using it.
If you'd like to look into CBD oil brands in this guide you'll find the best possible options.
5 Ways to take CBD safely
Therapeutic effects: What is medical marijuana used for?
Cannabinoids are the active chemicals in medical marijuana, which are similar to chemicals the body makes that are involved in appetite, memory, movement, and pain. 
So far, the greatest amount of evidence for the therapeutic effects of cannabis relate to its ability to reduce chronic pain, nausea and vomiting due to chemotherapy, and spasticity from multiple sclerosis. As science evolves, more and more states in the US are legalizing marijuana to treat pain and illness. So, how does medicinal marijuana help?
Researchers are studying whether medical marijuana can help treat a number of conditions, and so far, limited research suggests cannabinoids might:
Multiple sclerosis (MS)

: helps provide relief to individuals with multiple sclerosis, known as a very  painful disease, and medicinal cannabis is known to provide relief as it helps relax the tight muscles in people with MS.

Parkinson disease

: besides showing to improve motor skills in patients, medicinal marijuana can help reduce tremors and pain while also helping promote sleep. 

Epilepsy

: Research conducted on CBD has shown that it can help control seizures and muscle spasms, yet there are still ongoing studies to determine the effect cannabis has on individuals with epilepsy.
Alzheimer's disease:

this

disease caused by cognitive degeneration; cannabis's endocannabinoid contains anti-inflammatories that fight the brain inflammation that leads to this illness.

Cancer

: medicinal marijuana is known to help control nausea and vomiting caused by chemotherapy. In some types of cancer, there are studies showing that medicinal marijuana has been proven to kill cancer cells and slow tumor growth. Furthermore, stimulates appetite and improve weight gain in people with cancer and AIDS

Crohn's disease

: this is a bowel disease which causes inflammation of your digestive tract, leading to abdominal pain, severe diarrhea, fatigue, weight loss and malnutrition. THC and cannabidiol are known to help enhance immune response while also interacting with cells that play a vital role in the functioning of the gut. Cannabis helps block off bacteria and other compounds that cause inflammation in the intestines.

Hepatitis C

: its treatment has numerous side effects that include nausea, fatigue, depression, and muscle aches, for which medicinal marijuana reduces side effects linked to hepatitis C.

Glaucoma

: is a disease that creates an additional pressure on the eyeball which is painful for individuals with the disorder. Medicinal cannabis can help reduce the pressure applied on the eyeball providing some temporary relief to individuals with glaucoma.

Mental health conditions like schizophrenia and posttraumatic stress disorder (PTSD)

: As cannabis is legalised the impact it has on helping treat individuals with PTSD is being studied. Cannabis helps control the fight or flight response, preventing it from going into overdrive.

Relief of chronic pain

: chemical compounds in cannabis (many of which are cannabinoids) have been linked to providing relief of chronic pain.

Reduce anxiety

: even though it is also commonly known to cause anxiety, taken in monitored dosage and in the proper way, cannabis can help alleviate anxiety.

Wasting syndrome (cachexia)

: this is a "wasting" disorder that causes extreme weight loss and muscle wasting, and can include loss of body fat. This syndrome affects people who are in the late stages of serious diseases like cancer, HIV or AIDS, COPD, kidney disease, and congestive heart failure (CHF). 

Regulate and prevent diabetes

: with its impact on insulin, it only makes sense that cannabis can help regulate and prevent diabetes. Research conducted by the American Alliance for Medical Cannabis (AAMC) has linked cannabis to stabilise blood sugars, lower blood pressure, and improve blood circulation.

Eating disorders

such as anorexia, as it increases the appetite. 
Risks of cannabis consumption
The body produces its own THC-like substances called endocannabinoids. These are released in the body to help regulate a host of different functions in the brain. Mood, cognitive function and memory are all affected by THC and the body's endocannabinoids.
Whereas it is not easy to overdose with cannabis, scientists estimate that the lethal dose of THC, the active ingredient of the drug, is somewhere in the range of 15-70g. That is far beyond the daily consumption of even the most enthusiastic user. (Source The Guardian)
Beyond the high that attracts about 180 million people a year worldwide, side effects range from anxiety and paranoia to problems with attention, memory and coordination. People in withdrawal can experience anxiety, insomnia, depression and a disrupted appetite. 
As per source of The Guardian, studies suggest that one in 10 regular cannabis users become dependent on the drug, or one in six of those who start in their mid-teens. The number of people seeking professional help to quit or control their cannabis habit has risen in the past 20 years in Europe, the US and Australia. Only alcohol and tobacco lead more people into treatment. Daily users have a 2% chance of developing schizophrenia in their lives, about double that of the general population, though the risk of other less serious mental health issues is greater. 
Legislation for medicinal vs recreational cannabis in North America
Legislation of cannabis in Canada
Canada has become the second country after Uruguay to legalise possession and use of recreational cannabis, while medical marijuana has been legal in the country since 2001. You can smoke here and growers can get licensed by the federal government, and then individual provinces determine how the product gets distributed and sold.
The Canadian Government emphasised three key goals of regulation: the protection of public health; the protection of young people; and the reduction in criminality associated with the illegal market. 
Here's an official source Cannabis laws in Canada. 
Legislation of cannabis in the United States
Marijuana legalization is spreading around the US. In the map below you will clearly be able to see all the states where marijuana is legal, for medicinal and recreational purposes.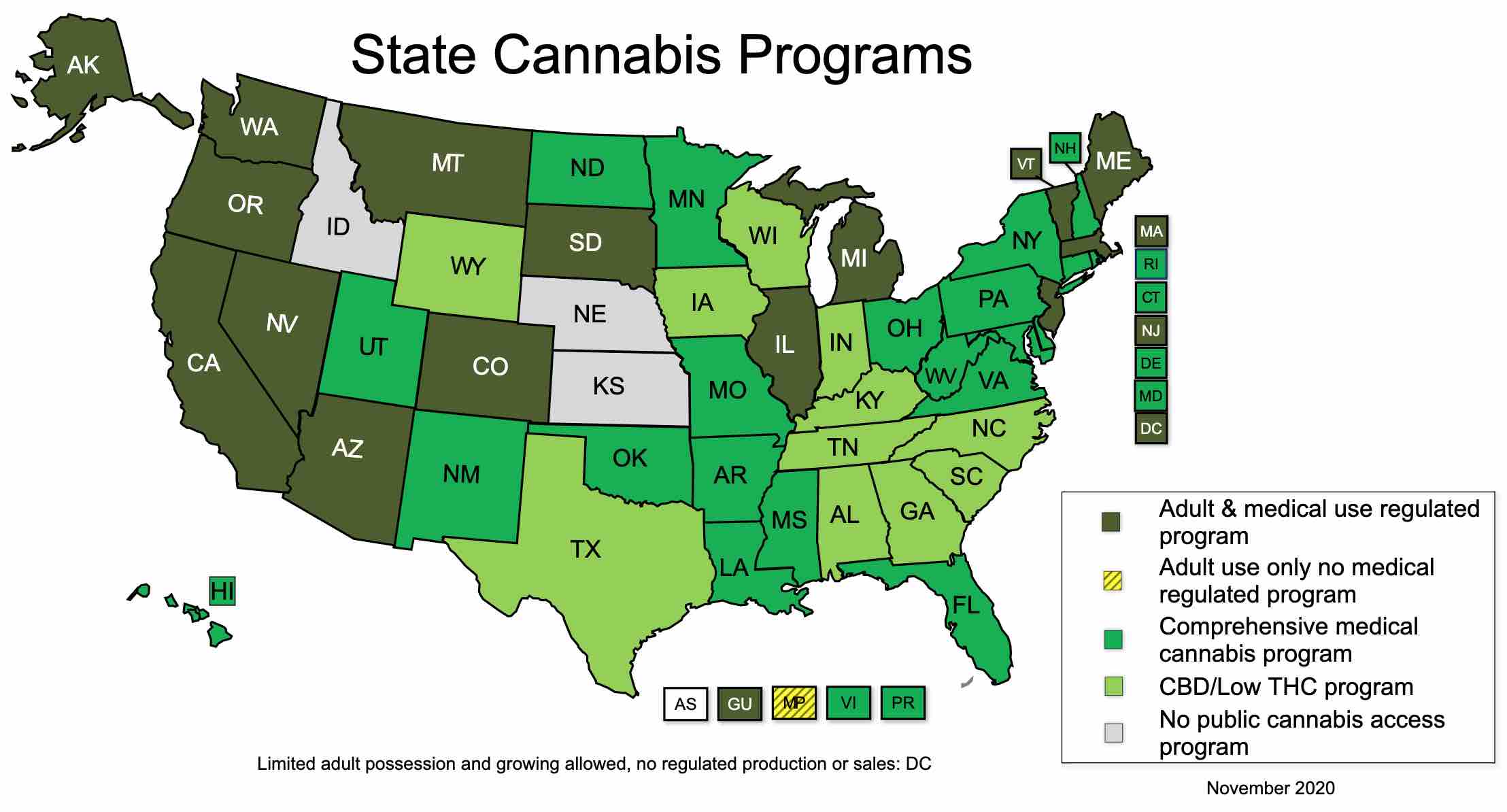 Here's an official source Cannabis law in the United States. 
Read more on the regulation of Cannabis by the FDA. 
Source National Conference of State Legislatures
Best destinations for cannabis in North America
Many people travel with a purpose. For some, that purpose is exploring historical sites; for others, it is experiencing outstanding natural art. And for the select few, the idea that drives their perpetual need to visit new places and eventually use marijuana for medicinal or recreational purposes. Here are some of the best destinations for recreational cannabis in North America:
Vancouver
Van City could easily be the best place for weed on the continent. Like other West Coast cities, Vancouver has a relaxed culture that has long embraced the stoner lifestyle, and Canada's nationwide legalization of recreational weed has only made Van more 420-friendly. Today, Vancouver has a total of 23 dispensaries in operation with dozens more seeking licenses. Tourists are allowed to take wherever it is legal to smoke tobacco — but that also means that smoking weed is illegal in places where tobacco is prohibited. Some of the most scenic 420-friendly places around the city are Wreck Beach, Cypress Mountain Viewpoint, Granville Island and Stanley Park.
Portland
On one hand, Portland is similar to many West Coast cities in its progressive attitude and accepting culture. On the other hand, Portland isn't like anywhere else in the entire world. The city is a haven for the creation of all shapes and sizes, which helps to keep Portland weird in its architecture scene, art scene, culinary scene, and, of course, its cannabis scene. Though visitors can't legally light a joint in public, they can find a number of cannabis cafes, which are semi-private social clubs where all weed is welcome.
Montreal
Though Quebec province as a whole has been quite antagonistic to Canada's progressive marijuana policies, the city of Montreal is one of the few places in La Belle Province that wholeheartedly accepts bud. However, regulations are pretty strict; cannabis products are only sold through dispensaries authorized by Quebec's Societe des Alcools, and it is expressly forbidden to smoke anywhere in public, which includes places where tobacco is legal. Thus, travelers do need to acquire 420-friendly lodging, which is easy through a service like Bud and Breakfast.
Washington, D.C.
Though not yet a state — and continuously salty about it — the citizens of Washington, D.C. were among the first in the nation to legalize recreational marijuana. Though the capital doesn't have dispensaries like other cities, it does have storefronts, pop-ups, pick-up sites, and delivery options to get the green stuff into visitor's hands; suffice it to say that it's easy to find weed in Washington, D.C. Like other places in the U.S., it isn't legal to use marijuana in public places, but if travelers choose discrete methods like tinctures or edibles, they should be able to explore the National Mall with a good high.
California
California has definitely become one of the top weed destinations. The culture of cannabis in this state, as well as the wine and food enthusiasts, drives them to explore California to showcase an immersive cannabis-centric experience. 
Places like Humboldt, Mendocino, and Trinity counties grow what can arguably be called California's most famous crop, legendary cannabis revered as much for its quality and potency as its back-to-the-land outlaw-to-law-abiding backstories. San Francisco is full of chic dispensaries, world-class cannabis, decadent smoking, and vaping lounges, ganja yoga classes, pot-paired dinners, and immersive tours that explore the city's history of marijuana culture and cuisine. Furthermore, Los Angeles is the world's largest legal cannabis market and a prime destination for well-heeled cannabis tourists seeking celebrity weed and luxe events.
Las Vegas
It should hardly be surprising that Sin City legalized recreational marijuana way back in 2016. Today, the Strip and surrounds are packed with dispensaries that in turn are packed with all sorts of cannabis products, from trimmed flowers to edibles, concentrates, and paraphernalia galore. Unfortunately, the city is pretty strict with regards to its "no toking in public" rule, and casinos are still concerned about losing their licenses for allowing patrons to use marijuana on the floor. So, visitors do need to find 420-friendly accommodations or stay with friends.
There are so many places to visit on Planet Earth, so why not dedicate some precious time to enjoying the marijuana plant in a place that respects it? Especially after such a long and stressful year, travelers should plan a trip that helps them relax and rejuvenate, and any of the above North American destinations are a choice. 
Cancun
Mexico (Central America, yet worth mentioning) is inching toward legalization of recreational weed, but even though visitors could technically get in trouble for using the good green herb, most Mexican authorities will look the other way as long as users aren't being rowdy or causing trouble. Picking up good kush can be tricky because many dealers are happy to take advantage of dopey tourists; the best options are taxi drivers and flea markets, where dealers are discreet and competitive with their prices.
Top CBD Oil Brands
Products range: CBD Oil Tinctures, CBD Capsules, CBD Vape, CBD Edibles, CBD Sprays, CBD Topicals, Hemp Apparel.
Products range: CBD Oil Tinctures, CBD Capsules, CBD Vape, CBD Edibles, CBD Sprays, CBD Beauty, CBD Protein, CBD Topical, CBD for Pets.
Products range: CBD Oil Tinctures, CBD Capsules, CBD Topicals, CBD for Pets.
Products range: CBD Oil Tinctures, CBD Topicals, CBD vape, CBD gummies, CBD beverages, CBD for Pets.
Get a 10% discount using "OURGOODBRANDS10"
Products range: CBD supplements, CBD Oil Tinctures, CBD Topicals and CBD for Pets.
Get a 20% discount using OURGOODBRANDS+20
Products range: CBD Oil Tinctures, CBD Capsules, CBD Supplements, CBD Gummies, CBD Topicals, CBD for Pets
 Get a 15% discount using the code OURGOODBRANDS
Products range: CBD Oil Tinctures, CBD Topical (Balms, Creams, Softgels), CBD Gummies, CBD oil for Pets.
Products range: CBD Oil Tinctures, CBD Capsules, CBD Strips, CBD Topicals, CBD Oil for Pets.

Products range: CBD Oil Tinctures, CBD Gummies, CBD Supplements, CBD Topicals, CBD Oil for Pets and CBD Pet Treats.

Products range: CBD Oil Tinctures, CBD Capsules, CBD Strips, CBD Topicals, CBD Oil for Pets
Products range: CBD Oil Tinctures, CBD Capsules, CBD Gummies, CBD Topical, CBD Oil for Pets.
Products range: Full spectrum CBD oils, CBD oil, CBD skincare, CBD topicals, CBD gummies and chocolates, CBD capsules,  CBD soaking salts and CBD for pets.
Products range: Full spectrum CBD oils, CBG oil, Water-soluble CBD (full spectrum), CBD HQ oil, CBD for pets, CBD Tea, CBD Tests, supplement-infused CBD products, and hemp apparel.
Products range: Full spectrum CBD oils, CBD oil, CBD skincare, CBD topicals, CBD edibles, CBD capsules, and CBD supplements.
Disclaimer: These CBD oil products are not intended to diagnose, treat, cure, or prevent any disease. You are advised to consult with your health care practitioner prior to use.
Important Note / Disclaimer:
Eligibility. You must be 21 years of age or a qualified medical marijuana patient to use the Site and/or Services within the United States and Canada.
All information contained on the site and services is for informational purposes only. Content posted by OurGoodBrands.com on any website, mobile application, social media channel, third-party content service, or advertisement is for informational purposes only. OurGoodBrands.com does not endorse, and is not responsible for the accuracy or reliability of, any opinion, advice, statement, or other information made on the site or services, including user content and third-party materials (each as defined below). OurGoodBrands.com is not responsible for your relationship with any dispensary, retail location, health care provider, any third-party, or other users of the site or services.
OurGoodBrands.com does not offer medical advice. Any information accessed through the site and services, or within any of OurGoodBrands.com social media pages or channels is for informational and educational purposes only, is not intended to be a substitute for medical advice, diagnosis, or treatment, and is not intended to cover all possible uses, directions, precautions, or adverse effects. Such information includes, without limitation, third-party materials, user content, and OurGoodBrands.com -generated content derived from user content (e.g., strain highlights, attributes, and other data). The information on the site and services and provided via OurGoodBrands.com social media pages and channels should not be used for the diagnosis or treatment of any medical condition. Always consult your doctor or another qualified healthcare provider if you have any questions about a medical condition. never disregard professional medical advice or delay in seeking it because of something you have read on the site, services, or on OurGoodBrands.com 's social media pages and channels.
Acknowledgment of Federal Law: The user expressly acknowledges that OurGoodBrands.com is for residents with laws regulating medical or the recreational use of cannabis only and that medical cannabis collectives and patients are established pursuant to their respective State laws. Marijuana is included on Schedule 1 under the United States Controlled Substances Act. Under the federal laws of the United States of America, manufacturing, distributing, dispensing or possession of marijuana is illegal, and individuals are subject to arrest and/or prosecution for doing so. The client further acknowledges that medical use is not recognized as a valid defense under federal laws regarding marijuana. The client also acknowledges that the interstate transportation of marijuana is a federal offense.
This post may contain
affiliate links
. This means we may receive a commission, at no extra cost to you, if you make a purchase through a link. We only share contents that are aligned with an ethical, sustainable, eco-conscious world. Read more about our
Terms & Conditions here