These Middle Eastern destinations are making efforts to promote responsible tourism. If you're an eco-conscious traveler looking for a sustainable stay here is your green hotel guide to the UAE.
The UAE is known to many as a land of breathtaking man-made splendors. But given its iconic glitzy standing, the country may not be the first choice for sustainable travelers. Surprisingly, this Middle Eastern destination gives utmost importance to responsible tourism, and its many initiatives, particularly the Sustainable Tourism Vision by the Dubai Tourism, are a testament to this fact. So if you're an eco-conscious traveler looking for a sustainable stay, here are some of the green hotels in UAE that care for the environment without compromising or skimping on comfort or luxury aspects. 
1. Al Maha, A Luxury Collection Desert Resort & Spa, Dubai
Just 45 minutes away from Dubai, this marvelous five-star resort is literally a green jewel, tucked away in the depths of the beautifully preserved Dubai Desert Conservation Reserve (DDCR). Honoring the untouched environment that it lays within, the sustainability aspect is at the core of all of the resort's activities. With its interiors inspired by the timeless Bedouin culture and heritage, its key focus is to protect the region's local and fauna. 
Rightly so, it has been awarded the Green-Key certification. It uses battery-operated golf buggies instead of fuel-powered and ensure that the water usage and energy consumptions are in line with its unwavering sustainability goals. What's more; the used cooking oil is turned into bio-diesel here. 
Location: Dubai Desert Conservation Reserve, Dubai
2. Qasr Al Sarab by Anantara 
Delve into the enigmatic charm of the mysteriously isolated Rub' al Khali when you stay at this desert resort, hidden away in the Liwa Desert. The upscale in-room amenities and overall facilities guarantee you a delightful stay. This is further enriched by many unforgettable activities and experiences that transport you to the region's bygone era, from night desert camps and desert dining to desert drive, camel ride, and archery. 
However, more than these, it places its high-end green initiatives at the forefront of all activities; this includes high-performance recycling and waste management plus a dedicated sewerage treatment plant which helps to tremendously minimize water consumption. Evidence of their commendable efforts is in the coveted certification that it received from the Green Global. 
Location: Qasr Al Sarab Desert Resort, Al Mirayr, Abu Dhabi
3. Park Hyatt Abu Dhabi Hotel & Villas
This is a beach resort like no other in the UAE. It features a low-rise architecture which seamlessly blends in with the unspoiled settings of the Saadiyat Island's natural sand beach – a protected zone that extends for about eight kilometers and inhabited by several delicate and indigenous flora and fauna (including the endangered Hawksbill Turtle, blacktip sharks, and bottlenose dolphins).
Apart from its elegantly appointed rooms that reflect the natural elements and many facilities (like spa, pool etc), this resort is laudable for its holistic approach towards sustainability. This allows you to explore a totally different side of Abu Dhabi and UAE. Its green credentials include the prestigious LEED (Leadership in Energy and Environmental Design)certification. 
Location: Al Sa'Diyat – Abu Dhabi
4. Eastern Mangroves Hotel & Spa By Anantara, Abu Dhabi
Escape from Abu Dhabi's bustling crowd and head off to this sustainable hotel which harmoniously co-exists in the protected Eastern Mangrove's untouched natural surroundings. All it takes is just a 10 minutes' drive from the city center. In fact, it serves a perfect base to discover the region's delicate ecosystem complete with several rare and unique marine and bird species. Go on a mangrove kayaking or take a dhow cruise to experience this up close and in detail. 
As for its amenities, the hotel exudes grace and sleek style in its every detail, from its spacious rooms and suites with private entrance and pool access to its signature Hammam treatments using camel milk, saffron etc. And the most noteworthy aspect is that it controls its use of water and energy with its dedicated sustainable initiatives that ensure the utmost protection of both the environment and the local community. 
Location: Al Salam Street – Eastern Ring Road, Abu Dhabi
5. Jumeirah Al Naseem, Dubai
It's one of Dubai's upscale hotels with the most exquisite accommodation choices, spa, and a private beach, among other facilities. Jumeirah Al Naseem recently hit the headlines as it became the world's first hotel to bag the prestigious Bureau Veritas Safeguard Label, ensuring the highest level of hygienic and safety standards in this current pandemic phase. 
But before that, it has been a major advocate of environment protection in the region, being home to the Dubai Turtle Rehabilitation Project. This is an initiative of Emirates Wildlife Protection Office. Featuring an exclusive turtle lagoon, it's dedicated to care, cure and rehabilitate the injured and sick turtles including the critically endangered Hawksbill Turtle. 
Interestingly, this is one-of-its-kind in the whole of the Red Sea and Middle East regions. 
Location: Jumeirah St – Umm Suqeim 3 – Dubai
6. Jebel Ali Beach Hotel
This Dubai Green Hotel is one of the UAE's most charming eco-friendly attractions. It's a part of the acclaimed Jebel Ali Golf Resort (now called JA The Resort), which also hosts two other hotels (such as JA Palm Tree Court and JA Lake View Hotel) plus several leisure attractions including JA The Resort Golf Course and JA Shooting Club. As a property with the Green Globe certification, the sustainability element has a deep impact on the resort's every section and activity. 
Location: Exit 13, Sheik Zayed Road, Jebel Ali, Dubai
7. Hotel Indigo, Sustainable City, Dubai 
Although not yet open, we feel that this list would be incomplete without mentioning about Hotel Indigo. After all, this work-in-progress hotel in the aptly named Sustainable City is already a hit among the aficionados of responsible travel. With a total of 143 guest rooms plus restaurants and cafes, it's all set to become Dubai's first sustainable hotel once completed. 
The hotel's energy requirements will be completely sourced from solar energy and all its wastewater will be effectively recycled. But what really caught our attention is its serene location (near Al Qudra Lake) where everything (from its residential units and wellness centers to greenhouses and organic farm) is developed in a way to preserve and limit the energy consumption as much as possible. 
Location: Sustainable City, Dubai 
Conclusion 
Sustainable tourism is no more a style or trend but an inevitable staple; it promotes the effective usage of natural resources while minimizing its wastage and environmental impact. The best thing about the above UAE hotels is that they all go an extra length to take this concept of a responsible holiday to the next level with their unique offerings. So the next time when you apply for your UAE visa and plan for an unforgettable holiday, make sure that you do it with a fresh green conscience.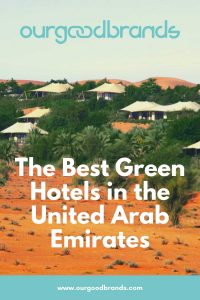 This post may contain
affiliate links
. This means we may receive a commission, at no extra cost to you, if you make a purchase through a link. We only share contents that are aligned with an ethical, sustainable, eco-conscious world. Read more about our
Terms & Conditions here